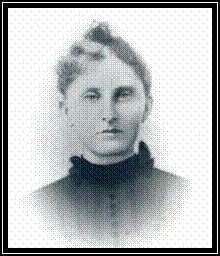 The first time I realized that there was such a place as Northfield and St. Olaf's School was in February 1875. I was then only twelve years old. I remember my mother receiving a letter from her youngest sister, Anna Ringstad, in Decorah saying that she was engaged to be married to Prof. Thorbjørn N. Mohn, principal of St. Olaf's School, and that they were to be married in the summertime and she was to live at Northfield, Minnesota.
I shed some bitter tears at the thought of my favorite aunt going so far away—Minnesota seemed like the other side of the earth at that time, and to marry a man I did not know was quite a calamity! Mother consoled me by saying maybe some day I could go to see her. Little did I dream then that we should spend so much of our lives together at this, to me, an unknown school.
On July 15, 1875, Prof. Thorbjørn Nelson Mohn and Anna Elizabeth Ringstad were mar­ried at her home on Main Street in Decorah by the bride's uncle, Rev. Nils Brandt. They were a very fine looking couple, she small and dark with black curly hair, dressed in white organdie; he tall and light—had side whiskers, wore a silk hat and carried a cane.
It was not so long before mother's promise became a reality. In the summer of 1876 when Auntie [Anna] visited the old home, she invited me to go back with her to stay and attend the school one year. My parents thought it a fine opportunity for me to learn the Norwegian language. We had good American schools but no chance of learning Norwegian [Calmar, Iowa was Elise's hometown]. At St. Olaf's School, I would have a chance to learn both religion and Norwegian. I was delighted over going away to school and to stay a year with my favorite aunt.
And so my first acquaintance with Northfield and St. Olaf's School was in the summer of 1876. The school was held in the old public school building where the Congregational Church now stands [Union & 3rd St.], and the Mohns lived in a residence on the corner where the Lutheran Church was, now used as a machine shop, across from the theater [The Grand]. Before school opened, they moved to a dwelling in the south part of town.
The town at that time was small, but the two blocks of Main Street from the Stuart Hotel [currently the Archer House] past Bierman's Store were pretty well built up. Carleton College had been founded some ten years earlier and the original building was standing, and another frame building. West of the Cannon River there were a few houses. Starting up by Manitou Heights one could find a great native forest stretching all the way to St. Peter. It was called the St. Peter Woods.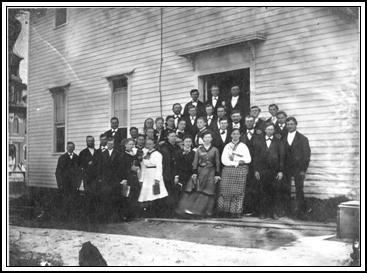 Student body outside school house at Union & 3rd St., Spring 1875
Attempted Raid by James-Younger Gang
The school opened one of the first days in September. Occurring not many days after the opening, on Sept. 7th was the raid by the James and Younger Gang on the First National Bank. Great excitement! We were especially interested because Miss Ella Fiske, our music teacher, lived at the home of Mr. Heywood, the acting cashier who was killed in the raid. Mohn closed the school for the afternoon—the boys took part in searching for the robbers.
One man had been seen crawling on his hands and knees out of town. He was hunted down. It proved to be a farmer who was so frightened he dared not walk. No one slept much the following nights as the robbers had threatened to come back and burn the town. We thought we heard robbers everywhere. This was on a Thursday.
The following Sunday the Mohns were to be sponsors at the baptism of Rev. Nils Quammen's son. Rev. Quammen came in with horse and buggy to take us to his home some twelve miles through the dense woods west of town [Christiania Lutheran Church, Lakeville]. He was armed with a shot gun and Mohn had a revolver—the robbers were supposed to be hiding in these woods.
Well I remember that ride and my silent prayer for protection! We thought we might meet the robbers at any time. In fact, until the robbers were caught some two weeks later, I thought I would never see home and my own dear ones again. I thought we might all be murdered here in Northfield—that was the threat the robbers made as they rode out of town.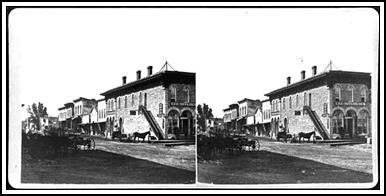 Northfield stereoview, 1870 (1st National Bank on right)
   Two men and two horses of the band were left [dead] on the streets in Northfield, and two of the citizens had been killed. [The previously mentioned Heywood (see page 3), and Nicholas Gustafson, a Swedish immigrant. Gustafson's funeral sermon was preached by Mohn.]
   Well I remember being sent to the market for meat the next day to find the two deadrobbers propped up in a sitting position between two buildings near the market having pictures taken of them. We had no meat for dinner that day! I doubt the students did much studying for a few days. I know I did not, even though I did enjoy Mohn's class in Verdens-historien. Bank robberies were not common in the early days.
In the 1906 Viking Annual, Elise Ytterboe wrote:
Only three days after the opening of school the famous James and Younger raid on the First National Bank of Northfield occurred, causing great excitement among the students as well as the citizens. Haunted by the dire threats of the robbers to return and destroy the town, several of us younger girls spent many a wakeful night thinking we heard robbers, and wondering if we should ever see the dear ones at home again. I think most of us agreed that if we ever reached home we would never clamor for a higher education.
In the March 27, 1935, issue of the student newspaper, Manitou Messenger, Elise Ytterboe was quoted:
I was staying at the time with my uncle, Mr. Mohn, who was the principal of the school. It [the raid] happened on a hot day. My aunt and I had finished washing dishes when we were startled by repeated shots and the fire bell. We, of course, thought it was a fire and ran out of the house to see it. Strangely enough, we could discover no smoke anywhere. We had just started down the street when we were meet by a woman almost hysterical who paused long enough to tell us that the Jesse James gang had robbed the bank, and that the assistant cashier as well as two robbers and one passerby had been killed! [The community did not know it was the James-Younger Gang for several days.]
   The article reports that Elise reached the main street in time to see a cloud of dust rapidly moving down the south highway with the constables following.
We were terribly frightened and we ran back to the school to tell Prof. Mohn the news. Upon hearing it he dismissed the classes; and sent the boys down town to offer their assistance.
For several days after, we were all dreadfully uneasy, expecting almost to be murdered in our sleep. I for one didn't sleep, but lay awake for nights thinking what a horrible place Northfield was. Two weeks later we learned that all but two of the band had been caught…It certainly was terrifying.
I never shall forget it as long as I live!
School Duties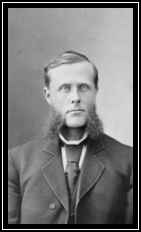 That one year at St. Olaf meant much to me at the time as well as later on. We had many interesting times and I made many friends; though I did not get as well acquainted as I might have, living as I did with the Mohns. Most of the girls roomed at Prof. Aslak Teisberg's or the Kildahls [boarding house], and the boys lived on the second floor of the school building.


There were only two classrooms. The Profs were Mohn and Teisberg, who each had a room. Then there was a small room, formerly the entrance hall, where Miss Fisk, the music teacher, gave her lessons. The largest room was used for church services on Sundays.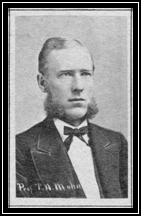 It was my duty to put on a clean white cloth over Mohn's desk, which was used as an altar on Sunday mornings. I tried to
come early before people would be coming to church. One
morning I had overslept and found, to my dismay, the room almost full of people. I hurried up and put the cloth on and
hurried back to the rear of the room. On looking at my job,
I saw that at one end the cloth was about a foot from the top
while at the other end it almost touched the floor. I did not have the courage to go back and straighten it. To my relief, a young man in the choir, Mr. Sieverts, stepped up and straightened it before the pastor came.
Christmastime
The first Christmas I spent here at St. Olaf was the Christmas of 1876—it was my first Christmas away from my own dear family.
I had often wondered that fall if I could live through it and not
get too homesick. It was out of the question in those days to go home for vacations except for those who lived nearby. There
were some ten or twelve students who remained for the holidays.
We had no church then. The services were held in the largest classroom. The members of the choir and congregation had
been busy getting ready for the Christmas program.  When we came to the festival in the evening, a fine sight greeted us.
The classroom had been transformed—the blackboards were covered with white, and on the platform were two green
Christmas trees all  decorated—and to one who had never seen
a green Christmas tree, it looked beautiful.
In my home we had a nicely shaped cherry tree decorated with popcorn and cran­berry strings. We had no evergreens except some that had been planted and were too small and precious
to be cut down. The trees were set at either side on the plat­form and were trimmed with tarlatan candy bags, popcorn strings, and candles—no electric lights in those days.
The trees were not so very large but were set on boxes so
they looked quite tall. Between the trees was set a stand and
on the stand a silver cake dish, and to the handle of the dish
was tied a gold watch, which we soon learned was a gift to the pastor from the congregation. Not only did the pastor get a gift,
but we were also remembered with gifts besides the candy bags.
Mohn, who also was pastor of St. John's Church, read the Christmas gospel and spoke to us about the joys and significance of Christmas. The choir sang "Glade Jul" and "I denne söde Juletid," both in Norwegian—no English was used at all in the service. The people of Northfield were very kind to us, inviting
us to their homes.
On New Year's Day I was quite awed at the elegance of the place—two of our most prominent young men rode around in a cutter, sleigh bells ringing, calling on their friends, leaving cards, New Year's greetings English style. I never had seen such style i
n the small place I had come from.
School Outings
Many picnics were enjoyed that spring. Our special picnic ground was the land west of the city on which the first building was to be erected and where we could enjoy such a beautiful view. We
often took pails along to pick wild gooseberries that grew in abundance on the hill where now stands the Old Main.
The seventeenth of May was an especially interesting event
that year. The whole school was invited out to Rev. Bernt J. Muus' parsonage for a celebration at Holden Lutheran Church near Kenyon. [Rev. Muus founded St. Olaf College.]
The farmers in the congregation were to come in for us and
take us home again. That meant an almost three-day celebration for us. No automobiles—it took almost a day to drive each way.
Although we were only fifty students it took many teams to
get us out there. Some farmers had a buggy, some a democrat wagon, others a real wagon with one spring seat and two boards placed across the wagon box—not very springy. It was interesting to see the long procession wind its way out into that beautiful country on a spring day. We were a jolly crowd and enjoyed
every moment of the time.
Birgitte Muus, Rev. Muus' only daughter, was a student at St. Olaf that year. She was a handsome girl, full of life, and saw to it that the students were well taken care of. Her brothers Peter, Harold, Jens, and Sverre attended St. Olaf as well. They were
very mischievous and not very good students. Rev. Muus' wife, Oline, was a very fine looking woman—gay, charming, worldly,
interested in singing and the theater. At one time she brought
her choir of young people to St. Olaf and gave a concert. She
was not very devout, and could be called a "high flyer," craving more a social life than a religious one.
I spent one night at the parsonage and the next at Dr. Grønvold's, a relative who lived close to the parsonage. I shall never forget that first trip into Goodhue County, the hospitality
of these kind folks who so gen­erously supported the school,
their fine farm homes and the beautiful country.
Marie Aaker, the first student to register at St. Olaf, was confirmed that spring by Mohn. [Aaker was also the first student
to receive her diploma, 1877.] Her mother and two sisters came for the occasion. What impressed me was that they carried an extra hat box, containing a Sunday hat for each one.
Such luxury! If we got one new hat a season to wear on all occasions we thought ourselves fortunate.
An excursion train was going up to the Twin Cities from Faribault, and arrangements had been made for St. Olaf students to go on that train to see Minnehaha Falls. It was a beautiful day. We ate our picnic dinners provided for us near the falls. Towards evening we said goodbye to the students living north and west from the cities; we who lived south and east went back on the excursion train, some to stop at Northfield, others to go right on
to their homes.
I stayed a few weeks longer; but my one and only year as a student at St. Olaf was at an end. I am thank­ful to my parents, my uncle and aunt for giving me that opportunity. I had many interesting and profitable days. My love for Norwegian remains with me still.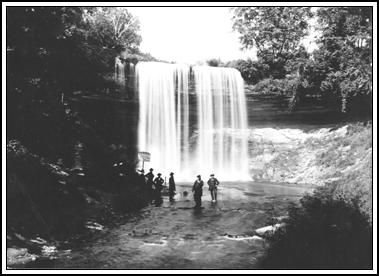 Minnehaha Falls, July 21, 1892
(Photograph by O.G. Felland, St. Olaf College Archives,  no. 425)
Old Main Cornerstone Laying
Many meetings were held during the spring of 1877 to discuss plans for a new building; plans were examined; money was collected. Finally the plans for the beautiful Old
Main were accepted—men were set to work to dig the basement and start the walls.
On July 4, 1877, the work had so far progressed that the cornerstone could be laid. It was a festive day. Many a trip did Harald Thorson's horses make to bring the prominent speakers
up the hill, as well as the food that was to be used for the many guests.
A place had been somewhat cleared and planks put up for the people to sit on at the place where we now have the Steensland Library [now Steensland Hall]. The President of the Norwegian Synod, Rev. H.A. Preus, laid the cornerstone. Other speakers
were Rev. V. Koren, Dr. Laur. Larsen, Rev. Muus, Pres. Strong of Carleton College, and lastly Mohn.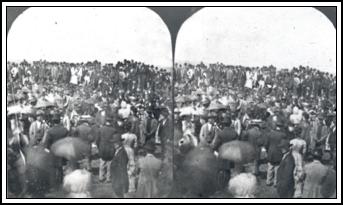 Old Main cornerstone laying, July 4, 1877
   A photographer was present and took a stereopticon view of the crowd. That was quite unusual, as there were not many pictures taken in those days. It was my pleasure to see the cornerstone laid for the first building at St. Olaf. [Elise witnessed every building cornerstone laying until her death in 1944.] Little did one dream that the school would grow to be such a well known and useful institution as it has become. Soon after these festivities, I left for my home in Iowa and did not see St. Olaf again for nearly ten years.
"To purchase a hard copy, see St. Olaf Bookstore http://www.collegebookstore.org"
Ole Voices No. 1: Reminiscences
Chapters:
St. Olaf's School
Return to Manitou
Early College Days
Changes Take Place
A New Century, New Beginnings
New Quarters
The Passing of Ytterboe
Let There Be Light
Family Memories
Interesting Visitors
The War Years
Remembering Anna Mohn
Remembering Agnes Mellby
Afterword