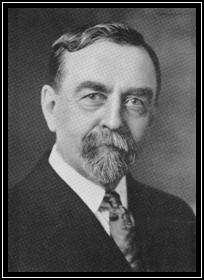 The World War was on and so many changes had to be made. Dr. Lauritz Vigness was elected president [1914] to succeed Kildahl. Most of the men had to quit school and go to war, or take the places at home of those who had gone, and so school was more like a women's college [1918]. The government ordered a training school for the boys [S.A.T.C.].
The dining hall at the dormitory was turned into a mess hall, and the girls had to make use of the dining room in Mohn Hall which had formerly been used for physical education classes for girls.
Our cooking was not so easy. We were allowed to use white flour, and very little sugar. We could not even buy more than a small amount at the time. All who were able did work to help clothe the soldiers. Some joined the Red Cross; all did knitting. One could even see women walking along the street knitting.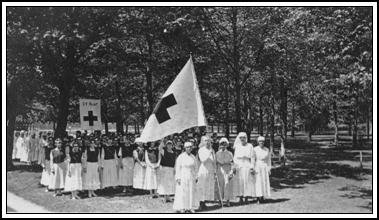 St. Olaf Red Cross, April 6, 1918
The school was at a standstill as to building and attendance. It was not easy to be Pres. Vigness. He remained as president until 1918, when Dr. Lars Boe was again called to this place—now as president.
The war was over and things had to be rearranged; the attendance grew rapidly. New buildings had to be built, more members added to the faculty. From then on the school has steadily been growing. The school now needed a man that could push on and build up, and had found the right man for the place. I hope he can continue for years to come. [Boe served as president of St. Olaf until his death in 1942.]
"To purchase a hard copy, see St. Olaf Bookstore http://www.collegebookstore.org"
Ole Voices No. 1: Reminiscences
Chapters:
St. Olaf's School
Return to Manitou
Early College Days
Changes Take Place
A New Century, New Beginnings
New Quarters
The Passing of Ytterboe
Let There Be Light
Family Memories
Interesting Visitors
The War Years
Remembering Anna Mohn
Remembering Agnes Mellby
Afterword