When one thinks of that subject, one invariably brings to mind the first and foremost woman of the college, Mrs. Th. N. Mohn, wife of the first president of the school. She did more of the pioneering work of the school than any other woman.
Anna Elizabeth Ringstad was born near Decorah, Iowa, on April 13, 1852, the youngest daughter of Ivar Ringstad and wife, Anna Brandt Ringstad. While she was quite young, the family moved into Decorah where she was educated in the public school and the private school, Breckinridge, which was more like an academy.
After attending this school, she began teaching in a country school and taught until she was married to Prof. Mohn on July 15, 1875. Her uncle, the Rev. Nils Brandt, performed the ceremony. She then went to Northfield to take up her duties as a helpmate to the first president of St. Olaf, the school having been started January of that same year.
Although she was frail, her keen mind and fine intellect, as well as her warm heart, enabled her to be a great help to her husband in establish­ing this new seat of learning. In the beginning of St. Olaf as an academy, her several years teaching experience made it possible for her to give wise counsel to the institution in educational matters. Along with her helpful advisory activity, she kept a hospitable home and raised a family of six children.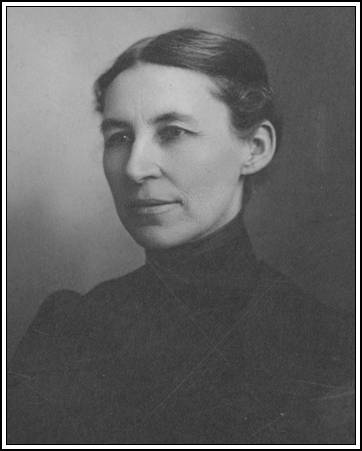 Anna Mohn, ca. 1910
   Times were so different then than what they are now. As there were scarcely any hotels, she was expected to receive guests who came to see this new institution. Entertaining guests was not so difficult while the school was located in town, but when the college building was ready and the Mohns moved into that first building [Old Main] on Manitou Heights [1878], located a mile or more from any stores, entertaining was not such a simple, easy matter—especially when there were no taxies, no telephones, not even a horse and buggy at their disposal.
Oftentimes, when unexpected guests arrived at the close of the meal, and the supply of food was depleted, she was forced to call upon other Profs' families for anything they had that she might use.
The carrying of water from a windmill quite a distance away was another inconvenience of her day. If the children were sick, and a doctor was needed, someone had to walk down to get him. There were many anxious moments until he arrived.
In 1886 when the "Folkemödet" was held to decide about the college for the Anti-Missourians, it rained so hard that no one could leave the building. Mrs. Mohn had to use all available bedding and garments of all kinds in making conditions as comfortable as possible for those who were forced to sleep on the floor.
When the Mohns moved out of Old Main during the nineties, the board of trustees presented Mrs. Mohn with a gold watch in recognition of the fine service she had done the school in wisely supervising all the buying for the institution during a two-year period of financial stress.
In the summer of 1899 when Mr. Mohn had been president of the school for twenty-five years, the citizens of Northfield showed their love for the Mohns by presenting them with a silver tea set. Together with former students and citizens, a purse of two hundred dollars was presented to them, according to Dr. Aasgaard in the Quarter Century of St. Olaf[https://www.stolaf.edu/collections/archives/scripts/].
When Mr. Mohn passed away, the alumni gathered money and built a home for Mrs. Mohn where she could care for her family, where the alumni could call to see her making her life brighter, where she could live near and enjoy the college her husband had started, the college to which the best years of his life had been given. This home was located on St. Olaf Avenue right below Manitou Heights. Here she passed away on Jan. 1, 1923 at the age of seventy years. She had been like a mother to many students in the early days. There are many who will bless her memory.
"To purchase a hard copy, see St. Olaf Bookstore http://www.collegebookstore.org"
Ole Voices No. 1: Reminiscences
Chapters:
St. Olaf's School
Return to Manitou
Early College Days
Changes Take Place
A New Century, New Beginnings
New Quarters
The Passing of Ytterboe
Let There Be Light
Family Memories
Interesting Visitors
The War Years
Remembering Anna Mohn
Remembering Agnes Mellby
Afterword