As the school grew larger an effort was made to make some improvements, which were not always approved by our constituents. There had been no bath tubs for the students. In order to remedy that, Mohn had a large tin tub made and put into the wash room. [1892: Mohn purchased three copper-lined tubs.]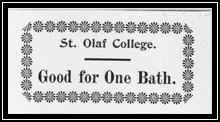 The story went the rounds in Goodhue County that Mohn was getting too extravagant—had now installed a marble bath tub for the use of him and the students. One of the trustees heard this and, as he had not been consulted about it, decided to drive in and see for himself. Mohn took him down to the washroom and showed him this tin tub and explained that it was not to cost the school anything; he had had tickets made and each student was to pay five cents for a bath, and that would soon pay for itself. The trustee seemed quite satisfied, and went home feeling that Mohn was far from extravagant.
Later on these tickets played an amusing trick on us. One of the students had been very sick during the winter and was feeling the heavy expense of the siege, and so the music teachers decided to help him out by giving a benefit concert.
Shortly before the doors were to open, one of the young faculty members came running down to our rooms to get the tickets—they were kept in Ytterboe's office, which at that time consisted of a desk in one corner of our living room. Ytterboe was not in, and I opened the desk and saw a bunch of tickets which I handed him. Soon the Prof returned and said there must be a mistake—these read: "One Bath."
First Commencement 
There was great rejoicing when the first class graduated from the College in 1890.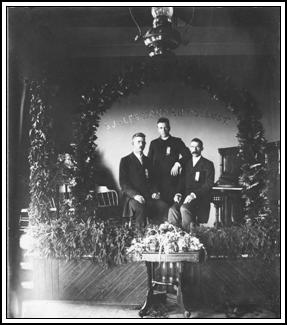 Class of 1890, first college graduates
June 18, 1890
(Photograph by O.G. Felland, St. Olaf College Archives,  no. 283)
The Chapel was decorated by the Profs' wives and each graduate—there were three—presented with a bouquet of flowers, much to their em­barrassment I heard later, but considered quite the thing at that time. [Class of 1890: Anton Engebretson, Carl Rollefson, and Anders Sandbo.]
Illuminating Founder's Day
Our anniversary, Nov. 6, was looked forward to with much pleasure in early times. Rev. Muus would always try to be present; our friends would come, and members of St. John's Church would join us in celebrating. We had a program in the morning, an extra dinner for the students and visitors; usually a few members of St. John's would be invited to that. In the evening there would be a reception when some of the Carleton faculty would be invited to join us.
Pre­ceding this reception, there would be an illumination of the Old Main; an event looked forward to by the whole community. It could be seen and enjoyed far out into Goodhue County. It was quite a task to illuminate in those days without electric lights; it had to be done by candles.
Usually there were three laths in each window at the front of the building, each lath holding three candles. A student was stationed in each room, and when a bell rang, he would be ready to light the candles, first there was the illumination of the whole building; then another signal given and certain candles extinguished so that a pyramid would be formed; and then another signal and a cross would form.
This cross was made by keeping the lights on from the tower down to the base, leaving two windows lighted on each side of the tower on the third floor.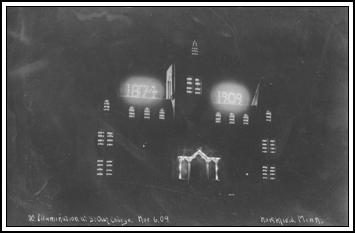 Old Main illumination, 1909
It was said to look beautiful to see the lighted cross up in the air. It could be seen for miles. At the close there would be a lighting of the whole building again.
This took a great deal of work and planning, but seemed to be enjoyed by all. It quite upset our rooms, I remember, and it was not so easy to scrape up all the tallow the next day, especially from the carpets used those days—carpets that were nailed down. We tried to protect them with newspapers, but with the quick movements in lighting and extinguishing the candles, there would be a lot of dripping.
After electric lights came into use, it was much easier, and illuminations were continued every year until the Chapel burned down in 1923 [Sept. 22], when it was for some reason discontinued. I hope it will be taken up again some time, as it seems such a fitting way of celebrating and gives much pleasure to so many. [Old Main was first illuminated in 1878.]
Living Amongst the Students
The early nineties was a difficult time for the school, as has been written about by others. What with hard times, as well as the school having no real sup­port, it affected us mostly in that our home was somewhat broken up—my husband having to travel a big part of the time in order to get funds. On one occasion he was gone so long that our youngest, then only a few months old, did not recognize him on his return, much to his sorrow. It was hard for the children to have him gone so much. When they saw him gather up his things for another trip, they would try all kinds of schemes to keep him home. Once they locked him in the closet, thinking they had him safe.
I was kept busy. We could not afford a housekeeper at the school. I was to look after things the best I could, plan the meals, buy the provisions, etc. As the students paid only $1.25 per week for board, one could not have much variety. This gave me some valuable experience.
We were fortunate in getting Nellie Boe Sattre [Lars Boe's sister] to bake for us. She remained with us for many years, was cheerful and happy, always willing to bake all kinds of bread and biscuits and never had a failure, which meant so much to satisfy the students as well as those who had to see to the finances.
Sunday suppers were served buffet style. If the weather was fine in the spring, the supper was served out on the lawn in front of the Old Main. Nellie's biscuits were popular, and serving the supper this way made us better acquainted with one another. We seemed like one big family.
Having classrooms above one's living rooms was not always what one could wish for. I remember one class especially, the girls' training class in physical education, where they used dumb-bells; very often a club would fall from inexperienced hands and the kerosene lamp, hanging from the ceiling, would almost jump out of its socket. That room being large and the best for the purpose, we had to make the best of it even though it woke up the baby and rocked the lamp.
It caused us much anxiety to have stoves and kerosene lamps in the boys' rooms. Once a burning lamp came past our windows from third floor; another time a satchel all aflame came down. One boy kept his satchel between the stove and the wall to save space, he explained, which he had forgotten when he started a roaring fire that cold night, and had gone to call on some other boy while his room was being heated. Fortunately, we never had a real fire in­doors though we had all these things to contend with.
We did once come near having a serious fire from outdoors. One of the boys was burning grass and weeds in front of the Old Main in the spring, to clear the baseball diamond, when a wind came up suddenly and sent the fire up hill [1889]. With the efforts of the students, pails of water, brooms, etc., it was stopped from reaching the Old Main. But our fine line of evergreens along the winding road up the front hill was gone.
Christmas Recollection
Another Christmas that stands out in my memory was quite different in a way. It was in the nineties when the depression was on, though we did not call it "depression" in those days; we spoke of it as "hard times." Most of us felt we had no money to spend on a tree and its trimmings.
We were going to meet anyway and have services, which were at that time held in the chapel of the Old Main. The congregation and school joined in celebrating, as they so often did, although by now a church had been built. Several students were staying; they could not afford to go home.
One young man, Edward Sinkler [Class of 1894], who later became a judge in North Dakota, con­ceived the idea of making something in place of a tree which would not cost much. He found some laths and nails and made a triangle to represent a part of a star, covered the laths with green tissue paper, and set candles on nails on the outer edge. When the candles were lit, it was quite effective.
We gathered around it and sang our Christmas songs. Mohn read the Christmas Gospel and spoke of the star that was seen that first Christmas night, which pointed the way to the Christ Child born at Bethlehem; also about the light that still shines for us. It was very impressive, and I think we felt nearer to Him who had come to bring joy to the earth than ever before. There were no gifts and our only refreshments were apples; but we were happy. It showed us very plainly that we do not need mater­ial things so much to make us happy if we only have Him in our hearts who came to bring joy to the world at Christmas time.
Setting the Table
The old knives and forks had to be scoured each day, and you may be sure that was a lot of work. Then, too, they were not sanitary. The handles would get loose and the rust would shake down onto the plates and food. We used ordinary red brick for scouring. Think of the work, scraping enough brick powder to scour. The old cutlery was used for picnics and the silver for every day and festive occasions.
In 1896 the first silver was purchased. It was plain Roger Brothers silver. We had eight dozen of each; almost 100 places could be set.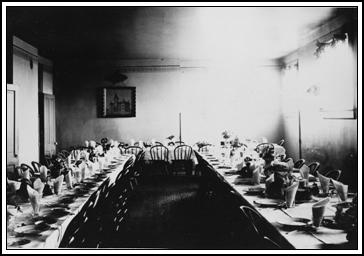 Commencement Day, June 17 1896
(Photograph by O.G. Felland, St. Olaf College Archives, no. 538)
    The money was collected from the different Ladies Aid Societies in our church. The school, of course, could not afford to buy it. To have this silver was like a gift to us, because it had cost the school nothing. So much money was collected that a set of dishes to use "for nice" was also purchased at that time. It was just plain china set with a cluster of blue flowers here and there.
Both the new silverware and china were used for the first time on Thanksgiving Day. Mohn and his family were invited for dinner. We had five long tables, 18 settings per table. The dining room could be closed with double doors. Everyone was so happy to think "we had made such progress"—meaning the silver, of course.
In this same dining room we served commencement dinners. Then the classes were not so large and we invited a few of the prominent people in the congregation for dinner and also the parents of the graduates. This was a free dinner. Very often the students had to wait for the second table, except, of course, the seniors.
The following anecdote, found in Elise Ytterboe's manuscript, "St. Olaf College Chronology, 1886-1889," relates the lighter side of Pres. Th. N. Mohn:
Mohn on a Bicycle 
One item of interest I remember about Mohn. He was always game to interest and amuse his boys. It was in the days of early bicycles and the boys, the four oldest, wanted to teach their father to ride a bicycle—and explained to him he could save time going to town. In those days we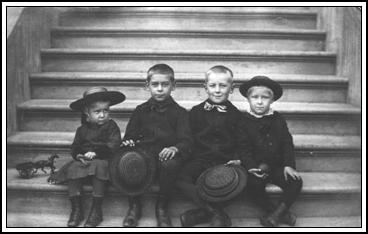 Mohn's boys (from left: George, Edward, John, Ray)
Sept. 11, 1887
(Photograph by O.G. Felland, St. Olaf College Archives, no. 143)
had no taxi service nor did he have a horse. He had given the boys a bicycle which they were very proud of—the bicycle was for boys, and he was a big man.
The boys were right there when he started—two on each side and ready to catch him. He did get started, and the boys ran alongside to hold him up or ready to catch him if he fell. He did not get many yards before the fun was over, both for the rider and for the onlookers. The bicycle got unmanageable and threw the rider off and not even four small boys, much as they wanted to, could keep the rider going. I never saw him try to ride again.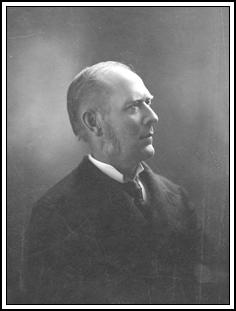 Pres. Th. N. Mohn, ca. 1895
"To purchase a hard copy, see St. Olaf Bookstore http://www.collegebookstore.org"
Ole Voices No. 1: Reminiscences
Chapters:
St. Olaf's School
Return to Manitou
Early College Days
Changes Take Place
A New Century, New Beginnings
New Quarters
The Passing of Ytterboe
Let There Be Light
Family Memories
Interesting Visitors
The War Years
Remembering Anna Mohn
Remembering Agnes Mellby
Afterword