The change of century was an interesting event. Mohns' and my family were in­vited to supper at Prof. Ole G. Felland's that New Year's Eve and to spend the night [Dec. 31, 1899]. It was the first time we had spent the night in the Ladies' Hall, where the Fellands had their rooms. We had a fine supper prepared by Mrs. Thea Felland, after which we visited and talked until near midnight, when Prof. Felland had devotion.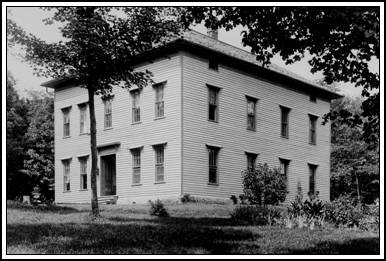 Ladies' Hall, Sept. 1898
(Photograph by O.G. Felland, St. Olaf College Archives, no. 636)
Towards the hour of twelve John Mohn took out his watch and began counting the seconds. I seem to see him standing there, watch in hand, saying "15 seconds, 10 seconds, 5 seconds"—then all of us burst out saying "Happy New Year!" We were all happy though we hardly realized that the old century had passed and a new century was with us.
We older ones, I am sure, were wondering how far into the new century we would be going. As Prof. Mohn had so recently left us, we wondered who the next one would be of this group who had been so close to one another throughout these years—or who would be the first in the new century. Little did we realize that my dear husband and Mrs. Felland would see so few years of this new century [Halvor Ytterboe, died 1904; Thea Felland, died 1905]. They were both so well and in their best years.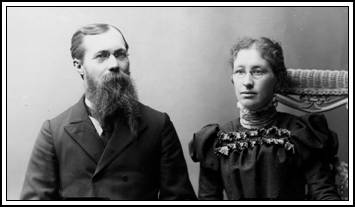 Prof. O.G. and Thea Felland, May 11, 1898
(St. Olaf College Archives)
In a paper titled "Pioneer Women of St. Olaf," Elise Ytterboe wrote of Thea Felland:
Another woman who did much in the early eighties and nineties for the young women was Mrs. Ole G. Felland, who lived in the old Ladies Hall. Energetic, conscientious, she was a very neat home keeper. Many were the picnics and meals she prepared for her girls and many a plate of cookies and doughnuts was sent to some hungry lonesome student. In her generous giving and fine home keeping, she set a splendid example for young girls to follow.
"To purchase a hard copy, see St. Olaf Bookstore http://www.collegebookstore.org"
Ole Voices No. 1: Reminiscences
Chapters:
St. Olaf's School
Return to Manitou
Early College Days
Changes Take Place
A New Century, New Beginnings
New Quarters
The Passing of Ytterboe
Let There Be Light
Family Memories
Interesting Visitors
The War Years
Remembering Anna Mohn
Remembering Agnes Mellby
Afterword