The first two years living in the dormitory were very happy ones. We loved to show this nice new building to friends and relatives of students. The third year did not prove so pleasant [1903]. When the students came back from their Christmas vacation, someone had contracted scarlet fever, and an epidemic soon broke out.
We had no hospital at that time, and so it was not easy to control. The north wing on the third floor was taken into use as a hospital. Some twenty-eight students came down with the disease. Two nurses were engaged, and both contracted the fever; others had to be secured. It was hard to combat; one boy would come down with it on first floor, another on third, and so on. It was thought to spread from the bathrooms located in the basement.
It was decided to fumigate the bathrooms every night, using for­maldehyde. In order to do an effective job of this, Ytterboe did the work himself; much to our regret afterwards. For some ten weeks he worked at it. We tried to get a vacant house in which to care for the patients; none could be had. Towards spring the epidemic subsided. The last three patients were moved into a small house just below the Hill, owned by Mrs. Lamberty and which she was kind enough to let us use. No new cases broke out in the dormitory. This was the spring of 1903.
It was soon noticed that Ytterboe's health was not what it used to be. He began to feel weak and to see double. Ytterboe sought an oculist who said the trouble was not with the sight. He saw one doctor after the other; all agreed it was formaldehyde poisoning. Having used too much it poisoned the nerves of motion, causing paralysis through the system.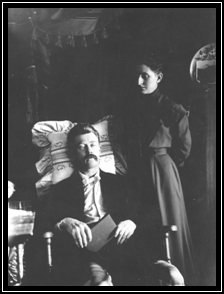 Nothing known to medical science could help. We sought specialists both in the Twin Cities and in Chicago. He was up and around until October, when he went to Luther Hospital for a rest, hoping that nature itself might effect a cure. In September he wrote in his note book, "I may not see the sun shine many more days; but I may soon see the Son of God shine in all His glory."

He realized his condition. He liked life and liked to work and would have liked to live longer and worked some more for the college he loved so well and for whose future he had such high hopes. He liked also to live to see his dear children grow up and become a blessing to their associates and to do the work of the Master wherever they might be placed in life. He would have liked to live longer, but was satisfied if it was his Father's will to go. He had perfect confidence in that whatever God willed was best for him.
The students also were such help and showed their kindness in so many ways. When Ytterboe grew worse and noise began to bother him, two of the students gave up their room to us on third floor, where it was quieter and where he passed away.
He passed away on Feb. 26, 1904, only forty-six years of age. A heart attack ended his life at 3:00 a.m. He was as usual in the evening, had a fine sleep, but awoke with a heart attack. He was conscious to the end. He could not talk, but let us know he heard the Twenty-third Psalm and knew us. It so happened that Kildahl, who had been with us so much and had asked to be called when the change would come, was out of town that night.
Prof. George Berg was the only one present besides the children and me. He roomed on the second floor and was temporarily in charge of the dormitory. He was such help and comfort.
Ytterboe seemed so young and full of energy and so much needed by us his own dear ones. How should we ever get along without him? The Lord was good to us and kept His promise, as always, to widows and fatherless. He gave us so many true and helpful friends.
I'll never forget our dearly beloved friend, Kildahl. He came to us two or three times a day while Ytterboe was ill. After he was gone, I was grateful for the care Kildahl gave us and the many thoughtful things he did to help us, one of which was to give my sister Agnes a teaching position. She was like our own daughter and had lived with us since she was a child. Kildahl knew that nothing he could do would please us more than to have her right with us; we all loved her so much.
Then, too, our dear friend Agnes Mellby was such a cheerful help during Ytterboe's illness and after he was gone, as were many of the faculty.
The funeral was held on March 2. It was a stormy day. His body was placed in the vault at Oaklawn Cemetery, the private burial taking place on April 14. Many were present at the funeral held in St. John's Church. The Carleton faculty was kind enough to offer us the use of the large Congregational Church, but as Ytterboe was secretary of the congregation, we thought best to have it in our own church.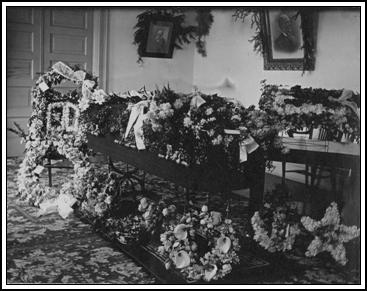 Prof. H.T. Ytterboe's casket, March 1904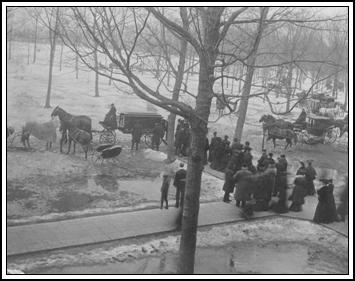 Prof. H.T. Ytterboe's funeral, March 2, 1904
(Gertrude Hillboe photo collection, no. 2381)
   At the time of Ytterboe's death, our youngest daughter, Edel, was very sick with rheumatic fever, so my thoughts were turned from my own grief to caring for her. She recovered quite soon.
The next thing to think about was where to live. We were occupying the rooms of the head of the dormitory, and someone would have to be appointed to take charge. Kildahl, our good friend as ever, informed me that Prof. Berg was appointed by the Board of Trustees to have charge of the dormitory and remain in his own room. Prof. Paul Glasoe was appointed Treasurer. I was to remain in the rooms the rest of the school year, with the salary Ytterboe had been receiving, much to my relief. What a blessing a friend in need can be!
In the summer time I was asked to take charge of the Boarding Club and do the buying. With the experience I had while Ytterboe was traveling in the nineties and the experience I received during his illness in buying I was reluctant but glad to accept this offer and remain in the building with my family.
What follows is a period account written by Elise Ytterboe describing in detail Prof. Halvor Ytterboe's health condition:
Northfield, Dec. 2, 1903
Mr. Ytterboe's condition and symptoms are as follows:

Last winter we had 18 cases of scarlet fever and were quarantined for two months, during that time, nearly every day, Mr. Ytterboe fumigated rooms and handled the sick boys. He would fumigate at night a great deal of the time, say from 10:00 p.m. till 2:00 a.m.

A couple of days he had a high fever, and we feared he might have taken the fever, but he did not break out and was at work again soon, but was looking poorly. In the first part of April, when we were getting over the fever and out of quarantine, he fumigated the section where the boys had been, some 12 rooms, and was using formaldehyde all this time, in liquid form.

He put the formaldehyde into a tin cup and let it evaporate over a spirit lamp. He inhaled more or less of it right along and it seemed to trouble him very much. He would often come down into our rooms and say that he believed he could not stand this way of fumigating; but as our doctor said it was harmless, he kept at it.

Soon after he fumigated the last section he began to see double (I can not remember if it was the next morning or not, but it was very soon after). After handling the scarletina patients he would disinfect himself by washing his hands and face in a solution of formaldehyde or carbolic acid and occasionally got some into his eye so it smarted.

First he saw double and then his left eyelid began to droop about the middle of April. The last of June his left arm began to feel weak, and the little finger and the one next to it drooped. In July his right eyelid drooped, and his right arm got weak. In August his face and jaw became affected, and his feet felt heavy. In September his tongue was affected, and in October he had trouble swallowing.

Two weeks ago he had sort of a sinking spell, and we feared he would pass away, but he recovered from that and has felt considerable better since. Two weeks ago he could scarcely swallow a cup of milk or liquid food—it would come up through his nose—but now he can drink a cup of milk quite readily—but he does not chew any solid food.

He can open his eyes quite well and when rested does not see double—his eyelids tire quite easily. He does not suffer any pains and has perfect feeling. His mind is very clear. His pulse varies from 74 to 84 and seems strong and regular. His temperature is around 98, a little below normal as a rule. He can take a full breath. His digestion is good.

He is troubled with sleeplessness. Sleeps only on an average 4 hours (since August).  When he lies in bed resting he feels perfectly well, but when he gets up he feels very weak. Yet, he is able to walk about the room a little and sit up in a chair for a couple of hours at the time.

He also saw Dr. Pringle here for his eyes in April. He gave him glasses—one ground glass to cover the eye that was then affected and prescribed strychnia and iodide of potassium.

In July we saw Dr. Sneve, who pronounced his trouble, scarletinal poisoningaggravated by use of formaldehyde. He advised continuing the same medicine. He said he thought he would get well, but it would take a long time, possibly a year or more. He advised rest and nourishing food.

In early September he saw Drs. Ball and Drumhall who were in charge of Dr. Riggs' office. They thought it might be a growth on the brain.

The last of September he saw Dr. Riggs, who gave him an examination and pronounced his trouble Myasthenia Gravis. He advised Ytterboe to continue with Dr. Sneve as he was perfectly able to take care of the case. He was then at Luther Hospital annex for three weeks under Dr. Sneve's care. He kept him in bed for 9 days—giving him salt sea baths—nourishing food, and iron.

There was no particular change—then he gave him electricity and massage for a week and a half—he grew very weak and felt that he would like to get home, as if necessary he could get the electric treatment at home. After a week's rest he commenced with electricity here at home and continued five days or until he got that sinking spell two weeks ago. Since, no electricity has been used and it seemed to me he has gradually been growing stronger, but is in bed most of the time.

All the medicine we give him now after meals is phosphate and strychniatwice per day and elixir of bromide to make him sleep.
"To purchase a hard copy, see St. Olaf Bookstore http://www.collegebookstore.org"
Ole Voices No. 1: Reminiscences
Chapters:
St. Olaf's School
Return to Manitou
Early College Days
Changes Take Place
A New Century, New Beginnings
New Quarters
The Passing of Ytterboe
Let There Be Light
Family Memories
Interesting Visitors
The War Years
Remembering Anna Mohn
Remembering Agnes Mellby
Afterword