With the children growing and the desire to have a home for ourselves, we saw fit to use the insurance and build a home on St. Olaf Avenue. We moved in on Sept. 1, 1906. Here we spent many happy days. The nearness to the college and surrounded by so many dear friends made our life a very happy one.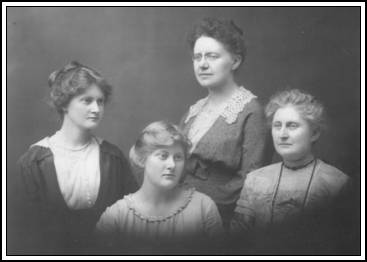 Evelyn Ytterboe, Edel Ytterboe, Agnes Kittelsby, and Elise Kittelsby Ytterboe, ca. 1920
(Bunny Sather photo collection)
   Sorrows and joys will come wherever one may be, and the death of our only son, Norman, at the age of seventeen, on Jan. 15, 1908, was a distinct loss. He had inherited much of his father's financial ability, so I looked to him for assistance. His frail health, which steadily increased, soon made it apparent that he would not be with us long. The Lord knew what was best for him, though it was hard for us, and it took some time to see that His will was the best.
In the course of time the Lord gave me two sons in the marriage of my two daughters. Evelyn was married on June 14, 1917, to Joseph Tetlie, and Edel to Harry Ayers on Sept. 29, 1921—both wedding receptions taking place in the home on St. Olaf Avenue; the ceremony in St. John's Church. Those were happy events, and though they both went far from the dear old home—Evelyn to China and Edel to Alabama—they are as near and dear as if they were right with me. My new sons have been to me like my very own. The Lord has been good to me.
One thing that affected us much was Agnes [Kittelsby] accepting a call to go to China—a call to build up a high school for missionaries' children. I had hoped she would remain with us always. She was the first woman to get a permanent appointment to teach here, so I never thought about her going elsewhere, though she often said she would like to do some special mission work, now that my daughters were grown and I would not need her so much.
Well I remember that November day [1914] when she said farewell and boarded the train for San Francisco on her way to China. That summer was a busy one here at St. Olaf. Kildahl had been called to the seminary and was giving up his work here. Many gatherings were held for him as well as for Agnes, and many a heartache to think they were not to be with us any longer.
Kildahl's health was failing; he was so tired, I remember, on two occasions he went to sleep—once at a dinner party he went to sleep at the table, and another time he slept away while he was having devotion at our home, where he was staying a few days while his household goods were being moved up to the seminary. His work here for fifteen years was crowned with success; buildings had been put up, the school had grown; but his health was undermined.
We were permitted to see Agnes again. She came back for her first furlough in 1921 and stayed for nearly two years. She had failed in health. The reports of her work in China were very satisfying, and she was determined to go out again. She loved the work. She was permitted to work until Christmas 1925, when she had to submit to an operation from which she never awoke. She slept on to awake to glory in the Heavenly Home.
Agnes Kittelsby passed away on Dec. 28, 1925. Her death resulted from Bright's disease and high blood pressure, from which she had suffered for some time. Agnes Kittelsby was the third woman graduate of St. Olaf College, Class of 1900. She served as principal of Unity High School, Kikungshan, Honan, China, from 1914 to 1921.
"To purchase a hard copy, see St. Olaf Bookstore http://www.collegebookstore.org"
Ole Voices No. 1: Reminiscences
Chapters:
St. Olaf's School
Return to Manitou
Early College Days
Changes Take Place
A New Century, New Beginnings
New Quarters
The Passing of Ytterboe
Let There Be Light
Family Memories
Interesting Visitors
The War Years
Remembering Anna Mohn
Remembering Agnes Mellby
Afterword