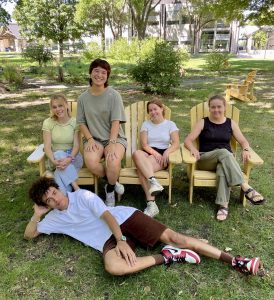 The objective of the Fifth-Year Emerging Artist program is to offer graduates an intensive art experience to better prepare them for graduate school or a professional career in the arts. The program is designed for gifted and self-motivated artists and curators who wish to make visual arts the core of their professional future. Fifth-Year Emerging Artists create and exhibit their own artwork. Together they will facilitate community events and act as mentors to undergraduate art students.
Senior art majors wishing to apply for the Fifth-Year Emerging Artist Program should meet with their Art-343 advisor to discuss their application. Advisors will recommend candidly whether or not the student should apply and may provide feedback on a draft of the letter of application.
The Fifth-Year Emerging Artist program is generously supported by the Leean Carpenter Endowed Fund.