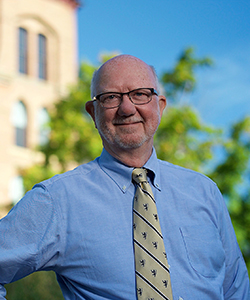 Time and again, I have been grateful for the wisdom of our founders in choosing to build St. Olaf College on the Hill. Its expansive views encourage us to think boldly not only about the present but also about the college's future.
For more than 140 years, St. Olaf has prepared students to claim their place in the world. As we look toward a future filled with rapid and widespread change, St. Olaf's patience and persistence – how we uphold our mission and traditions – is amplified by the need to be bold and purposeful in helping students build meaningful lives beyond their years on the Hill.
To do so, the college has made a very public commitment to be among the best in the nation at helping students discern their vocation — what they are called to do – and translate that calling into jobs that lead to professional accomplishment, financial independence, and personal fulfillment.
For the Hill and Beyond: The Campaign for St. Olaf College will raise $200 million in philanthropic resources for key priorities that reflect the promises we have made to our students – to help them find their purpose, and prepare them to lead productive, fulfilling, and purposeful lives.
In a time of change and uncertainty, a St. Olaf education sets graduates on solid paths to leadership in their lives, their chosen vocations, and their communities, spreading the impact of St. Olaf far beyond this hallowed place and past the bounds of our imagination.
Our hilltop view today remains broad, bright, and clear – the time to act is now. Join us in supporting For the Hill and Beyond. Help us shape the next chapter in St. Olaf's proud and purposeful history.


David R. Anderson '74
President
St. Olaf College