Keep us updated with what is new in your lives by completing our Center for Multicultural and International Engagement Alumni Update Form.
Want to see what events we have for alumni on the "Hill"? visit the Alumni and Parent Relations.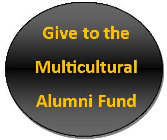 To contribute to the Multicultural Alumni Fund, click the button above and specify CMIE.