St. Olaf Dive Camp utilizes a comprehensive approach including pool time, dry-land and weight training, dry-board practice, video review, and classroom sessions to improve all aspects of your diving. This camp is designed for divers who have been diving competitively in an association or school program for at least one season. Dive camp takes place on the beautiful, residential St. Olaf campus in historic Northfield, Minnesota.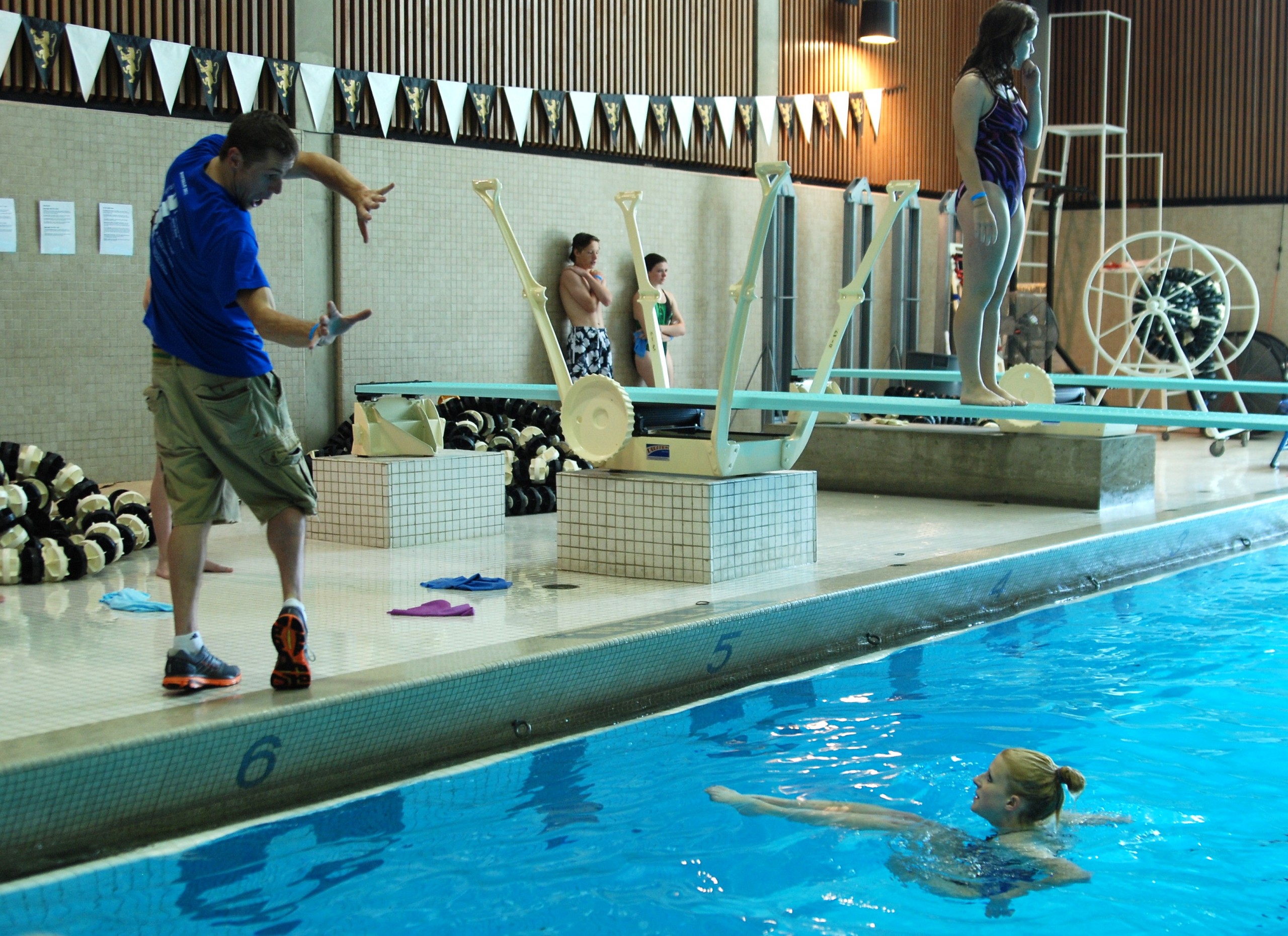 Dive Camp
We are no longer accepting registrations.
Ages: 13-17
Features: 
•Professional, individualized coaching
•Daily pool sessions
•Training on required and optional dives
•Instruction on one-meter board
•Dry-land trampoline and dry-board training
•Weight training
•Low athlete-to-coach ratio
•Video review sessions
•Classroom discussion focusing on dive mechanics and meet preparation
•Supervised recreational activities
•Final meet and dive exhibition
Rooming
Campers are housed two per room and may request a specific roommate. Roommates need to request each other on their registration form. Camp space is filled on a first-come basis and spots can not be held for a late-registering roommate.
Boarding
Meals are prepared by Bon Appetit. Healthy options include the salad bar, grilled meats and veggies, and hot entrees, cereals, yogurt, fresh fruit, a deli station, soup, and dessert station. There are plenty of food options for vegetarians, gluten-free, and other specific needs. However, if you have a specific food allergy, please email us so we can get your camper connected with the kitchen.
Gabe Kortuem '02 has coached the St. Olaf  College team since 2002. While a student athlete at St. Olaf, he made four national appearances and earned seven All-American honors. In 2002 he was national champion and set the Division III national record. Since Kortuem became the diving coach at St. Olaf, five divers have qualified for the Division III national meet and many have earned All-American honors. He was voted the Minnesota Intercollegiate Athletic Conference (MIAC) Diving Coach six times in the last 10 seasons.
Jeremiah Jackson is in his fourth year as coach for the University of Wisconsin-La Crosse swimming and diving teams. Prior to this, he coached the swimming and diving teams at St. Mary's University from 2005–18. He has coached the Winona High School boys and girls dive teams for the past 18 years and has been involved with the Rochester Orcas Swim Club for the past 12 seasons.
Jake Dunn '02 is currently in his eighth season coaching the St. Catherine University swimming and diving team. Prior to this, he coached the swimming and diving team at Macalester College for five years. He earned a national championship in the 1-meter and is a two time MIAC Coach of the Year.
Registration Information
Register now with our secure online form. Registrations are accepted until capacity has been reached.
Refund Policy
Emailed cancellations received four weeks prior to camp start date will receive a refund less a $100 non-refundable deposit. No refunds given within four weeks of camp start date.
Frequently Asked Questions