A Camp for Young Musicians
What could YOU do this summer?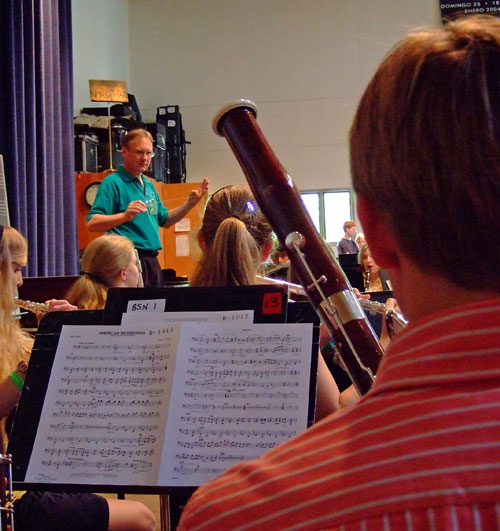 Music Academy
June 21-27, 2020
Join high school students from around the nation for an intense week of music-making under the direction of St. Olaf College's acclaimed music faculty.
Your days will be filled with classes, lessons, and rehearsals, followed by evening faculty recitals, students performances, and social and recreational activities directed by St. Olaf music students that include participants from the other academies.  The final concert will be streamed online.
You will return home with new skills, new energy, new friends, and a heightened commitment to music.
Fees and Registration
Ensembles: Band, Orchestra, Choir $$$
Chambers: Band, Orchestra, Choir, Keyboard (Piano/Organ) $$$
Academy Dates Coming Soon!
For students who have completed grades 8, 9, 10, 11, or 12
Ensemble Track: Band, Orchestra, Choir
This performance-based experience will challenge you to stretch your musical abilities as you participate in band, orchestra or choir ensembles (you may choose two ensembles) and take elective classes. Two 30-minute private lessons are included with tuition, with the option of purchasing two additional lessons.
Classes:
Enroll in two or three classes, depending on your major ensemble participation (registration is on a first-come basis). View class descriptions here.
Chamber Track: Band, Orchestra, Choir, Keyboard (Piano/Organ)
In addition to the large ensemble participation, two hours a day will be devoted to chamber music, culminating in chamber recitals. Chamber groups are determined by enrollment and a performance example to match levels. Class choice, master classes, and lessons fill out the day.
Additional Lesson Package: $70
Two additional half-hour lessons (instrument of your choice or voice).
Roommates:
Campers are housed two per room and may request a specific roommate. Roommates need to request each other on their registration form. Camp space is filled on a first-come basis and spots cannot be held for a late-registering roommate.
Camp Fee Includes:
Lodging, meals, and camp t-shirt (if registration is received after the t-shirt order has been submitted we will do our best to provide a t-shirt).  Campers are housed in comfortable, secure students residence halls.  Bedding and bath towel are provided. Instructors and counselors live in the residence halls and provide 24-hour supervision.  St. Olaf employs a professional security staff that is on duty 24/7.
Register Today:
Register now with our secure online form or complete a printable registration form and send it via mail. Registrations are accepted until capacity has been reached. When completing the online form please see options below.
Option 1: Pay in Full
At the conclusion of the registration form, you will be asked to submit credit card information.  Once submitted, the full amount will be paid.
Option 2: Submit Deposit Only
At the conclusion of the registration form disregard the payment section at the end and close out the window.  The registration form is still saved and submitted.  Once closed, go to the make-a-payment link and submit a minimum $100 non-refundable deposit to reserve your student's spot today. Registration is not officially accepted until completed registration form and deposit is received on the same day.  Payment must be paid in full 4 weeks prior to camp start date.
Refund Policy:
Written cancellations (post or email) received four weeks prior to camp start date will receive a refund less the $100 non-refundable deposit fee. No refunds are given within four weeks of camp start date; substitutions are accepted.
Financial Assistance 
Bon Appetit – Stav Dining Hall 
Meals are prepared by Bon Appetit. Healthy options include the salad bar, grilled meats and veggies, and hot entrees, cereals, yogurt, fresh fruit, a deli station, soup, and dessert station.  There are plenty of food options for vegetarians, gluten-free, and other specific needs.  However, if you have a specific food allergy, please email us so we can get your camper connected with the kitchen.
Do you like good food? So do we! Four schools across the country, St. Olaf being one of them, with food service operated by Bon Appétit Management Company were placed on the Princeton Review 'Best College Food' list this year. Campers will have the chance to taste the amazing creations, experience and service from our friends at Bon Appétit! Check out this article to learn more about their recent accomplishment!
Transportation, Additional Housing, and Non-Residential Option 
Contact the 
St. Olaf camp office
to inquire about additional housing and non-residential options, and go 
here
 for transportation options to and from the airport.