Oles in Economics: 1980-1989
 To jump to a specific class year, click one of the following links:
 Nathan D. Bergeland ('80):
USAdvisors Network, LLC CEO
Nathan D. Bergeland is a securities Registered Representative, Registered Principal and Advisory Supervisor. Nathan is the founder and CEO of USAdvisors Network, LLC, USAdvisors Network Insurance Agency, LLC and USAdvisors Network Consulting, LLC. He holds a Bachelor of Arts degree in Economics ('80) from Saint Olaf College in Northfield, Minnesota and earned the designation of Certified Financial Planner and a Masters of Science degree from the College for Financial Planning in Denver, Colorado.  Nathan has also earned the designation of Certified Retirement Counselor from the International Foundation for Retirement Education.  While at St. Olaf, he was a first team "All American" in football and inducted into the "Hall of Fame" at Saint Olaf College for his participation in football, hockey and track.   After college, Nathan was invited to try-out for the Atlanta Falcons and the Minnesota Vikings as a defensive tackle.
Throughout his financial career, Nathan has been active in local financial planning associations. He has been frequently quoted in the St. Paul "Pioneer Press" regarding financial planning issues. He co-authored Sheshunoff's "Community Banker's Guide to Non-Traditional Banking Services", has been a columnist for "Senior Citizens News and Views", and has written for the Minneapolis "Star Tribune". He has been invited to discuss economic issues on KMSP's local nightly news and on Minnesota Public Radio. Nathan has been featured in numerous national magazines including "Financial Planning", "Credit Union Times", "Financial Services Week", and "Bankers News".
Nathan is the founding member of USAdvisors Network, LLC.  USAdvisors Network, LLC is one of the leaders for innovation and strategic planning in the banking, accounting and insurance industries as it relates to financial planning and insurance integration. USAdvisors Network, LLC focuses on partnering with independent advisors and financial institutions (banks, credit unions, accounting and property/casualty companies) to build financial relationships with their clients.
Nathan spearheaded the creation of USAdvisors Network Insurance Agency, LLC to deliver insurance marketing platforms, competitive insurance products/services to financial advisors and financial institutions.
Nathan currently serves on the Board of Directors for USAdvisors Network, LLC, USAdvisors Network Insurance Agency, LLC, Partners Advantage Insurance Services, LLC and Dinosoles, Inc.
Robert Ranum ('80): After St. Olaf, I attended law school at the University of Minnesota, graduating in 1983.  I've spent the last 25 years as a corporate and securities lawyer at Fredrikson & Byron, P.A., a law firm in Minneapolis.  For more information, you can check out our website at www.fredlaw.com.
Jay E. Simpson ('80): Jay E. Simpson is an Attorney who has been providing legal and business advice, counsel and services to consultants, entrepreneurs and businesses since 1985.  Jay is a graduate of St. Olaf College in Northfield, MN with a B.A. in Economics and received his law degree (Doctor of Jurisprudence) from Drake University Law School in Des Moines, IA.  As a solo practitioner, he works with businesses in areas such as business formation and selection (i.e. C-corporations, Sub-S corporations, Limited Liability Companies), strategic/succession planning, review and negotiation of contracts and agreements, employment matters, lease agreements, licensing, document handling and retention, legal audits and litigation management.  He also works with individuals regarding their business related matters.  He is a frequent speaker on a variety of subjects such as contract formation and terminology, effective negotiations and starting a business.
Paul Jacobsen ('81): After St. Olaf, I graduated from the University of Minnesota Law School in 1984, and went to work for Briggs & Morgan in St. Paul. There, I mostly litigated construction and commercial disputes.  In 1995, after tiring of the big city and a big firm, I left my partnership and opened a solo practice in Brainerd, MN.  Now, most of my work is as a mediator, settling the wide variety of disputes found in a smaller community — real estate, construction, business, family law and anything else you can imagine — and some you probably can't!  I find this type of work much more varied and rewarding than my former big city practice, and it has given me more time to spend with my family and hobbies.
The year after graduation, in 1982, I married Sally Turcotte (PoliSci, 1981), and we have three great children.  The oldest, Elisabeth, is at Concordia Moorhead, and the second, Peter, will probably start at Olaf in the fall of '09.  We still have a few more years before we need to convince the third, Luke, that Olaf is the place to be.
Roberta McFarlin Lembke ('81): After graduation, I did a short stint in the corporate world before returning to the hill to work under Professor Bill Carlson in the Academic Computing Center.  While working, I got an MA from the University of Minnesota, focusing on higher education administration.  I am now the Director of IT and the Libraries at St. Olaf.  I lead of team of 55 individuals dedicated to supporting the academic mission and operations of the college..  It's been an incredibly rewarding career!
Mark L. Simenstad ('81): I am currently Vice President and Head of Fixed Income Funds at Thrivent Asset Management.  Previously was CIO / Fixed Income at Voyageur Asset Management in Minneapolis.  After my BA in Economics at St. Olaf in 1981, I received my MBA from the University of Minnesota Carlson School in 1983.  I also received my Chartered Financial Analyst (CFA) designation in 1987.
Steve Friswold ('82): MBA from the Harvard Graduate School of Business. President, Managing Partner, and Co-Founder of Genoa Business Advisors, LLC, and Vice President of Distribution with U.S. Oil Co., Inc. U.S. AutoForce and PAM Oil, Inc. in Minneapolis.
Jeff Hayman ('82): Mr. Hayman is currently retired in northeast Pennsylvania after a long career as a global insurance executive, having held senior roles in leading insurance companies for the past 30 years. Highlights in Hayman's experience include a period as President of International Insurance for Starr Companies, as well as a 15 year career with AIG, including chief executive positions over global consumer insurance and all property casualty operations in the Far East. He lived for nearly 12 years in Tokyo, from early 1998 until late 2009.

Hayman has served on the boards of publicly traded insurance companies listed on both the NYSE and the Tokyo Stock Exchange and also has extensive experience working with financial regulators in both the United States and abroad.

Mr. Hayman is a past Chairman of the Foreign Non-Life Insurance Association in Japan, a past member of the American Chamber of Commerce in Japan, the America-Japan Society and the US Korea Business Council executive committee. He also served for several years as a member of the Board of Directors of both The Korea Society and The Japan Society, both in New York City.

Mr. Hayman holds a B.A. in Economics and Political Science with honors from Saint Olaf College, Northfield, Minnesota and a Master of Business Administration degree from the University of Hartford, Barney School of Business and Public Administration, West Hartford Connecticut. He also holds the Chartered Life Underwriter and Chartered Financial Consultant designations of the American College, Bryn Mawr, Pennsylvania.
David Holmanl ('82): After graduating from St. Olaf in 1982, I attended law school at Hamline University, and obtained my law degree in 1985.  I was Associate General Counsel, managing the Corporate Legal Department at American Family Mutual Insurance Company in Madison Wisconsin.I am currently the Chief Strategy Officer at American Family.
Sue Dulek ('82):
JD from the University of Iowa, 1986
Employment history–1986 to 2000 Iowa Legal Aid staff attorney 3/96 to 4/97 (leave of absence from Iowa Legal Aid)–I worked for the American Bar Association in Sarajevo, Bosnia-Herzegovina.
to present–Assistant City Attorney for the City of Iowa City, Iowa
P.S.  I remain incredible indebted to Dr. Emory.  I had many, many wonderful profs at Olaf but he was the best.
Charlotte Murray Abrahamson ('83): Married to Chuck Abrahamson, class of '82. After graduating from St. Olaf I started with Arthur Andersen in the consulting division (now Accenture) and am still there. I am a Partner in the Application Outsourcing practice. Living in Edina Minnesota with husband Chuck and 3 children (Matt '91, Jack '94, Anna '96)
Kris Bergly ('83): After graduating from St. Olaf I attended William Mitchell College of Law in St. Paul.  I graduated with a J.D. degree in May 1987.  I became a member of the Minnesota State Bar Association in August, 1987.  I started in management at Regis Corporation in Minneapolis in August 1987 and I still work there.  I am currently the Chief Operating Officer and an Executive Vice President.  I am responsible for the operations of almost 6000 hair salons nationwide operating under names such as Regis, MasterCuts, Supercuts, and Cost Cutters.  I am also a member of YPO (Young Presidents Organization).  I live in Chanhassen with my wife Lisa and our two kids, Ellen-14 and Nick-12.
Linda Bold ('83): After graduating with a BA in Mathematics and Economics, I went straight to Indiana University to get my MBA in finance and marketing. I then spent eleven years at Kraft (General Foods) in finance and then marketing, four years at Clairol launching new products, two years at Gerber Baby as Director of Marketing launching new products, and three years buying companies and brands for Novartis, a Swiss pharmaceutical company. I retired in 2004 and have just completed my Masters in Psychology. My next move is either a PhD in Psychology or a position back in corporate America which blends my 20-year career with my new psych knowledge.
Bob David ('83):I was married the summer after graduating from St. Olaf to Emory Gillespie. I worked as a newsprint political reporter while she completed her M.Div studies. I then attended San Francisco Theological Seminary in San Anselmo, CA. and was ordained as a Presbyterian USA minister in 1991. The Presbyterian churches I have served have been in Larkspur, CA., and in the Iowa cities of Cedar Rapids, Ely, Mt. Pleasant and Iowa City. In early 2011, I will begin as the senior pastor of the First Congregational Church of Cedar Rapids (UCC). We have two kids, TomHenry (St. Olaf class of 2014) and Raina (13) and are wonderfully settled living in Mount Vernon, Iowa. My hobby is songwriting, and you can check out my group's CD at www.steeplechaseband.com
Andrew Ronningen ('83): MBA Marketing, University of St Thomas, Carlson School Executive Leadership Program; Employment:
General Electric,
Carlson Companies;
Current: Franchot & Associates, Inc (Partner, executive search and management counsel firm)
Enid Steinbart ('83):
BA St. Olaf 1983  Majors in Mathematics (with Statistics Concentration) and Economics
Ph.D. Mathematics 1989  University of Illinois – Urbana-Champaign
Employment:
University California – Riverside 1988-1989 Lecturer
University of New Orleans – 1989 – 1999 Professor
Georgia Institute of Technology 1999 – present
Faculty:  Director of Advising and Assessment
School of Mathematics
I now live in Decatur, GA – population about 20,00 (part of the Atlanta area).  Decatur is a great place to live.
I am married to Lew Lefton, and we have three daughters:
Hannah b. 1993
Monica and Natalie (twins) b. 1995
Currently, all 3 daughters are in college – University of Georgia, Emory, Georgia Tech.
steinbar@math.gatech.edu
http://people.math.gatech.edu/~steinbar/
Jennifer Aronson Ford ('84): Married to Jim Ford, class of 1986. Adventure and change have been my trademarks since St. Olaf graduation in 1984.  I'm following my passions of business, empowerment of women, travel, and changing the world by working in microfinance.
World Encounter, President www.worldencounter.org  World Encounter invests in the talents of the least – the last – the lost, through microfinance initiatives in East Africa.
IBM (current employment, as Client Executive)
Gallup Organization, Partner
MSI Systems Integrators, VP of Sales
Manifest Consulting, Principal
Sales professional, public speaker, and executive coach.
Currently traveling around the world Sept 1 2008 to March 24 2009.  www.fordexplorers.blogspot.com
Living in Burnsville Minnesota with husband Jim and 2 sons (21 & 15).
VP of Vision Board at Hosanna! Church in Lakeville, MN
Kristen A. Frost-Griep ('84): I graduated in '84, Econ with a concentration in Accounting.  I took a few accounting courses at the U during senior year, passed my CPA exam, and worked for Deloitte & Touche for several years.  Then I moved to Bloomington Schools, then the Wilder Foundation, and have now been at the U of M for over 10 years.  I am a Finance Director in the Academic Health Center, my group provides financial support and oversight for a wide variety of interdisciplinary health-related education and research programs.  I work about 35 hours/week, so I can spend more time with my family.
Kristen A. Frost-Griep
Finance Director
University of Minnesota
AHC Finance
MMC 613
420 Delaware St. SE
Minneapolis MN 55455
phone 612.624.6698
fax 612.626.8232
frost016@umn.edu
Wendy Swart Grossman ('84): Tufts University, MA
Urban and Environmental Policy 1991
My senior year seminar in welfare economics got me thinking, "How can I use my skills to help make things a little better?"  I am still struggling to answer that one, but I am happy with my decision to follow my passion.
From Northfield I moved to Boston to work as a community and student organizer for Ralph Nader's Public Interest Research Group.  After a year of organizing and some waiting table thrown in for good measure I landed a job on the staff of Governor Michael Dukakis.  I headed up his volunteer operation for his Gubernatorial Reelection Campaign which snowballed into the 1988 presidential bid.  After setting up the Volunteer operation at the national headquarters I went on the road for 18 months organizing congressional districts throughout the country.  Despite my best efforts, we lost.
After graduate school at Tufts University/Department of Urban and Environmental Policy, where I concentrated on nonprofit management and volunteerism I got involved with the Clinton Administration and worked for the 1993 Presidential Inaugural Committee and continued work for the White House Office of Scheduling and Advance through the second Clinton administration.
In 1994 I spent a year managing the Fund for Democratic Elections in South Africa to raise funds to support the first free and fair elections in South Africa and Nelson Mandela's campaign.  After my first son was born I went to work for Harvard University at the Harvard Museum of Natural History where I had the coolest job designing and implementing program to attract underserved populations to come to the museum.
Since moving to the UK 6 years ago with my husband and 2 kids, I have been working with the American School in London to design, implement and institutionalize a sustainable Community Service programm as well as doing consulting to charities and NGO's on all matters of strategic planning, fundraising, volunteerism and pr.
I am happy to talk with current students…or anybody for that matter…about working for the third sector, civil societies and alternative careers.
Elizabeth Hovland ('84): I earned my Master's Degree in Education from the University of St. Thomas and having been teaching at Hudson Middle School in Wisconsin for the past 20 years.  I teach 7th grade math and World History.  I am also an adjunct professor at the University of St. Thomas – I started there in 2000. My husband, Dave Lecander, and I live in Stillwater, MN.
John F. Pellicci ('84): Managing Director, manager of Municipal High Yield Sales and Trading at Piper Jaffray in Minneapolis, MN.  I have been at PJC since 1986 (24 years!).
Managing Director
Municipal High Yield Sales & Trading
Piper Jaffray & Co
800 Nicollet Mall, mail code J13S03
Minneapolis, MN  55402
John.F.Pellicci@pjc.com
612-303-2110 office
612-860-9666 cell
Brent Sockness ('84): After graduation, I switched disciplines and got my Masters in Religious Studies and Ph.D. in Theology from the University of Chicago Divinity School.  Taught in the early 90s in St. Olaf's religion department before moving West to Stanford University where I now serve as Associate Professor of Religious Studies.  I don't miss the snow, humidity, or mosquitoes nearly as much as I anticipated. I married a Carl who also teaches at Stanford.  We have two kids.  Many fond memories of Olaf and the Econ faculty!
Brent Koehler ('84):  Brent has more than 20 years of experience in strategy, acquisitions, general management and business development.  He is recognized for his ability to develop and implement innovative, customer-focused growth strategies for companies ranging from several million to several billion dollars in sales.  He founded and leads Summit Hill Consulting, a firm that specializes in strategy development and deployment.  His clients include outsourcing, manufacturing, professional services and software companies across a variety of technology-based industries.
Prior to founding Summit Hill, Brent held executive positions including as Vice President of Corporate Strategy at Lucent Technologies.  He has also held positions in business development, Chief Technology Officer, marketing, sales and as general manager of a global outsourcing business.  Brent has significant entrepreneurial experience founding, funding, building and selling two different companies.  Brent spent seven years at The Boston Consulting Group, successfully building a practice with high tech and marketing driven clients.  He started his career with IBM in production control.
Brent earned an MBA with distinction from the JL Kellogg Graduate School of Business at Northwestern University.  He graduated from Saint Olaf College with a BA summa cum laude in mathematics and economics.
Summit Hill Consulting, LLC specializes in strategy, acquisitions and business development for small to mid-cap companies.  Now in our 12th year, we take a flexible, collaborative approach with our clients based on our unique mix of consulting and general management experience.  As a result, our clients get a powerful blend of real-world solutions, breakthrough results and unparalleled consulting value.
Jeffrey D. Bores ('85):  
(Economics and Religion Majors) Jeffrey Bores is a member of Chestnut Cambronne PA, a Minneapolis-based law firm established in 1964. He is the firm's managing partner, and his law practice concentrates on the area of plaintiffs' class action litigation, principally in the areas of data security breaches, antitrust, securities fraud, and consumer fraud. He graduated magna cum laude from William Mitchell College of Law in 1992 and clerked for the Honorable Doris Ohlsen Huspeni of the Minnesota Court of Appeals following graduation. He has been with Chestnut Cambronne since 1993. Earlier in his career at Chestnut Cambronne, he co-authored a book entitled The Minnesota Divorce Revolution: A Plain English Explanation of Minnesota Divorce Law (2d ed. 1995). More information about Chestnut Cambronne is on the web at http://www.chestnutcambronne.com.
Jeffrey Bores also is the owner of taraNa Yoga, Inc., a yoga studio based in Southwest Minneapolis. He teaches five classes per week at taraNa. The studio, which offers multiple classes of vinyasa and Ashtanga yoga daily, was named Studio of the Year by City Pages and Best of the Southwest by Southwest Journal.  taraNa can be found on the web at http://www.taranayoga.com.
He currently is serving as Chair of the Board of Directors of The Jungle Theater, which is celebrating its 25th season in the Lyn-Lake neighborhood in Minneapolis.  The Jungle is a multi-award winning theater that produces a five-production season of classics and newer plays.
Ray Cabillot ('85): MBA, University of Minnesota CFA
After grad school work for an investment division of Prudential Insurance Company, then as a sell side analyst for Piper Jaffray and in 1998 started a small cap value hedge fund, Farnam Street Partners.
Kristi Carlson ('85): After graduating from St. Olaf, I attended the University of Minnesota Law School and graduated in 1988.  I was an associate attorney with the Fredrikson & Byron law firm in Minneapolis from 1988-1991.  I specialized in tax law and joined the Northwest Airlines tax planning group in late 1991.  I held a variety of positions at Northwest Airlines, including Vice-President Tax.  After the merger between Northwest and Delta Airlines in 2008, I "retired" from the airline industry.  I am currently Vice-President – Finance, Tax with Best Buy Enterprise Services headquartered in Richfield.
Eugenio (Gene) Di Lorenzo ('85):  I worked at Twin Cities Public Television until 1990 managing the production of local and national broadcast programming, including serving as Production Manager for the 1989 PBS special featuring the St. Olaf Christmas Festival.  In 1991 I started working as a Production Manger for Minneapolis-based Media Loft, a full-service creative communications agency and production company specializing in business theatre, live events, meetings, and film & video production (www.medialoft.com).  In 1995 I managed the transition of Media Loft's ownership structure from the founding shareholders to its employees as an ESOP company.  Today Media Loft is 100% employee-owned and I serve as its Chief Executive Officer.  I live in Marine on St. Croix with my wife Loralee (née Hanka, '85), son Pietro b. 1993, and daughter Lucia b. 1994.
Monica Dorow ('85): Juris Doctor from the University of Minnesota (1988), practicing attorney with Lindstrom Law Offices in Edina, MN.
Beret Syverson Evenstad ('85): I graduated in May, took the CPA exam and went right to work in public accounting.  Sadly, accounting and I were sorely mismatched.  Private banking was better, but I didn't really like what I did for a living until I went back to school and earned a second Bachelor's Degree in Interior Design.  Gabbert's hired me before I even graduated.  A few years later, I jumped at the chance to work for Martha O'Hara Interiors, and finally launched my own interior design studio in December of 2007!  I love it!
Keith Harder ('85):  Keith is the Director of Financial Planning for Rehmann Financial, a member of The Rehmann Group. He coordinates investment advisory services and financial planning services in our Saginaw office while maintaining his branch office in Lansing.
Keith has extensive experience in the field of financial planning. Since 1996, he has worked with high net worth individuals in creatively building financial strategies that strive to help clients fulfill their financial goals.
Keith worked in the areas of financing and management while he was president of a family-owned agriculture business. He also served as a U.S. Peace Corps volunteer working as a small business development specialist.
Keith is a graduate of St. Olaf College with a Bachelor of Arts degree and duel majors in Economics and Religion. He has also obtained his CERTIFIED FINANCIAL PLANNER™ certification and holds numerous securities licenses.
Professional Organizations
Certified Financial Planning Board of Standards
Financial Planning Association
Greater Lansing Estate Planning Council
Personal Mission Statement
Keith believes the life goals and financial future of our clients are the same goals and beliefs that are our ultimate measure of progress.
Rebecca Moore ('85): After working for the U.S. government in Washington, D.C. for several years, I completed an M.A. and Ph.D. in Foreign Affairs at the University of Virginia.  I am currently Professor of Political Science at Concordia College in Moorhead, MN where I teach in the areas of international politics, international security, U.S. foreign policy, and global studies.  I also research and write on NATO (North Atlantic Treaty Organization).
 Debbie Benoit ('86): After St. Olaf, I moved to the Bay Area and began working in the software industry. For the last 24 years, I've held positions in marketing communications, public relations, and technical writing for a number of software companies, including Symantec, Prism Solutions, Informix, Ascential Software, and IBM. Currently I am an information developer at Workday, focusing on integrations. I write task-oriented online help about packaged integrations and self-service integration tools.
Ron Braun ('86): I am currently the Sr. Manager of Category Management and Market Insight at Target.  I have now been there 22 years.  My team provides information and insight to the merchants that help them identify the best strategies for our business.
Greg Brock ('86): I graduated with an economics major and a concentration in accounting/finance.  While at my first job with Blue Cross Blue Shield of Minnesota I passed the CPA exam and started working on my MBA at University of St. Thomas.  I left Blue Cross in 1993 and went to work for Deloitte in their Healthcare Consulting practice. With the travel related to consulting, I never did finish my MBA.  I left Deloitte in 2008 to start my own consulting practice in health finance.  My primary area of expertise is helping hospitals get reimbursed from the Medicare program.
Jonathan Eklin ('86): I have been an investment advisor since 1989.  I was with Smith Barney from 5/89 until 2/09.  I am currently a Vice President and a Portfolio manager with UBS Financial services.
John F. Haugen ('86): John Haugen currently serves as Vice President, New Business Development at General Mills. In this role,
he leads transformational innovation initiatives aimed at creating new growth opportunities for the company.Haugen joined General Mills in 1990 as an Assistant Marketing Manager. He has held numerous positions in marketing, general management and talent acquisition during his 23 year tenure at the company. Haugen was promoted to Marketing Director at General Mills in 1997 and to Vice President in 2001. He served in  this capacity for Yoplait USA, driving business growth of ~15% CGR for three years. In 2003, he moved to the Big G Cereal Division, leading the New Enterprises team. In this role, he spearheaded the transformational conversion of the entire cereal portfolio to whole grain and also launched strategic brand extensions for Cheerios and Fiber One brands.
Haugen was tapped to lead the newly created Health and Wellness Center of Excellence in October, 2005. Since that time, General Mills has made nutritional improvements to over 75% of its product line. He has led several innovative programs including the launch of Curves Foods (cereal, snacks) and the launch of the Best Life Diet with Bob Greene. In January, 2009 he launched the Pound for Pound Challenge in collaboration with Feeding America and NBC's hit TV series The Biggest Loser. This program inspired Americans to lose weight and, in the process, delivered over 12 million pounds of food to local food banks. In July, 2012 Haugen was appointed to create and lead 301 Inc., a newly created new business development team at General Mills. In this role, he leads a cross-functional initiative aimed at generating and incubating new brands and business models to drive future growth for the company.
Haugen received a BA in Mathematics and Economics from St. Olaf College in 1986. In 2011, he was the recipient of the Distinguished Alumni Award from the college. He received his MBA from the Anderson School at UCLA in 1990. Haugen lives with his wife, Linda, and their four children in Minneapolis. He has served on the boards of the Children's Cancer Research Fund and the St. Olaf College Alumni Association. He has a passion for fitness and competitive endurance sports (2014 Comrades Ultra-Marathon, 2012 Grand Canyon "Rim to Rim to Rim to Rim", 2007 Ironman, 9 marathons, 1996 Boston qualifier, 19-time Hood to Coast Relay competitor).
Kenneth Johnson ('86): I didn't earn an advanced degree and I can't really say I have any special distinctions, but I do live in Japan and work for an agency of the Japanese government. I am a Deputy Director in the International Projects Management Division of the New Energy and Industrial Technology Development Organization. We manage and promote R&D related to new energy, energy efficiency, environmental and industrial technologies. In my division, we work with governments in developing countries in the Asia-Pacific region to introduce and disseminate advanced Japanese new energy and energy efficiency technologies to promote sustainable growth.
My wife, Akiko Kuchina, class of '89, have been in Kamakura, Japan for about 5 years.
Vijay Mehrotra ('86): I am now an Associate Professor of Finance and Quantitative Analytics at the University of San Francisco as well as an active angel investor and technology operations consultant.
John K. Pierson ('86): After graduating from Law School at Pepperdine University in Malibu, California in 1989 I opened my own law firm in Los Angeles, CA. Piersonfirm.Com. The firm currently has offices in Century City, CA and Minneapolis, MN. The firm specializes in complex business disputes and entertainment litigation. In addition to practicing law, I also managed the music career of Grammy winner Flesh N Bone as well as having represented the biggest names in Rap music. I currently sit on the board of directors for private companies in the medical devices field and education publishing.
PIERSON FIRM
JOHN K. PIERSON, ESQ.
Phone (310) 826-8009
Facsimile (310) 943-2628
Teresa Rothausen-Vange ('86): Teresa Rothausen-Vange (class of 1986), Ph.D., is Professor of Management in the Opus College of Business at the University of St. Thomas (UST) in Minneapolis where she teaches, consults, and conducts research on leadership, management, intercultural and diversity management, career development, and human resources management. She has worked on these issues with and for organizations from Fortune 100 to small not-for-profits.  Web page:  http://www.stthomas.edu/business/faculty/directory/Rothausen-Vange_Teresa.html
Dr. Rothausen-Vange was the founding director of the full-time UST MBA program from 2003-2005.  Prior to joining UST in 1998, Dr. Rothausen-Vange was Assistant Professor of Management at Texas A&M University and worked in a precursor of the "Big 4" as a C.P.A..  She is the author of several articles and book chapters, one of which was nominated for the Rosabeth Moss Kanter International Award for Excellence in Work-Family Research given by Purdue University and Boston College. She won the Award for Outstanding Research from the Minnesota Career Development Network for her research on careers.  She has written business columns for the Minneapolis Star Tribune and articles for practitioner journals.
Dr. Rothausen-Vange holds a Ph.D. in human resources and industrial relations with specialties in staffing, training and development and organizational behavior/organization theory from the University of Minnesota, a B.A. in economics from St. Olaf College, and a C.P.A.  She is married to Jens Rothausen-Vange, an architect in Minneapolis, where they live and work with her three kids—Caleb, Jake, and Hannah, and one stepson—Ethan.
I'm happy to talk to students about MBA programs, Ph.D. programs, being a business professor, and/or being a working Mom.
Thom VanHorn ('86):
Vice President, Global Marketing
Application Security, Inc.
Office:  781.687.1059
Mobile:  617.877.2538
www.appsecinc.com
Twitter ID:  MrVanHorn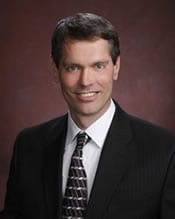 Doug Bearrood ('86) It has been 28 years since I graduated from St. Olaf where I majored in Math and Economics.  Following St. Olaf, I went to Iowa State University for two years, where I got my Master's degree in Statistics and met my wife of now 26 years, Teresa. I worked as a Quality Control Statistician at Rosemount Engineering for one year before deciding that I wanted to be an actuary (which I had done as a summer intern for two years while at St. Olaf).  I got a job with Fortis Financial Group in Woodbury, MN and spent the next 6 years of my life getting through all the actuarial exams to become an FSA (Fellow of the Society of Actuaries).  I did some work too, but the exams definitely are the strongest memory.  I finally stopped taking exams when I was 31 years old…I guess I was a glutton for punishment!  Finishing the exams also freed me up to actually have children, of which we have two (Thomas and Anna).  I ended up working at Fortis for a total of 12 years until they were acquired by The Hartford.
That is when I joined Thrivent Financial for Lutherans.  I currently serve as Vice President of Corporate Actuarial.  In this role, I lead corporate actuarial analysis and reporting, risk and capital management, experience studies and model management.  The models I manage are not the kind that walk down runways; they are our projection models. J
I currently live in Woodbury, Minnesota, with my wife, Teresa.  As of this year, we are now empty-nesters as both my children are off at college and both are at St. Olaf enjoying the same wonderful education I got there!  My senior son, Thomas, appears destined for grad school in Chemistry, while my freshman daughter, Anna, may follow in her dad's footsteps as she is currently interested in a Math/Econ double major and potentially becoming an actuary.
Before my kids went to St. Olaf, I was quite active in the local soccer scene where I coached/managed for 10+ years. My main interests/activities now are biking, jogging, tennis, and skiing.  I've done one marathon and one 100 mile bike ride with another coming up soon.
John Yarger ('86): Following graduation, I went to work for Cargill, Inc and was transferred to Gainesville, GA as a merchant for Cargill's Oilseed Crushing Division. While in Gainesville I met my wife Kim (Payne) Yarger and was married in 1988.  Between 1990-96 I was managing Cargill's futures operations on the Chicago Board of Trade while my wife was managing our twins, Harrison and Anna Katharine (1993) and Rachel (1994).  I left Cargill between 1996-99 to trade futures for my own account and work for a CBOT commission house, LaSalle Group, as the market analyst for the soybean complex.  I returned to Cargill in 1999 and moved back to Gainesville, GA as their Regional Sales Manager for Cargill's Oils and Shortenings Business.
John Brill ('87): I am the Director of Retail Analytics and Director of Sales for Food/Health/Beauty for Disney Consumer Products.  I am based in Minneapolis, and my sole responsibility is Target.  I've been with Disney for five years.  Prior to that, I worked for Target in various merchandising roles for 18 years.
John Brill | Director, Retail Analytics and Sales (Target) | Disney Consumer Products |50 S 10th Street, Suite 620 Minneapolis, MN 55403 |612-313-0345 x226 (office) |612-801-0629 (cell) | john.brill@disney.com
Mark Fischer ('87): I am the Chair of the Mathematics Department at Wilbraham & Monson Academy in Wilbraham MA.  The international student body is a wonderful plus to the job. My career in the math classroom started when I joined the Peace Corps in the late 80's.  I spent two years teaching in Mbabane Swaziland – then went to the Harvard Graduate School Education.  Besides spending a good deal of time in math classrooms, I have lead high school and college students on educational travel excursions to foreign lands – most recently to China. I was in Beijing before the Olympics and Xi'an after the earthquake – perfect timing you might say.
Mark Grina ('87): I graduated in 1987 with a BA in Economics.  I am currently the CFO for a company called Quality Contracting in Little Canada, MN.  Attached is our website that speaks to what we do.  www.qualitycontractinginc.com
Kathleen Hokemeir-Seim ('87): After St. Olaf, I attended graduate school at the University of Minnesota and completed my Masters in Industrial Relations through the Carlson School of Management.  I spent several years in Michigan and Ohio in Human  Resource  positions with General Mills before joining Medtronic.  I have been with Medtronic now for almost 14 years and love what I do.  I am currently a Human Resources Manager in our Neurological division  where I work with our Research and Development & Quality functions.  I also did a brief stint teaching English in Japan prior to grad school.  Outside of work, I am busy with my family.  I married Doug Seim in 1990 and we have two beautiful boys who are growing up fast.  Peter is 13 years old and Paul is 9.    Both boys currently attend French Immersion schools  in Edina where we have been active working with the French teaching assistants who come over every year to  teach in the school system.  We also enjoy volunteering in our church and with the boy scouts.  I treasure my many fond memories and friendships from my St. Olaf days.
Michelle LeGros ('87): After graduation, I headed straight to the University of Minnesota Carlson School of Management to get my MBA with an focus in Marketing.  I have worked in the marketing/marketing research departments of companies such as Toro, US Bank, and Gfk-CRI.  Currently, I work as VP of Marketing Research at UnitedHealth Group, focusing on the Medicare business for UHG.
My husband, Jay Stracke, and I live in south Minneapolis and are kept quite busy these days with our two very young kids — Claire (born 6/07) and Henry (born 11/08).  I have kept up my love of travel (result of adventures on Global Semester) and have managed to continue exploring the world since graduation. However, our adventures are a little closer to home until we are done with diapers!
I am happy to network with other alums/students interested in marketing research issues.
R. Andrew McCoy ('87): VP of Revenue Management, Fairview Health Services
Ronald Moen ('87): Director at Association Management Center & CoreSource. http://www.linkedin.com/in/ronaldmmoen
Theresa Herzog Tostengard ('87): I graduated from St. Olaf with majors in economics and math.  Following college, I worked for 3 years for a nonprofit corporation, before getting my law degree from the University of Minnesota Law School in 1993. I worked for 4 years at the Minneapolis law firm, Lindquist & Vennum, P.L.L.P., where I practiced in the litigation department. My main areas were in shareholder disputes, antitrust and employment litigation. I married Mike Tostengard (also a lawyer) in 1996, and decided I wanted a lifestyle change.  I then worked for almost 10 years as General Counsel for the Minnesota Credit Union Network, where I assisted the approximate 160 credit unions in Minnesota with their regulatory and legal issues. In the summer of 1997, I moved in house as VP/General Counsel at the Anoka Hennepin Credit Union.
I have two daughters, Mara (age 10) and Anna (age 8). I continue my love of music and try to impart what I learned while in the St. Olaf Choir to the children's choir I have conducted at Roseville Lutheran Church for the past 4 years.
John Gigerich ('87):  I graduated from St Olaf in 1987 with a BA in Economics and a concentration in Accounting.  Since graduation I have worked for a number of companies ranging from IBM on the large end to a couple of entrepreneurial ventures.  Also from 1992 to 2008 I served as a paid-on-call firefighter/EMT for the Barrington Fire Department (suburbs of Chicago).  I have been working for Kellogg Company about 7 years ago in IT and have moved through a series of roles during that time.  At present I am on an expat assignment at the Vice President & CIO Kellogg Europe.  My wife and I have been living in Manchester, UK for the last two years.  We are empty nesters so the move to the UK was pretty easy.  At present we are not sure on the exact timing of our return to the US but it should be in 2015/16.  Our hope is to return to the Chicago area since that is where our daughter lives and works.
I am happy to network with students and alumni about careers in consumer goods or information technology.  The best bet to reach me is email atjgigerich@yahoo.com.
Jon E Brusven ('88):
St Olaf College, BA-Economics
Chartered Financial Analyst designation (1993)
Duke University, MBA (1995)
2002-present, a self employed principal of two consulting practices in finance, capital allocation and strategy:
Aldgate West, LLC (Managing Principal), advising corporations on business strategy and finance primarily in (but not limited to) the alternative energy industry.  Cofounder of USA Energy Group, LLC which is the General Partner of a waste-to-energy power plant in Orrington, Maine.  Cofounder of CTW Energy Development, LLC which is engaged in the study and commercialization of utility scale energy storage. Longship Advisers, LLC (Principal), an investment advisor consulting to large trusts on capital allocation and hiring investment managers.  Assets advised total approximately $1 billion.
1998-2002, finance and strategy consultant based in London, Chicago and Irvine, California.  Advised corporations on three continents and a broad spectrum of industries on strategy, M&A, operational prioritization, and "value based management".
1988-1998, securities analyst and portfolio manager at firms in Minneapolis and Chicago
Doug Greene ('88):J.D., University of Iowa College of Law, is a partner in the Seattle office of Wilson Sonsini Goodrich & Rosati.
http://www.wsgr.com/WSGR/DBIndex.aspx?SectionName=attorneys/BIOS/7963.htm
Gerald E. Heinen Jr. ('88): Management Consultant and Manager withWells Fargo in Minneapolis.  He was formerly with U.S. Bancorp in Hopkins, MN.
Chip House ('88): I graduated from St. Olaf in '88 with BA in Economics and concentration in Management.
Work History: Fingerhut corporation: '88 – '97. Digital River: '97 – '01. ExactTarget: '01 – Present.  All roles have been in direct or online marketing.
Current: VP of Industry & Relationship Marketing at ExactTarget, an online software company specializing in enabling organizations of all size market effectively via email, mobile and social networking.
www.exacttarget.com
Twitter: @cehouse
Mark Larson ('88): Graduated from St. Olaf in 1988 (B.A. Economics)
Grad school:  Architecture at the University of Minnesota in 1992 (M.Arch)
Registered architect in 1998
Co-founded Rehkamp Larson Architects, Inc. in 2000 (www.rehkamplarson.com)
Entrepreneurship began during architecture school when I started a model building company with a couple of fellow students, building models for many of the local design firms.  After graduation, my wife Jean Rehkamp Larson (also an architect) and I worked at different offices for about 8 years and had two kids before co-founding our own office.  Our practice is dedicated to residential design including additions, renovations, new houses, farmhouses and cabins.  Our projects have been featured on HGTV, published locally and nationally and have won various design awards.  We are currently a 12 person firm and are located in the Linden Hills neighborhood of south Minneapolis.
The design process is always an exploration of cost, quantity and quality in a particular design for a particular client.  Economics and a liberal arts background have served me well in balancing the art and business of architecture.
Mark D. Nerud ('88):President, Jackson National Asset Management LLC (JNAM) and Jackson Fund Services (JFS). JNAM is an investment adviser to almost $30 billion in assets in approximately 100 mutual funds.  JFS provides back office fund services (fund accounting, compliance, legal, reporting, tax, etc) to our mutual funds and other 3rd party clients.
Christopher D. Peterson ('88):
BA Economics – St Olaf 1988
MBA University of Minnesota 1993
Current
Vice President and CFO
Satellite Shelters, Inc.
Tom O'Connor ('88): I am currently the President of Allina Mercy Hospital in Coon Rapids.  I went on to get a Masters Degree in Health Services Administration and an MBA from the U of MN.   I would be happy to talk with any students interested in healthcare.
John Olsen ('88): MBA from the University of Chicago ('92).  Fourth generation President of our family business (Artos Engineering Company www.artosnet.com).   Married to Monique (Hartman) with three children, Jeremy, Hannah, and Jon.
21605 Gateway Ct.
Brookfield, WI  53045
Phone: 1-262-252-4545
Fax: 1-262-252-4544
Thomas E. Rogers Jr. ('88): I have been called to serve Redeemer Lutheran Church in Woodstock, Illinois since June 3, 2000. On the day I was called, I graduated from the Lutheran School of Theology at Chicago in Chicago Illinois with a Master's of Divinity. Before that, from 1991 to 1995, I experienced first hand the effects of government spending, especially within the military, as a member of the United States Army, with major duty stations at Fort Bragg, North Carolina and Helemano Military Reservation, Hawaii. From the time I graduated from Saint Olaf until joining the Army, I specialized in accruing large amounts of personal debt and various colors and brands of credit cards.
I love my call as a pastor because there is a clear "business" side of the call. In addition to the financial side, such as assets and budgeting, there is also the strategic part, the mission, vision and values that every organization needs. I am also involved in the local schools, working with the career development/consumer education departments, speaking on personal finance and charitable contributions at various events for 8th-12th graders. Finally, I have also used my economics background to re-write our synod's salary guidelines for pastors and other rostered leaders.
In short, my Economics degree has served me well. Every professor (the Emerys, Judge, Schodt, Power, etc.) within the department helped form me as a person, but I must give special thanks and appreciation to Dr. Bill Carlson, Dr. Steve Soderlind and the late Mr. Jim Braulick for listening to, caring for, and believing in me. Without their support, I doubt I would have even graduated from Saint Olaf, much less gained an Economics degree. During my years at Saint Olaf, there were few better places on campus than the fourth floor of Holland Hall.
Mark Williamson ('88): I graduated from St. Olaf in 1988, with a B.A. in History and Economics.  I spent the year following graduation living as a ski bum in Vail, Colorado.  I then worked for the Minnesota State Senate for two years as a legislative researcher.  In 1991, I married Susie Lindholm (1987 Ole) and started law school at the University of Denver.  I graduated from DU in 1994 and practiced employment law in Denver for two years at Sherman & Howard, a large Denver firm.  In 1996, we moved back to Minnesota, where I was an associate attorney with Dorsey & Whitney, first in litigation and then in business law.  In 1999, I moved to Gray Plant Mooty, where I have been practicing business and securities law.  I am a partner at Gray Plant Mooty and co-chair of the firm's Mergers & Acquisitions Team.  Susie and I have two children and live in St. Paul, MN.
Mark Frommelt ('89): After graduating in '89, I started a small Office Furniture company in 1993; Alternative Business Furniture. Our business is primarily in the Minneapolis/St Paul area.  Have since grown to roughly 65 employees and 12m in revenues. Married in 1995 (Michelle), and mow now live in Minnetonka with our four children; Ryan ('89), Shawn and Megan ('00) and Aaron ('03).
Direct (952) 253-2820
Alternative Business Furniture, Inc. |
6533 Flying Cloud Drive, Suite 800 Eden Prairie, MN 55344
Main (952) 937-7688 | Fax (952) 937-7691
|markf@altbusfurn.com | www.altbusfurn.com
Mark Hanson ('89): Graduate School: Tuck School of Business, MBA – 1995
Currently Managing Director at Barclays Capital (Investment Banking) work with Healthcare Services Companies.
Mark Wohlhuter ('89):
St. Olaf College – BA in Mathematics and Economics with concentration in Management, 1989
University of St. Thomas – MS in Software Engineering, 2000
Lead Software Engineer in Business Systems at Thomson Reuters in Eagan, MN, 1990 to current
Married to Mary (Peine) Wohlhuter, St. Olaf class of 1987 and also an Economics major, 1992
Daughters – Greta (2000) and Monica  (2002)
Jeffrey Gass ('89): Managing Director of High Grade Debt Syndicate at Wells Fargo Securities in Charlotte, NC.  Married to Melissa Gass (DeWitt); a 1990 graduate of St. Olaf with majors in English and Spanish.  They have two children; Joth and Julia.
To jump to another decade, click one of the following links:
To return to the top of the page, click here.