Oles in Economics: 2000-2009
To jump to a specific class year, click one of the following links:
Erin O'Donnell Dotzler ('00): Masters in Public Policy, Kennedy School of Government, Harvard University, 2006 At present, I am the Director of Public, Practice and Scientific Affairs for the American Academy of Periodontology, in Chicago.  Thanks to Becky Judge for introducing me to the fascinating world of public policy and teaching me how policy can be applied in many different contexts, and to David Emery for encouraging me to pursue my graduate degree.
I married a fellow Ole, Sam Dotzler (00′) in 2005.  Together we host the monthly Around the World Around Chicago dinners for St. Olaf Alumni in the Chicagoland area. If you are in Chicago, come meet fellow Oles over dinner at an ethnic restaurant!
Jay Picconatto ('00): I have been working at General Mills since I graduated from Saint Olaf in 2000.  I took a two-year leave-of-absence and got my MBA from Stanford Graduate School of Business ('05) but returned to Minnesota and to General Mills. Currently lead global marketing for Häagen-Dazs shops worldwide.
Erik J. Romslo ('00): St. Olaf — BA 2000
Jason Smith ('00): New York University School of Law — JD 2003 Attorney at Fried, Frank, Harris, Shriver & Jacobson LLP — New York City — 2003-2005 Attorney at Faegre & Benson LLP — Minneapolis — 2005-current
 Eric Wilbur ('00): I refreshed my economics knowledge and learned a few new things as well during evening MBA courses at the University of St. Thomas (2006).  I have been working at Best Buy since graduating from Olaf with math and econ degrees.  Best Buy has been an exciting company to work for where new technology and gadgets keep work fun and engaging.  I have worked in different capacities within our supply chain organization and am currently managing a project team that supports the demand planning organization (people and systems that balance supply and demand).  Feel free to contact me at Eric.Wilbur@BestBuy.com.
Jason Smith ('00):  is a Portfolio Manager within the Large Specialized and Regional Division of the Federal Reserve Bank of Chicago.  In the portfolio manager role, Jason is responsible for providing strategic direction to a team of experienced bank examiners, analysts and risk specialists in the supervision of regional Bank Holding Company's (BHC's), Saving Loan Holding Co.'s (SLHC's) and Insurance Holding Co.'s (ISLHC's).  Jason's team is primarily responsible for assessing the financial condition, strategy and control and risk management practices of regional firms in multiple risk areas including: credit, market, liquidity, operational, Trust/Fiduciary and IT risk.  Jason also for training staff and coordinating capital planning/and DFAST examinations at regional and large firms with consolidated assets totaling $10 – $50 billion in assets.  At the national level, Jason participates and leads Federal Reserve System work streams related to the development of bank and BHC regulatory guidance and Dodd-Frank stress testing guidance.
Jason joined the Federal Reserve Bank of Chicago, in August 2006 as the Country Analyst/Financial analyst for the Chicago Foreign Banking Operations (FBO) portfolio.  As a country analyst, Jason was responsible for coordinating supervisory work with foreign banking and credit union supervisors and also US supervisors including State and Federal regulatory agencies.  Jason was also responsible for assessing sovereign risk, banking and regulatory conditions and accounting practices of foreign countries.  Responsibilities also included assessing the consolidated financial condition and risk management practices of a portfolio of banks and credit unions in Canada, Sweden and Iceland, leveraging foreign regulator assessments.
Prior to joining the Federal Reserve Bank of Chicago, Jason held the role of Trust Investment Officer at AmalgaTrust and subsidiary of Amalgamated Bank of Chicago.  AmalgaTrust manages over $10 billion in Taft Hartley and Pension assets.  As an investment officer, Jason along with his team was responsible for managing the fixed income assets of several medium sized national and regional Taft Hartley accounts including: Health and Welfare accounts, Pensions plans and Cash/Sweep accounts with assets ranging from $50 million to over $1 billion.  Jason's investment strategy was short to intermediate, utilizing investment data analytics and economic research to meet and or outperform client expectations.
Jason also spent time with Morningstar, Inc. an independent investment research firm headquartered in Chicago.  While at Morningstar, Inc., Jason's role was as an open-end mutual fund data analyst.  He was responsible for the collection and quality control of open and closed end mutual fund data and activation of funds in the mutual fund system.  Jason's role expanded to managing a team of ETF and equity data analysts.  Team duties included reviewing proprietary investment data points for accuracy, including Star ratings and Style box information.  Before exiting Morningstar, Jason began to conduct qualitative and quantitative analysis on the mutual funds and ETF's by using Morningstar data and monitoring regulatory information to assess the styles and performance of the individual funds.
In terms of education, Jason is studying for hiw GMAT, with plans to obtain his MBA.  Jason received his B.A. in Economic from St. Olaf College in Minnesota.
Jason is on the Board of Directors of the Young Women's Leadership Charter School, located in downtown Chicago.  He serves on the budget and finance committee of the board as well as the new policies and programs committee.
Eric W. Anderson ('01): I have been helping clients achieve their financial goals since 2001. I attended Breck School and graduated from St. Olaf College with degrees in economics and finance. I hold the Series 7 and 66 licenses and am life and health insurance licensed. I have earned RBC Wealth Management's Summit Award, which is given to the "top tier" of financial consultants within their first five years of business. I was also recognized as a "Five Star Best in Client Satisfaction Wealth Manager" by Minneapolis St. Paul Magazine. Once a month, I conduct "What You Need to Know" educational seminars on various investment and lifestyle topics.
Born and raised in Minnesota, I live in downtown Minneapolis with my wife Jillian and our dog, Darby. I enjoy being involved with various organizations in the community. I serve as an Ambassador for the Minneapolis Regional Chamber of Commerce, am the chair of the DRIVE Emerging Leaders Committee, and served as a Breck Alumni Executive Council Board Member. I am also a member of the Minneapolis Club and Wayzata Country Club. My interests outside of work include golf, hockey and travel.
Nick Beissel ('01): Since graduating from St. Olaf in 2001 and obtaining a degree in economics and management, I have advised clients in all areas of financial planning specializing in investment management, tax planning, estate planning, and retirement planning.  After becoming fully licensed in securities and insurance I obtained the Certified Financial Planner designation (CFP).  Presently, my title is Vice President, Financial Advisor at Wealth Enhancement Group, an independent financial planning firm in Plymouth, MN.  I am a three time "Five Star Best in Client Satisfaction Wealth Manager" as shown in the Minneapolis/St. Paul and Twin Cities Business magazines. Currently, I reside with my wife, Shelly, son, Brayden, and Beagle, Ole, in Maple Grove, MN. Nicholas C. Beissel, CFP® Vice President – Financial Advisor Wealth Enhancement Group 505 North Highway 169, Suite 900, Plymouth, MN 55441 (763) 417-1780    (800) 492-1222    Fax (763) 417-1787
Erin (McMurtry) Buysman ('01): After graduating from St. Olaf I spent 5 years in the Division of Health Care Policy and Research at the Mayo Clinic in Rochester as a statistical programmer analyst.  Through a partnership Mayo has with Iowa State, I was able to get my MS in Statistics at ISU while working at Mayo, and I graduated in December of 2005.
In 2006 I married Jason Buysman, a fellow Ole, and moved up to the Twin Cities.  Since then, I have been working as a researcher at i3 Innovus in Eden Prairie, which is a group that does health care research.  We primarily do outcomes research using health claims data for pharmaceutical companies.
Mario G. Paez ('01): Graduate Education – MA in Politics, Economics, Business (MBA Equivalent), Claremont Graduate University School of Politics & Economics & Drucker School of Management.
Vice President – Business Development Officer, Wells Fargo Insurance Services, Inc.
Timothy Rupert ('01): Tim Rupert '01 Hedge fund analyst (present) MBA from Columbia University (2009) Private equity investor at TA Associates (2004 to 2007) Investment banking analyst at Lazard Freres & Co. LLC (2001 to 2004).
Captain John Taylor ('01): United States Army Fort Wainwright, Alaska Aviation Operations Officer CH-47D Chinook Helicopter Pilot-in-Command J.D., University of South Dakota School of Law (2006)
Leslie Taylor ('01): I'm a 2001 Ole alum with a Math/Economics major and Statistics concentration.  I received an MS in Biostatistics (2004) and a PhD in Biostatistics (2008), both from the University of Washington in Seattle, WA.  I currently work part-time as a Mathematical Statistician at the Veteran Affairs (VA) Health Services Research and Development in Seattle, WA.  For my other part-time job, I've been homeschooling my daughter since Kindergarten (she is now in third grade) and loving that a lot.  I have been married to Wajih Yahyaoui since January 2003, and we have a beautiful 8 year old daughter Noufeesa (which means "precious" in Arabic) and a wonderful 3 year old son AbderRahman (which means "servant of God" in Arabic) and we live in Bellevue, WA.
Matthew Camrud ('01): I am currently a Partner and Lead Advisor with Brighton Jones, a wealth management firm based in Seattle, WA with $3 billion of assets under management and five offices across the country.  I have been with the firm since 2008.  I'm living in Bellevue, WA with my beautiful wife Christine ('01) and wonderful sons Adam and Andrew.
style="color: #000000; text-align: justify;">
Luke Anderson ('02): After completing my economics, math, and philosophy majors at St. Olaf, I spent four years at Piper Jaffray in Minneapolis as a bond research analyst, earning the CFA (Chartered Financial Analyst) designation along the way. I then took a turn into college administration, spending two years back at St. Olaf and then joining the Office of Treasury Management at Harvard University in 2008. At Harvard, I was part of the team that raised capital in the bond markets and managed the University's liquidity in the midst of the great financial crisis. While there, I also earned an Ed.M. in Higher Education from the Harvard Graduate School of Education. In 2012, my wife and I, both native Coloradans, found our way home as I accepted a Director of Finance role at the University of Colorado in Boulder. Keeping my other interests alive, I continue to speak to K-12 and college audiences each year on the history of the number pi (on or near Pi Day, 3/14), and support math teachers with classroom activities and entertainment via my website, TeachPi.org. I am married to Kelly (Banks) Anderson '03, and we have three little ones, Henry, Miriam, and Molly, who keep us busy and give us a great excuse to explore our beautiful home state together.
Kevin Clausen ('02): I have been working for Cargill since graduation.  I was hired by Ole alumni that worked for Cargill.  They came to campus my senior year to interview for Commodity Merchant jobs.  I was hired in November of my senior year and have worked for them ever since.  I am very thankful for St. Olaf's Career Center support during the application and interview process.  It was an excellent oppty to connect with a great company like Cargill and the St. Olaf alum from Cargill that were "coming back to the well".
Eric Droher ('02): "Received an MBA from U of MN – Carlson School of Management in 2010. Currently a Buyer at Target Corporation and previously held various positions within Merchandising at Target. Product categories include Luggage, Sporting Goods, Infant Apparel, Men's Apparel, Perishables, and, as of now, Women's Apparel"
Elizabeth Holmes ('02): Economics and English Major I am a reporter at The Wall Street Journal in New York. I joined the paper in 2006 and currently write about retail and fashion. Previously, I was a Washington-based campaign trail reporter covering the 2008 presidential election for the WSJ. My journalism career has also included a stint as an on-air television reporter in rural Michigan and a newspaper reporter in Gary, Indiana. I graduated with honors from Columbia University's Graduate School of Journalism in 2004. On a more personal note, I am happily engaged to a man I met on the campaign trail (a fellow journalist, now an MBA student). We are in the midst of planning our wedding, set for August 2011 in my hometown of St. Charles, Illinois
Emily Koehler ('02): After graduation, I worked at a public accounting firm in Minneapolis. While the auditing and advising experience was surprisingly hard to part with, the Minnesota weather was not. I am now in sunny Seattle, Washington and enjoying the life out here.
I have the pleasure of working for one of the best companies on earth – Nordstrom. My main function at the corporate offices is to perform viability (financial, market) analysis for the third parties with whom we do business. If I'm not at Nordstrom, on the golf course or the ski slopes, I'm sitting in a business class. It's been great comparing the experience with some of my fellow Oles who are also in business school. Congrats to my many classmates for the amazing work you have done so far! I'm impressed and humbled with your stories and experiences. I hope this finds the St. Olaf community doing well. Thanks again for all of the great memories and a colossal thanks to the faculty (and golf coach/spiritual guide, Jerry Ericksen). After being out in this 'real world', I have come to appreciate the unique and fortunate experiences I had on the Hill.
Wendy Martin ('02): Current Employer: Conway, Deuth & Schmiesing, PLLP Current Position: Senior Accountant Conway, Deuth & Schmiesing, PLLP Certified Public Accountants & Consultants 331 Third Street SW, Ste 2 | PO Box 570 | Willmar, MN 56201 Phone: (320) 235-3311 | Toll free: (888) 388-1040 | Fax: (320) 235-7071 | www.cdscpa.com Direct: (320) 214-2904 | E-mail: wmartin@cdscpa.com
Kolbjorn (Kully) Nelson ('02): Education:  MA, International Economics & Finance, Brandeis International Business School
Current employment:  U.S. & Foreign Commercial Service (locations:  U.S. Embassy Beijing 06-07, San Francisco 07-09, U.S. Consulate Guangzhou 08-09) Past employment:  Goldman Sachs (Hong Kong, 2006)
Jeffrey Olson ('02):
Education: Institution: University of Minnesota – Carlson School of Management Degree: Master of Business Administration (MBA) Awarded: December 2006 Emphasis: Finance & Management Employment Company: General Mills Incorporated Title: Senior Financial Analyst Timing: October 2006 – Present Company: Emerson Process Management Title: Financial Analyst Timing: June 2002 – September 2006.
Sarah J. Olson ('02): After graduating St. Olaf, I joined Securian Financial Services for a wonderful few years before deciding to explore a professional interest in the health care industry. I moved to Boston for a health care consulting firm, Health Advances, and then left to pursue an MBA from The Wharton School of Business. I am currently a product manager at Medtronic, Inc. and would be happy to speak with any students interested in the medical device industry. My St. Olaf experience and Economics education created such a strong foundation for my career. I can't thank the faculty enough (especially Mary Emery and Bruce Dalgaard!) for the academic rigor, career development, and ongoing support.
Jake Rath ('02): Since graduating in 2002: Received my MS in Accounting from the University of Virginia, obtained my CFA designation, currently work for Voyageur Asset Management as a credit analyst.
Steph Schiller Wissink ('02): Following graduation, I began as an equity research analyst for Piper Jaffray & Co and spent 8 years on the Consumer (retail) team. I enjoyed becoming an industry "expert" on youth spending, including spearheading our bi-annual Taking Stock With Teens proprietary research survey. The role required full emersion in the lifestyle of teens – visiting high schools, mall and store visits every week, and conferences and events around the world focused on media, influence, and fashion. In June 2010, I was promoted to Associate Director of Global Investment Research for Piper Jaffray, working closely with newly appointed Director of Research, Jeff Klinefelter (a 1990 Olaf graduate). I look forward to recruiting and hiring more Oles in the future. My husband Nate and I have an 18 month old daughter, Julia, and live in the Linden Hills neighborhood of Minneapolis.
Ross MacMullan ('02): 
Current Employers:
The Moscoe Group (we help companies manage their business with Target, Best Buy, and a few other retailers)
Hutchinson Fire Department – Firefighter
Hutchinson High School – Boys Varsity Soccer Head Coach
Previous Employers:  Target Corp (6 yrs), Clorox (2 yrs)
Married to Christina Moses ('01).  3 boys.  Living in Hutchinson, MN.  I'm busy having a great life.
Email me atmacmullan@hotmail.com
Wendy (Martin) HolleI ('02): I am Senior Accountant at Conway, Deuth & Schmiesing, PLLP in Willmar, MN.  I specializing in audits of governmental organizations.  I am currently completing my Certified Public Accountant designation. My husband, James, and I reside in Willmar, Minnesota.
Erik Johnson ('03): After graduating from St. Olaf in 2003 with majors in economics and math, I worked for the Federal Reserve Board in Washington DC and then entered a PhD program at the University of Michigan in Economics and Public Policy.  I am currently working toward finishing my PhD with my dissertation work focusing on environmental economics, and econometric issues in empirical industrial organization.I would be happy to talk to any students that are contemplating enrolling in a PhD program in economics.
David Pelka ('03): I currently am a Director at CarVal Investors, located in Minnetonka, MN, where I manage investments in credit intensive assets.  CarVal Investors is a leader in managing opportunistic value investments and began in 1987 as an organic development of Cargill's proprietary high-yield trading operations.  Today, CarVal Investors manages $10 billion in assets.  Prior to joining CarVal in 2005, I worked in Piper Jaffray's investment banking group, where I focused on merger and acquisition advisory.  I'm more than happy to talk to students or other alumni; my information is available in the alumni database.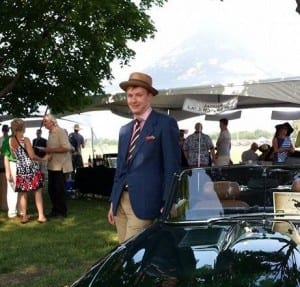 Andrew Spottiswoode ('03): After graduating in 2003 I began working for Cargill as a Commodity Merchant.  I was responsible for managing cash and futures price risk management for Cargill's Flour Milling Division.  I started off trading cash feed-grains and corn futures; after 1.5 years I was promoted to trade wheat and manage the wheat supply chain for many of the largest flour mills in the country.  Two years later I moved into Cargill's Energy platform as a Power Trader, responsible for executing trades and transmission of real-time electricity across the United States and Canadian power grids.  After almost two years of trading electricity I moved with my wife to Chicago in mid-2008 and assumed a role as Economist of market research and product development for the CME Group; the CME Group is the largest derivatives exchange in  the world, comprised of the Chicago Board of Trade, Chicago Mercantile Exchange and the New York Mercantile Exchange.   I am pursuing the designation of Chartered Financial Analyst (CFA) and will take the level two exam in 2009.  I am also a member of the class of 2011 at the University of Chicago's Graduate School of Business.  None of this would be possible without the knowledge I obtained from the professors in St. Olaf's economics department.
Erik Johnson ('03): After graduating from St. Olaf in 2003 with majors in economics and math, I worked for the Federal Reserve Board in Washington DC and then received a PhD in Economics and Public Policy from the University of Michigan in 2011.  I am currently an assistant professor of economics at Georgia Institute of Technology.  My research centers on the environmental economics of energy production and consumption, with a particular focus on renewable electricity generation and the electricity grid more broadly.
In my spare time, I enjoy playing ultimate frisbee and brewing all sorts of beer in my kitchen.  I would be happy to talk to talk to students thinking about starting graduate school or who have an interest in working at the Federal Reserve Board.
Bradley Baglien ('04): After graduating from Olaf in 2004, I attended law school at the University of Chicago.  I finished law school in 2007 and began working at Sidley Austin LLP, a large law firm in Chicago.  I practice general commercial litigation.  I'd be happy to discuss my experiences with any current students or alumni.
Casey Charlson ('04): I first worked for Wells Fargo Financial in Maple Grove MN as a Credit Manager until 2005. I am now in the business of helping people manage the risks of everyday life, recover from the unexpected, and realize their dreams.  I am a State Farm Agent in Bloomington, MN.  Check out my website for more information – <www.caseycharlson.com> My passion will always be ski racing.  I coach for Team Afton, a USSA program I grew up with.  You can find us at www.teamafton.com.
Michelle Crottier ('04): I started in the Treasury Services department of TCF Bank in March 2006 and got a front-row view of the financial crisis.  I've worked my way up through interest rate risk analysis to balance sheet and net interest income forecasting to capital forecasting and preparing presentations for the Board of Directors.  I am also active in Toastmasters International, sing in the Minnesota Chorale, am on the Board of Directors of Zenon Dance Company and School, and volunteer as a Class Funding Agent for St. Olaf. I received my MBA from Carnegie Mellon University IN 2014 – Tepper School of Business. I am now a Consultant at Alcoa, New York City, NY.
Matthew Bills ('04): I am an attorney (Loyola University Chicago '09) who works in human resources, currently as Associate Director of Human Resources and Title IX Coordinator at Luther College. I live in Decorah, Iowa with my wife Melissa Johnson Bills '03 and our son Samuel.
Bradley Fisher ('04): Spent 2+ years with UnitedHealth Group as a Health Care Consultant (September 2004 – February 2007), Currently employed by Piper Jaffray & Co. working as an Equity Research Analyst covering Health Care (February  2007 – Present), Volunteer engagements include People Serving People & Make-A-Wish Foundation of Minnesota.
Nate Gruys ('04): Education: St Olaf, Class of 04, Economics and Management Studies Arizona State, Class of 07, WP Carey MBA Professional Experience: Wells Fargo, 04 – 07, Branch Manager, Tempe AZ Oracle, 07 – Present, Business Development Manager, Minneapolis MN
Michael Jewison ('04) After graduating from Olaf, I spent two years working and studying in Beijing, China.  The last year of my time in China was spent working as a contractor in the agricultural section of the U.S. Embassy in Beijing.  In 2007, that then transitioned into a job in Washington, D.C., where I have been working at USDA's Foreign Agricultural Service since.  My past position involved U.S. – China agricultural trade policy, while my current job involves conducting supply and demand analysis of the various grains in foreign countries, which are then published in USDA's monthly World Agricultural Supply and Demand Estimates report.  I am currently completing an MBA at Georgetown University and expect to graduate in May of 2011.  I have been married to Bai Xue since July 2007, and we currently reside in Alexandria, VA.  I would be happy to discuss my experiences with any current students or alumni.
Robert "Bobby" Klein ('04): -Currently completing a Master's degree in Economic Geography (expected Spring 2009) at The Ohio State University with plans to go on for a PhD-Also involved in music composition for film, television, and commercial use and music publishing (Tone Junket Music, LLC)
Brenda McKinney ('04): Economics and Norwegian Double Major. After college, I spent two years working as an analyst for a large Minnesota company.  In 2006, I moved to Kobe, Japan where I spent three years teaching at a public, Japanese high school through the Hyogo Prefecture Board of Education.  I was also on the national board for the Association for the Japanese Exchange and Teaching (JET) Program, where I served as the advertising liaison, and have spent time teaching students in China, Cambodia and Brazil.  In 2009, I returned to the US and completed a Masters in Curriculum and Instruction with a focus on Policy at Boston College.  I currently reside in Chicago and am a Juris Doctor Candidate and Civitas ChildLaw Fellow at Loyola University School of Law.>I am now a lawyer, currently on a Fulbright to New Zealand. I've been in Dunedin with my husband, Dave, since February. New Zealand has been a treat – we are enjoying the hikes and it has been a privilege to conduct research on the country's youth justice system and models of restorative justice. We plan to return to DC next year.
Aniq Sajjad ('04): Economics/Management Studies MBA-Hamline University 2008 Current Position: Business Systems Analyst (Consultant), RCIS
William A. Stanton II ('04): Graduated 2004. Since then have worked for Target Corporation In February 2008 I moved to Bangalore, India for Target as an MP Manger.  My contract is though Jan 2010.
Pete Zupfer ('04): After graduating from St. Olaf in 2004, I accepted a position with Ziegler Caterpillar as a leasing coordinator in Bloomington, MN.  In 2006, I took on a new role as a Heavy Construction Equipment Salesmen with Ziegler at their Marshall, MN location. I work with a number of St. Olaf grads at Ziegler. Adam Gettings ('04): Published in Forbes magazine in the article "Creators Of Beats And Guitar Hero Launch Smart Home Startup Leeo."  Peter Zupfer Ziegler CAT Territory Manager 1200 N. Hwy 59 Marshall, MN  56258-0864 Phone:  507.532.4403 Cell: 507.828.9300 Fax: 507.537.1519 Email: peter.zupfer@zieglercat.com
Mark E. Archer ('05):  After graduating from St Olaf, I worked as a Security Consultant for Accuvant for two years. Looking for a new challenge, I then moved to United Health Group where I am currently a Senior Security Engineer.
Kayla Clark ('05): After graduating in 2005 I began working at Benfield Inc (now Aon Benfield Inc after a merger with Aon Corporation) where I continue to work today as a Senior Accounting Analyst.  I received my Associate in Reinsurance (ARe) designation in 2008 and my Associate in Insurance Services (AIS) designation in 2009.  I completed another undergraduate degree in Accounting at Augsburg College in 2009 in order to pursue the Certified Public Accountant (CPA) licensure.  I will sit for the fourth and final required CPA licensure exam in October 2010.  I married fellow Ole graduate Chris Clark ('06) in May of 2009 and we currently reside in Burnsville, MN. Kayla S. Clark, ARe, AIS  |  Senior Accounting Analyst Aon Benfield  |  Client Services 8200 Tower  |  5600 West 83rd Street |  Suite 1100  |  Minneapolis, MN 55431 t +1.952.886.8052  |  f +1.952.886.7962 Kayla.Clark@aonbenfield.com  |  aonbenfield.com
Matt Green ('05): I Graduated in 2005 with a BA in Economics and an Area of Emphasis in Management. I was also Captain of the Baseball team at St. Olaf. After graduation I worked as a Sr. Financial Consultant with Ameriprise Financial in Minneapolis, where I did financial planning with clients . Since February 2008, I have been a Internal Wholesaler with RiverSource Investments. I continue to play baseball in the Summer and enjoy spending time at my cabin just north of the cities.
Elizabeth Ball Holmquist ('05): Moved to Washington DC right after graduation to work at the Federal Reserve Board.  I started as a research assistant in the Research and Statistics Division and became a financial analyst two years later.  My current focus is to help produce and improve the Flow of Funds Accounts of the United States, a quarterly publication that tracks the sources and uses of funds between sectors of the U.S. economy.  I married Carl Holmquist (St. Olaf – 05) in July 2006 and we currently live in Arlington, VA with our rambunctious dog, Mellby (named for Mellby Hall).
Brian Linné ('05): Real Estate Investor at Turnstone Group LLC (2010 to present) Consulting Analyst / Senior Consulting Analyst at Prime Therapeutics LLC (2008 to 2010) Business Analyst / Consultant at Deloitte Consulting LLP (2005 to 2008) Phone: 612-325-6558 Email: brian.linne@gmail.com
Brian Peters ('05):  I'm currently working as a consultant for Fidelity Investments.  We primarily operate in the arena of employer sponsored benefits.  My area of expertise is retirement benefits, and I've attained my associateship in the society of actuaries (ASA), and looking forward to obtaining the FSA designation shortly.
Cara Tharp ('05): graduated with my Economics degree in 2005 and began working for Boeing in Seattle as a Finance Estimating Analyst immediately after graduation.  I had some unique and interesting opportunities while working on the 787 Program, which is Boeing's fuel efficient aircraft model that should be flying later this year.
Fellow St. Olaf alum (and then-boyfriend) Paul Tharp moved to Seattle at the same time I did and began working in sales for a health care company.  He and I became engaged in 2006 and a few months later, we learned that he was going to be transferred to San Francisco for a promotion opportunity within his company.  So, in the matter of a few months' time, we moved to San Francisco after two years in Seattle, changed jobs, and finished up planning our wedding in Minnesota. After getting married and settling in San Francisco, I took a job as a Senior Financial Analyst for Abbott Laboratories focusing on the diabetes management products.  Paul continued his work in health care sales, and after being in California for a year we were transferred to Tampa, FL for Paul's work. Florida was not the place for us, we soon learned, and we were very happy to have had the opportunity to relocate to Minneapolis for Paul's work.  We just bought a house in St. Louis Park and don't plan on moving again anytime soon!  I'm in the job search and interview process  and hope to have a role in finance secured before too long.
Keith Townsend ('05): Graduated in 2005 and continued employment from my summer internship at Target Corporation in the Information Technology pyramid. Still with Target and will be (did) complete my MBA from Minnesota in March 2009. Engaged (married) to Jan Kapsner in June 2009 who graduated from St. Olaf in  '04.
Mark Skeba ('05): I'm currently working at General Mills as manager of marketing excellence.  I'm in charge of marketing best practices, working with our advertising agencies, and building internal advertising and marketing capabilities. Graduated from Kellogg MBA in 2010. Glad to talk to any students interested in marketing, advertising, or food entrepreneurship. E-mail address: mark.skeba@genmills.com
Emily Weninger ('05): After graduation, I took a job as a Research Assistant of climate change issues with the World Resources Institute in Washington DC. In 2007, I narrowed my focus to solar energy and have worked in the solar industry for the past 7 years in Boulder, San Francisco, and Honolulu.
Matthew Carter ('06): since graduation I have been working at Target HQ in the Merchandise Planning pyramid. I started as a Business Analyst in July 2006 and I am now a Replenishment Expert for the Men's apparel division. I am staying busy and enjoying the busy life after St. Olaf, but I do miss the Pause pizza…
Nate Espiritu ('06): Worked in Eagan for roughly 2 years, then had the opportunity to move to Dubai, U.A.E. in the Middle East with United Arab Shipping Company helping them develop their organizations Logistics and Freight Forwarding Divisions.
Erik Hembre ('06): I have completed my PhD in economics at the University of Wisconsin in the fields of Public and Labor economics.  I recently accepted an assistant professor position at the University of Illinois-Chicago Economics department. My research interest are centered mostly on housing related issues following the recent housing bust. Before that, I've been a research assistant at the Federal Reserve Board in Washington, DC, working primarily with national household mortgage data.  .
Angie Huh ('06): The following fall after graduation I began working at GE Capital Solutions – Fleet Services in Eden Prairie, MN as a Remarketing Program Specialist.  I was promoted into a Customer Support Specialist role in November of 2008.
I became a licensed Real Estate Sales Agent in May of 2008 and am currently doing part time residential and commercial real estate for Capital Concept Partners, a small private brokerage in Eden Prairie.
Ted Koshiol ('06): Upon graduating from St. Olaf in 2006, I went to law school at Chicago-Kent College of Law, in Chicago, IL.  There, as an Honors Scholar, I was a recipient of a full-tuition scholarship.  Because of my academic success, I also became a member of the Chicago-Kent Law Review and the Chicago-Kent Moot Court Honor Society.  Additionally, I participated in the school's Environmental Law Society and was a member of the executive board for the school's public interest student group, the Kent Justice Foundation.  Last year, along with a classmate, I won the 2008 Evan A. Evans Constitutional Law Moot Court Competition at the University of Wisconsin in Madison, WI.  I returned this past year, as coach of a duo that successfully defended our title.  In May, I received my J.D. from Chicago-Kent with High Honors and with a certificate in environmental and energy law. Now, I am an attorney at Fredrikson & Byron, P.A.  My practice focuses on patent infringement litigation and other intellectual property disputes.  I live in the Twin Cities with my wife and daughter.
Most pertinently, perhaps, as part of a seminar course at the law school, I recently wrote an academic piece concerning legal aspects of the new Housing Valuation Code of Conduct.  The paper is slated to be published this month in The Journal of Applied Economy. I have accepted a position beginning in January as an associate attorney at Fredrikson and Byron, P.A., a large corporate law firm in Minneapolis.  I will be working with the firm's banking and securities practice group, concentrating on transactional matters.
Michelle La Berge ('06): I'm currently working for General Mills managing the shopper marketing team out of our Western Business Center in Scottsdale, AZ. After graduating from St. Olaf, I started in marketing at General Mills on brands such as Trix, Chex, Betty Crocker, and Nature Valley. I did, however, take two years to earn my MBA from Harvard Business School, graduating in 2011.  My time in AZ is going quickly and I'll be moving back home to Minnesota with General Mills next summer (2015).
Maida Swenson-Fortune ('06): After graduating from Olaf, I started working in Finance at General Mills. I spent four great years there, and had rotations in Sales, Supply Chain and Global Internal Audit. I am currently getting my MBA at the University of Chicago and hope to graduate in 2012.
William Wetterlin ('06):  I attended William Mitchell College of Law in St. Paul, MN, graduating in May, 2009.  I was admitted to the Missouri Bar in September, 2009 and now reside in St. Louis, Missouri.   I am currently practicing in a small firm that concentrates in real estate law.  Engaged to Jessica Peterson.
James Bechdol ('07): I currently work for Lowe's Home Improvement in their largest distribution center just north of Charlotte, NC.  I am the receiving supervisor and oversee the handling of all Lowe's items sold that are neither an appliance or large bulk item.  We distribute to over 150 Lowe's stores in the southeast region.  After college, I recruited for a staffing firm focusing on positions in distribution and supply chain.  From there I went to work for a grocery distributor before I landed the position with Lowe's.  I hope to move to their corporate office and focus more on supply chain strategy and operations from this point on. james.r.bechdol@lowes.com
Eric Olson ('07): As of September 2014, I am the manager of Delta Air Lines Trans-Atlantic Inventory Management team in Amsterdam, The Netherlands. I have lived here for the past 5 years after relocating from Minneapolis during the Northwest Airlines and Delta Air Lines merger. While Delta Air Lines is based in Atlanta, Georgia, my team is in Amsterdam to work collaboratively with European joint venture partners, KLM, Air France, Alitalia, and Virgin Atlantic Airways. Delta is a great company to work for and the airline business is a challenging, yet exciting and fast paced environment. I have been fortunate enough to work with the leading enterprise of the industry's renaissance and travel the world along the way. I would be happy to answer any questions Oles have about working for Delta, the airline business or as an expatriate in Europe: olsonem2@gmail.com
Chad Dehmer ('07): I received my Masters of Healthcare Administration at the University of Minnesota in May of 2010. Currently I am an Administrative Fellow at the University of Pittsburgh Medical Center in Pittsburgh Pennslyvania.
John Forsythe ('07): University of Texas School of Law (J.D. Expected 2010)
Texas Young Lawyers Association Interscholastic Mock Trial Team (2008-2009) Summer Associate Lane Powell Spears Lubersky (Seattle, WA Summer 2009) Summer Clerk United States Attorneys' Office District of Montana (Billings, MT Summer 2008)
Jake Leibold ('07): For 2 1/2 years I worked as a Sourcing Specialist at Target Headquarters on the Toys team. I am now part of a one-year Masters of Education program with Bard College in New York City. I am part of the 2010 Math for America cohort – it is a 5 year program where in the first year I earn my masters in secondary mathematics education and in years 2 through 5 I will be teaching in New York City and surrounding areas. Currently I am living in Astoria, an area of Queens, and student observing and taking classes at International Community High School in the South Bronx.
Jennifer Marsh ('07): graduated in 2007 and started with General Mills as a Financial Analyst. I am currently the Assistant Financial Operations Manager at a Cheerios plant in Cedar Rapids, IA.
Tony Mason ('07): Currently working for Thrivent Financial as a financial representative in Edina MN.  I have recently received my FIC distinction in this field.  Have been on this career path since June of '07.
Mark Morris ('07): I was fortunate to be hired by Epic after graduation, a computer software company in the healthcare industry located in Madison, Wisconsin.  We create, implement, and support software for nearly all aspects of a healthcare system, from scheduling and registration to the emergency department and operating room.  My job involves providing long term support for existing customers.  This really amounts to half programming-focused work and half customer service-oriented tasks.  We are always looking for new candidates – the common traits at Epic seem to be "bright and friendly", which makes Oles a natural fit!  I'm happy to talk to anyone looking for more information (see the alumni directory for contact info…).  Um Ya Ya from Madison!
Ryan Nintzel ('07): While attending Olaf I ran a successful Lawn and Landscape business in the summer, spring and fall.  After graduation I sold my business and started working at a reinsurance broker (insurance for insurance companies)  in the accounting and claims dept.  After a year of accounting and claims, I moved over to our agricultural brokering team as a Risk Analyst. We specialize in Crop and Livestock reinsurance. While at Olaf I skied on the Alpine Ski Team. I have continued to be involved in Alpine Ski Racing through coaching at St. Thomas Academy and at Team Afton.  In the future I  plan on  attending graduate school for business or economics.
Andrea Belz (Otteman) ('07): After graduating I went to work for Medtronic MiniMed in Northridge, CA as a part of the insulin pump sales team. I then worked at Wells Fargo Home Mortgage in their IT department as a Project Manager, then E Group, a marketing agency in Minneapolis, as an Account Manager and now have come full circle and am back at Medtronic. I'm a part of their Global IT division on the Release Management team. My specific role is to oversee all of the SAP environments and I absolutely love it. I'm back in Minnesota and am happy to talk or meet with anyone who has questions! Shoot me an email: andrea.k.belz@gmail.com.
Kelsey Skogland ('07):  After graduation, I was hired by Epic, a computer software company in Madison, WI. During college, I played on the Women's Hockey team and Women's Golf, both of which I still enjoy and participate in here in Madison. I am a project manager at Epic, which means I am assigned to a customer(s) for 1-2 year committment during which time we help them design, build, implement and test our software. I travel often and have had assignments in NYC, LA, Denver and many more places. We are starting to expand abroad, with customers in Denmark, Netherlands, Australia, Saudi Arabia and Singapore. I'd be more than happy to talk about my 'Epic' experience if you want more information!
Vanessa Witt ('07): I worked at Target as a Business Analyst in Merchandise Planning, from June 2007-July 2008.  I then went on to be the Full-time and Part-time MBA Student Affairs Coordinator at the University of Minnesota Carlson School of Management from September 2008-October 2009.  I am presently a Promotions Specialist at Supervalu Northern Region in Hopkins, MN.  I negotiate bakery and deli ads and promotions for independent retailers for the Minnesota, North Dakota, South Dakota, Washington, Oregon, Montana, Alaska, Hawaii, Idaho, Ohio and Indiana markets.  Um Ya Ya.
Anning Yung ('07): I was a St. Olaf graduate in Economics and Asian Studies in 2007. Following graduation, I started my job at Northwest Airlines as a Marketing Analyst in Pricing Analysis. I am still employed with the company at present. Due to my job, I have the opportunity to travel the world. In the past year and half, I have the opportunity to not only travel domestically where Northwest flies, but also to Paris once and China seven times!  I would be happy to speak with any students interested in a career in business or the airline industry.
Billy Martin ('07): My wife and I currently own a grocery store in Fresno, CA.  It is called NW Fresno Grocery Outlet.  We are part of a 200 store chain primarily located on the west coast.  We buy goods opportunistically giving us the ability to sell them cheaper than the big box stores.  www.groceryoutlet.com

MIkayla Rettig('07): I work at Target in the Technology Services area as a Program Manager. I have worked on many different projects in my 7 years at Target including pricing and promotion functionality for Canada, food distribution capabilities, and forecasting and ordering systems. Currently I support Distribution programs focused mostly on fulfillment centers. In 2012 I completed my MBA at the University of Minnesota Carlson School of Business. I married my husband, Lucas Rettig, in 2012 and we live in Plymouth, MN.
Erik Brekke ('08): I am working at IBM in Rochester, MN as a financial analyst.  Over the past 2 and a half years, I have supported various areas within IBM finance, but am currently working in the services sector of IBM.  I am primarily responsible for providing financial support and analysis on contracts that IBM has with a wide variety of customers. Just moved to Nashville this fall and am working in Finance at Healthways. Living in Franklin, TN with my wife and three kids.
Jeff Budish ('08): Working at CB Richard Ellis Commercial Real Estate in their downtown Minneapolis office.  I am working on the Downtown Corporate Services team mainly focused on Target's Distribution facilities, internationally.
Lynn Chermak ('08): I have been working at RBC Wealth Management since graduation in downtown Minneapolis.  I worked for 2 years in Margin Operations and I'm now in Investment Advisor Operations as an Initiatives Manager.  My role is to bring operational efficiencies, including technology upgrades, to advisory and fee-based investment business.  In February 2013, I got married and changed my name to Lynn Sherry.
Sharon Grawe ('08): Sharon (Grawe) Markowitz (Class of 2008): After college, I went to law school at the University of Minnesota and then clerked for the Minnesota Court of Appeals.  Since then, I have worked as a civil litigator at Stinson Leonard Street LLP in Minneapolis.  My practice is focused on commercial litigation, particularly financial services litigation, class action defense, and appellate litigation.  (See my attorney bio here: https://www.stinsonleonard.com/SharonMarkowitz/)  My husband and I live in Mendota Heights, enjoy playing board games, and are in the process of adopting a child from Thailand.  Um Ya Ya!
Sarah Hawkenson ('08): After graduation, I worked for Northwest Airlines in Eagan, MN for six months as a Pricing Analyst.  After my department announced it would be relocating to Atlanta, Georgia I began to look elsewhere for job opportunities.  I am now currently employed at Ovations, a business group of UnitedHealth Group, in Minnetonka, MN as a Product Analyst where my main focus is on Medicare Products.
Lindsey Hansen ('08): After graduation, I began working for General Mills in sales. I have held various roles at General Mills, including sales support in Minneapolis, field sales in Texas, and national account sales in Arkansas. I am currently working as a territory manager in Dallas where my customers are foodservice distributors. My job is to make sure Cheerios are served at every school and Pillsbury biscuits are on the menu at every restaurant in Dallas! Before that I worked for General Mills managing the shopper marketing team out of our Western Business Center in Scottsdale, AZ. After graduating from St. Olaf, I started in marketing at General Mills on brands such as Trix, Chex, Betty Crocker, and Nature Valley. I did, however, take two years to earn my MBA from Harvard Business School, graduating in 2011.
Daniella Voysey Olson ('08): I'm currently working as a Marketing Associate at General Mills in new products for the cereal division.
Jordan M. Bechdol ('09) Degree: Economics with a Management Studies Empahsis Concentration: Media Studies Employment: Quad/Graphics Postition: Corporate Trainee 2009-Present Since graduation I have been with Quad/Graphics, a major compeditor in the US print industry. I have been part of a unique program rotating through various departments learning the business of print.  I look forward to continue my rotations through the company and the opportunity to live in a different city every few months.
Vera Belazelkoska ('09): Since graduation, I have been teaching at the University of Chiang Mai, Thailand, as well as working as a peer adviser and test taking tutor at the Academy of Education, USA, also in Chiang Mai, Thailand. After exploring the rest of South East Asia for a few months, I will be heading off to Buenos Aires, Argentina to study in the Social Economy and Local Development program at the University of Buenos Aires. While taking postgraduate courses, I also plan to work with a local, non-governmental organization that aids women engaged in the informal sector of the economy through microloans and skills trainings.
Megan Reishus ('09) I am the Senior Materials Coordinator for National Learning & Professional Development at McGladrey LLP. I am also co-owner of Sonology Music, a print-on-demand web publishing business specializing in music for handbell choir, handbell solo/ensemble, brass ensemble, and vocal choir. I perform with the Pikes Peak Ringers, a community handbell ensemble, the Forté Handbell Quartet, and as a handbell soloist.
To jump to another decade, click one of the following links:
To return to the top of the page, click here.