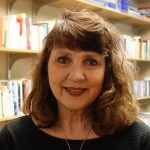 Jolene Barjasteh
Professor of French, French Section Head
Tomson Hall 330
507-786-3274
B.A., M.A. Illinois State University; Ph.D. University of Illinois, Champaign-Urbana. 19th and 20th-century French literature autobiography, French cinema.
Office Hours
MWF 10:45-11:40
T/TH 1:00-3:00
or by appointment
I teach all levels of French language and literature.
What I enjoy most about teaching is getting to know the students well. I love speaking French, and I am most happy when interacting with students, both in and out of the classroom setting.
My current research focuses on autobiographical writing, especially women's diaries. my other interests include 19th century novels and the works of Marcel Proust and Julien Green.
Away from the hill, I enjoy spending time with my family, traveling to Paris, and singing in choirs.