Watch the Video!
Watch as the Student Philanthropy Team managers Sofia and Marie work with student volunteers to brainstorm ways to promote the Senior Class Campaign.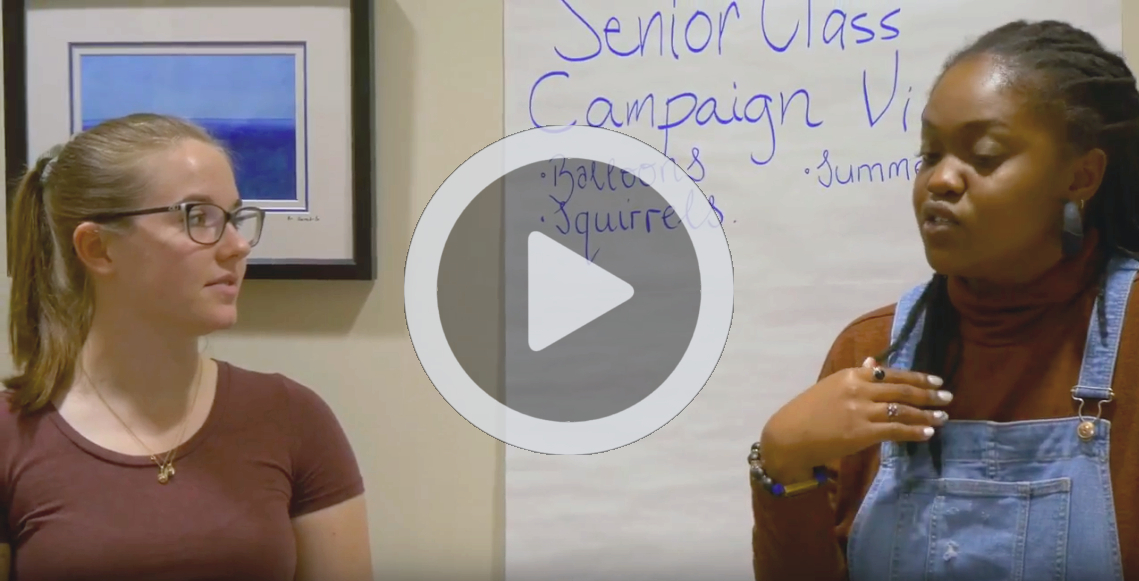 The Senior Class Campaign
Supported by the Annual Giving Office, the Senior Class Campaign is a way for the Class of 2020 to give back. The student-led campaign offers the opportunity for current seniors to show their appreciation for all of the wonderful opportunities and experiences St. Olaf has provided them. The Senior Class Campaign is not just about making a gift, it is about celebrating the memorable years on the Hill and creating memories for students to come.
Why Join the Senior Class Campaign
Each gift enhances the St. Olaf College experience for all Oles. Giving means becoming a part of the lasting legacy that contributes to students' success. By joining, you can ensure the college's mission and commitment to its students stay excellent. 
This Year's Goal
Our goal for the Senior Class Campaign 2019 is to see about one fifth of the senior class – 134 students – give back to St. Olaf. Check the progress toward our goal, and while there, make a gift that supports current and future Oles.
Where Your Gift Goes
Gifts made through the St. Olaf Fund benefit each and every student on the Hill. They provide opportunities for future Oles to have the same positive experience as students today.  The St. Olaf Fund supports the college's greatest needs and meets additional demands throughout the year. Because of the fund, students can enjoy the benefits of study abroad, financial aid, student organizations, music ensembles, athletic teams, support of academic departments, and improvement of facilities. 
Questions?
Contact the Senior Class Campaign Marketing and Communications Manager Sarah Guilford at guilfo1@stolaf.edu
To get involved with future Senior Class Campaign efforts, contact staff liaison Nick Raverty, Assistant Director of Annual Giving, at ravert1@stolaf.edu or x3354.