"You make music with incredible joy and artistry. Your appearance at First Lutheran will be remembered for years to come."
– Dr. Michael Elsbernd, Director of Music at First Lutheran Church, Sioux Falls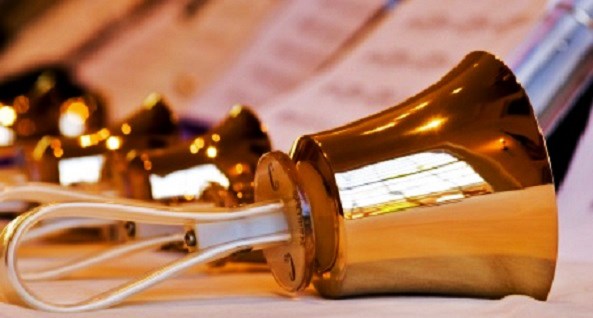 Jill Mahr is now in her 22nd year as the conductor of the St. Olaf Handbell program. She is excited about the upcoming tour of their premier ensemble, the St.Olaf Handbell Choir. They will be heading to Mounds View, MN, Pella, IA and Iowa Falls, IA. To wrap it all up, they will perform a home concert on campus in Northfield, MN.
While on tour, the ringers will premiere Timothy Mahr's newest handbell piece, Burst. It is fast, fiery, and quite a challenge. Three members of the ensemble will be featured on the program. Flutist Kari Hanson '17 will be featured on a Japanese piece called Spring Sea arranged by Hirotaka Arai. Emily Witt '17 and Laura Schlotterback '17 will share the stage as duet partners on an interesting piece called Symphonia on Hyfrydol. Kevin McChesney's arrangement of the popular hymn tune begins at the table and comes to an energetic conclusion on the bell tree.
The tour program includes something for everyone: pieces adapted from both band and orchestra, original compositions, hymn arrangements, a jazz standard, a spiritual, and even a little movie music.