St. Olaf Scholarship for Off-Campus Study
All St. Olaf students who apply and confirm their participation in an International and Off-campus Studies program will be automatically considered for a St. Olaf scholarship award.  There is no separate application.  Awards vary from $500 to $5000+.  The average scholarship award is about $2,000 for a semester program.  Students with financial need may consult their financial aid counselor about the strength of their candidacy for a scholarship in advance of applying for a program.
Administered by: St. Olaf College
Number of Awards: Varies
Duration: Semester; Year; Interim
Purpose: To assist students with funding of St. Olaf semester, yearlong, and interim programs
Fields of study: All
Eligibility: St. Olaf students on International & Off-Campus Studies programs
Awards based on: Financial need
Award amount: $500-$5,000+
Schelske Opportunity Grant Fund
Administered by: Schelske Opportunity Grant Fund Committee, St. Olaf College
Number of Awards: Based on number of applicants
Duration: INTERIM Only
Study Locations: All international and domestic
Purpose: To assist multicultural students at St. Olaf College to study off-campus
Eligibility: Must identify as a multicultural student attending St. Olaf
Award based on: Application with short essay and financial information
Award amount: Past awards have ranged over the from $100 to $800, based on financial need and available funds.
Procedure: Complete application and essay
Application deadline: Deadline is typically in early October. (Opens end of September)  Applications must be submitted on paper AND students need to sign the application, so no electronic applications will be accepted. 
Notification Date: Early October
Award Commitment: None
Contact for application: International & Off-Campus Studies, Student Support Services (SSS), or Professor Heather Campbell
Externally Sponsored Scholarship Opportunities

Benjamin A. Gilman Undergraduate Study Abroad
Sponsored by: Bureau of Educational and Cultural Affairs of US Dept of State
Administered by: Institute for International Education (IIE)
Number of Awards: Approximately 800 annually
Duration: Semester; Year; Interim; Summer; Program must be 3 weeks (21 days) or longer.
Study Locations: All
Purpose: To increase the number of U.S. students who can study abroad; To provide financial assistance and reduce barriers to study abroad for students receiving federal need-based financial aid under Title IV.
Fields of Study: All
Eligibility:
– Be a citizen or national of the United States (Permanent Residents of the United States are not eligible);
– Be an undergraduate student in good standing;
– Must be receiving Pell Grant funding during the time of application or provide proof that they will be receiving a Pell Grant during the term of their study abroad program or internship;
-In the process of applying to, or accepted for, a study abroad or internship program of at least three weeks for students from four-year institutions, eligible for credit from the student's home institution. Multi-country/area programs are allowed. Proof of program acceptance is required prior to award disbursement;
-Cannot study in a country which is currently under at Travel Advisory of level 3 or Level 4 as issued by United States Department of State.
Award based on: Diversity of Applicant, Statement of Purpose Essay, Follow on Project Proposal, Academic Progress and Performance, Fields of Study, Country of Destination, U.S. Institution and State Distribution, Length of Study (preference for yearlong), lack of previous undergraduate experience abroad
Award amount: up to $5,000.00 (and additional $3,000 is available for those who will taking Arabic, Azerbaijani, Bahasa Indonesian, Bangala, Manarin Chinese, Hindi, Japanese, Korean, Persian, Portuguese, Punjabi, Russian, Swahili, Turkish, or Urdu (Subject to change.  See Gilman website.)
Procedure: Complete on-line application including financial need information and official transcript, and meet with Stephen Lindley in Financial Aid and Brittan Duffing in International and Off-Campus Studies
Application deadline: Cycle 1 closes first Tuesday in October.
Notification Date: Check website.
Award commitment: Follow on project to promote and increase awareness of the Gilman Scholarship, study abroad and international education
Contact for application: contact information can be found here.
Submit application to: Online at Gilman Scholarship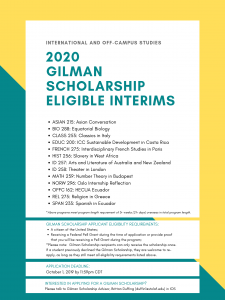 Click image to enlarge.