UPCOMING NEWS & EVENTS
Apply to the Young Scholars Program
READ the latest publication of the Kierkegaard Student Newsletter!
WATCH this short student video to learn more about the Hong Kierkegaard Library.
VISIT this web page to learn more about the donors: Howard and Edna Hong; the history of the Library; the significance of Kierkegaard; and more.
THE REED: AN INTERDISCIPLINARY JOURNAL OF EXISTENTIALISM

An internationally established journal focused on publishing undergraduate work, The Reed annually publishes creative writing, literary criticism, visual art, psychological analysis, philosophical and religious discourse while maintaining a cohesive and intellectual tone. International, national, and our very own St. Olaf students all to submit their works for publication.
If you are an undergraduate interested in submitting a work for publication to The Reed, please send an email attachment to thereed@stolaf.edu by late March (deadlines listed on The Reed website) Submissions of writing or artwork from students at any undergraduate institution are welcome.
STUDENT NEWSLETTER
The first article published in Spring of 2018, the Hong Kierkegaard Library Student Newsletter contains an Events Calendar and four exclusive segments written by students, professors, and visiting scholars.
The latest publication of the Newsletter can be viewed at the following title: Student Newsletter – Fall 2019. For past publications of the Student Newsletter, view our online archive.
RESEARCH OPPORTUNITIES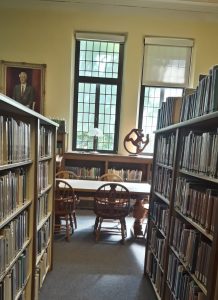 In addition to providing support for visiting scholars and participants in its summer programs, the Hong Kierkegaard Library maintains a quiet and open study space, individual offices, public computers for student use, and a 20,000 volume collection of the writings and ideas of Søren Kierkegaard. Our staff and student workers are available to help facilitate student research and help navigate the collection. Sometimes there's even coffee available in the lounge.
Our summer program for young scholars accepts applications from undergraduate students and is an excellent opportunity for education and scholarship. Additionally, the CURI program offers an invaluable opportunity for collaborative research between faculty and students.
WHERE TO START? KIERKEGAARD'S 10 GREATEST WORKS
Why is a top ten list necessary for an obscure Danish philosopher? Although Kierkegaard may not be a common household name, or as popular as Kant and Hegel, he was a prolific writer and left a great impact. Words such as "angst" and "leap of faith" which are often used in the English speech can be attributed to no one else other than Kierkegaard. In his short lifespan of 42 years, he managed to write 30 books, a dissertation, a collection of essays, and a literary review, and eight gargantuan volumes of journals/letters. With no exception to the quality of his work, his influence does not go unnoticed and still to this day affects the lives of many. For these reasons, we have taken the liberty to compile ten of his greatest works.