Program Description
The Kierkegaard Library offers unpaid research fellowships to serious scholars for two to eight weeks in duration during the months of June and July.
Acceptance includes extensive access to the Kierkegaard Library and the opportunity to use the other libraries and facilities of St. Olaf College. Free housing on campus is provided.
Participants of the program include students at the graduate level and seasoned scholars. Advanced undergraduates are encouraged to apply to the Young Scholars Program. Housing is provided on campus, all other expenses are the responsibility of the young scholar.
The Summer Fellows program entitles scholars to use the resources of the Kierkegaard Library while attending required activities that include: guest lectures, peer presentations, and participation in scholar seminars twice a week. The atmosphere encourages the sharing of academic thoughts and opinions in relation to Kierkegaard's writing and ideas.
The dates for the 2019 Summer Fellows Program will be June 11 to August 2. Deadline to apply is March 30th.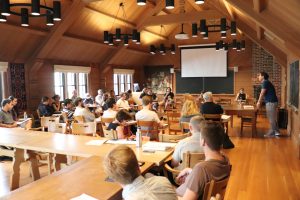 Application Process
Please send the following to Eileen Shimota by email or to the address below before March 30, 2019:
Updated Curriculum Vitae or other description of your qualifications
A description of your proposed research project and your reasons for wanting to use the collection
Two (2) academic recommendations, preferably directly to shimota@stolaf.edu
Your preferred dates in residence
              Eileen Shimota, Program Coordinator
              Hong Kierkegaard Library
              St. Olaf College
              1520 St. Olaf Avenue
              Northfield, MN 55057
Recipients
2018 Summer Fellow scholars
Wesley Bergen, United States
Christopher Barba Cabrales, Italy
Maria Binetti, Argentina
Amber Bowen, United States
Kristian Cardell, United States
Janaki Challa, United States
Dante Clementi, United States
Alipio Santiago Dacosta, Spain
Anthony Eagan, United States
Majk Feldmeier, Germany
Deidre Green, United States
Ruby Guyatt, England
David Heckerl, Canada
Susanne Jakobsen Tinley, Denmark
Todd Janke, United States
Wojtek Kaftanski, Poland
Joshua Kennedy, England
Irina Kruchinina, United States
Patrik Lenghart, Slovakia
Paulo Henrique Lopes, Brazil
Carolyn Mackie, Canada
Jakub Marek, Czech Republic
Oliver Norman, France
Marcos Norris, United States
Adam Nuske, United States
Stephen Oguji, Nigeria
Orijako Aloysius Oluchukwu, Nigeria
Valerie Roberge, Canada
Casey Spinks, United States
Troy Wellington Smith, United States
Nehama Verbin, Israel
Lawrence Wang, United States
Fernanda Winter, Brazil