Non-Circulating Collection
The Kierkegaard Library books should be used within the Kierkegaard Library only. Scholars are welcome to take books from the shelves in the main reading rooms to their workplaces. Before leaving the Library for the day, please return the books you are using to the marked windowsill in the main reading room for re-shelving by the staff. There are no assigned seats or offices in the Library due to the number of scholars here this summer. Please feel free to take any open seat or unused office when you are using the Library. Seats are not saved when not in use. (Long-term House Foundation Fellows have the only assigned offices.)
Care of Materials
Please take care not to make marks or notations in any book in our collection – or to use post-it notes. Also please always return the "flag" with call number to each book before returning it for shelving. Please let a staff member know if materials you are using seem to need repair or preservation.
You are welcome to enjoy coffee, tea, or water in covered containers inside the Library, but please do not bring any food into the Library.
Electronic Catalog and Other Access to Resources
All of our collections, including periodical and newspaper article files, have been carefully cataloged using our own classification for specialized Kierkegaard materials when appropriate. The St. Olaf/Carleton consortium electronic catalog, Catalyst, includes an updated list of the current materials available for use in the Carleton, Rolvaag, and Kierkegaard Libraries. A guide describing how to use Catalyst can be found here.
A search by Subject will include our specialized subject headings for many materials. A Keyword search will provide a broader bibliography for any subject search. Please note call numbers carefully to make sure you are searching for any title in the proper subsection of our arrangement. See our collection page for further information on the Library's arrangement.
Rare Book Room
Scholars wishing to use materials from the Rare Book Room (materials published before 1856 and other special materials) should contact Gordon Marino, Eileen Shimota, or one of the summer student workers. These titles should be signed out and in again and must be used within the Library.
Article Collections
Our collection of periodical articles, lectures, etc., is located in the file cabinets in the reference room. Please sign up on the sheet before taking articles out and remain inside the Library while you are using the article. Articles can be returned to the marked windowsill in the main reading room for re-filing by staff. They can be found in the wooden card catalog. Please see staff for specifics.
We welcome learning about articles missing from our collections. Scholar recommendations are very much a part of our ongoing acquisitions and collection building.
Kierkegaard Library Archives
The Kierkegaard Library is developing an Archive that includes materials related to the biographies and work of Howard and Edna Hong and other Kierkegaard scholars, the history of the Kierkegaard Library at St. Olaf College, the history of Kierkegaard studies worldwide, and other related subjects.
Photocopying and Scanning Policy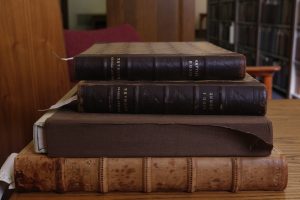 Scholars are responsible for observing copyright laws with regard to making photocopies for personal use. Photocopying/scanning of most materials by scholars themselves is allowed with staff permission.
The photocopy machine is the 2nd door down the hallway to the right. Taking materials to photocopy with permission is the ONLY circumstance in which materials should leave the Kierkegaard Library.
This machine also has the capacity to scan, which is free of charge.
Printed copies can be made using your St. Olaf ID card if you deposit funds on your card. This procedure can be done in the Cage or the bookstore.
Copying of materials from the Rare Book Room is by staff only and is dependent upon the materials' condition, etc.
Scholars using scanning "pens" to copy materials directly into their computers need to notify us that they are doing that. We will ask for recognition in any document related to your use of our materials. Again, each scholar is personally responsible for observing copyright law.
Resources Beyond the Library
Websites and Databases
Access to indexes are available through the St. Olaf libraries or through interlibrary loan. Electronic journal databases (such as JSTOR) are available to patrons of the Kierkegaard Library with some materials available in full-text. A helpful reference is the Web Sites for Philosophy that is maintained by the St. Olaf Libraries.
The Kierkegaard Library also maintains a list of links for Danish resources and related sites.
Other St. Olaf Libraries
Scholars are welcome to use the Rolvaag Memorial Library, the main library of the College, as well as the Science Library and the Music Library. Your St. Olaf ID card will allow you to borrow materials from all of these libraries. Rolvaag's holdings include some Kierkegaard studies materials.
Other Northfield Libraries
Your St. Olaf ID card enables you to borrow materials from Gould Library at Carleton College that also holds some Kierkegaard studies resources. The Northfield Public Library in the center of town is also available for your use, with the acquisition of a library card.