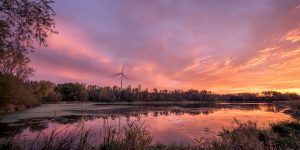 St. Olaf College is fortunate to be richly endowed in land holdings. In addition to a 300 acre (122 ha) campus, the college owns 430 acres (142 ha) of land dedicated to natural habitat and 444 acres (180 ha) of agricultural land adjacent to the campus. Since 1989 the college, principally through the members of the Biology and the Environmental Studies Departments, has conducted extensive natural habitat restoration projects on former farmland. Over 100 acres (40 ha) of trees have been planted as tree seedlings or by direct seeding in an effort to re-establish the dominant Big Woods (maple-basswood) forest type originally found in this area. Approximately 150 acres (60 ha) of native tall grass prairie has been reconstructed and 15 wetlands have been restored. A bluebird trail of 44 houses has been established through our forests and prairies.
In addition to natural habitat restoration, a number of student research projects since 1993 have been done in cooperation with local farmers on St. Olaf land with the goal of developing more sustainable farming methods. The Natural Lands provide a wealth of learning experiences for our students, from casual observations to independent research, as well as aesthetic and recreational value for the entire campus and Northfield community.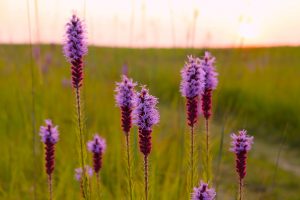 A walk across campus could take you through dense woods in beautiful Norway Valley, across open prairie, or to the shore of a wetland where you may observe waterfowl. Such exploration reveals the diversity and environmental enhancement of our land. St. Olaf is much more than classrooms, dormitories and parking lots. Our campus is, in effect, also a nature center. In addition, see research papers and photographs on Elevator or on the Natural Lands site under Research Papers.