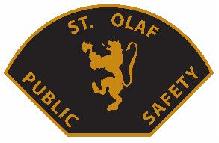 Welcome to the St. Olaf College Public Safety web page!  Thank you for visiting our site and I hope you find the information contained here to be informative and beneficial to you during your time on the Hill.
The Public Safety Department is comprised of a Director, an Assistant Director, a Sergeant, and seven Public Safety officers.  Our office is located in the lower level of Tomson Hall, accessible from the lower level parking lot.  Public Safety officers are on-duty 24 hours a day, 365 days a year to respond to calls for service and are the first responders to incidents and accidents that occur on campus.  Our responsibilities include building security, campus assists, community involvement, investigations, crime prevention, parking enforcement, vehicle assists and responding to medical and mental health concerns.
Our mission is to create and maintain a safe and secure living, learning and working environment for the entire campus community.  Public Safety is dedicated to the safety and protection of all members of the St. Olaf community and our visitors.  By working together, in an interactive partnership, we can achieve our desired mission.  We ask for your assistance by being responsible for your own safety and the safety of others. You can take an active role in creating a secure environment by locking your room door when you leave, keeping valuable possessions secured, locking your car doors and keeping valuables in the trunk, and reporting suspicious activity observed to Public Safety.
We strongly believe that a well informed community is a safer community. A daily crime log is available for public review in the Public Safety Office during normal office hours. You will also find a link to the "Clery Act & Fire Safety Annual Report" on this site. This annual report discusses public safety policies, campus policies, fires that occur in student housing, and crime statistics for the previous three calendar years. In addition, there is information available on crime prevention, academic building hours, Public Safety responsibilities, and emergency procedures and protocols.
Should you have questions or concerns about campus safety, please feel free to contact me by phone at (507)-786-3636, or e-mail me at kruse6@stolaf.edu to address your questions or discuss your concerns.
Derek Kruse
Director of Public Safety