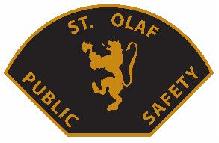 Welcome to the St. Olaf College Public Safety web page! Public Safety officers are on-duty 24 hours a day, 365 days a year to respond to calls for service. We strive to create and maintain a safe and secure living, learning and working environment for the entire campus. In that regard, we believe a safe community is the responsibility of the entire community. You are encouraged to be responsible for your own safety and the safety of others. You can take an active role in creating a secure environment by locking your room door when you leave, keeping valuable possessions secured and reporting suspicioius activity to Public Safety.
Most of the crimes that occur at St. Olaf are "crimes of opportunity." The people who commit these acts simply take advantage of the opportunity provided to them. Personal property left unattended that is stolen, is the most frequently occurring example of crimes of opportunity. Each member of the community must make a conscious effort to minimize such opportunities and safeguard their possessions.
We strongly believe that a well informed community is a safer community. A daily crime log isavailable for public review in the Public Safety Office during normal office hours. When serious crimes occur on college property, we will e-mail a crime alert to the campus community. You will also find a link to the Clery Act under "Clery Act & Fire Safety Annual Report" on the tool bar to the left of this message. The Clery Act is an annual report that discusses public safety policies, campus policies and includes crime statistics for the previous three calendar years. Through these efforts, we believe our community will be well informed and can take the necessary measures to promote a safe environment for all.
Should you have questions or concerns about campus safety, please feel free to contact me by phone at (507)-786-3636, or e-mail me at behr@stolaf.edu to discuss the issue.
Fred Behr
Director of Public Safety