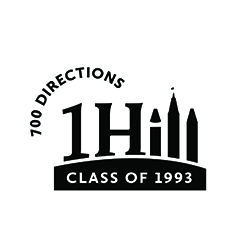 Dear Classmates:
While 1993 may seem like yesterday, it has actually been 25 years since we wrapped up our studies at St. Olaf, packed up our dorm rooms, and headed out from the Hill in 700 different directions – each to make our mark on the world. Over the past 25 years, we've faced the ups and downs of real life, and some of us now have kids of our own on the Hill. Without a doubt, each of us has made our mark in some way. We hope you will join us to reconnect, remember, and celebrate our time on the Hill when we gather for our 25th reunion, June 1-3.
Reunion weekend will be full of programmed activities coupled with plenty of unstructured time for socializing. Reunion events are all held on the Hill, where there will also be lodging available in Mellby Hall. That's right, our class will be reunited in the dorms and right in the middle of all the fun. We will be able to reminisce about the old – remember the Caf, P.O. boxes and the original Ytterboe Hall? – while exploring new places like Buntrock Commons, Regents Hall, and so much more. Much has changed about campus over the past 25 years and reunion weekend is the perfect time to take it all in.
Your reunion committee has been hard at work since last fall putting together a weekend we hope is meaningful for you. On the reverse side of this letter, you'll see some highlights of what has been planned for our class. In addition to these activities and the class gift presentation, there will be lots of great food, including (insert drumroll here…) ADULT BEVERAGES served with our dinners. Take a moment to let that sink in! We'll also have a bonfire, late night pizza in the dorm, and enough early '90s music to make you want to backcomb your bangs and dig out your acid wash jeans. Even if you can't attend for the entire weekend, feel free to come and enjoy even part of our time together.
Enclosed in this envelope, you will find a sneak peek of the various events happening on-campus. Reunion weekend features opportunities for your whole family to engage in the life of St. Olaf, so feel free to bring your significant other and/or kids so they can experience a taste of campus life.
Mark your calendars, hunt down your old yearbook, and get yourself registered. One of the most common things overheard at our 20th reunion was, "I'm SO glad I came!" We promise you, this will be another reunion you won't want to miss. Let's not let another 25 years go by before we see each other again.
Um! Yah! Yah!
25th Reunion Committee
P.S. Registration opens March 19! Be sure to follow our class Facebook page for updates, memories, and information.