October 11, 2016-Student wins national Sustained Dialogue award
Student wins national Sustained Dialogue award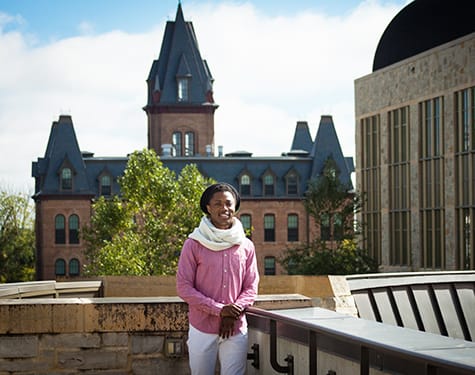 Community is about conversation — and that's exactly what Sustained Dialogue provides," says National Dialogue Award recipient Don Williams '18.
St. Olaf College student Don Williams '18 has received a National Dialogue Award from the Sustained Dialogue program in honor of the way that he has used dialogue and action to improve the campus community.
Williams is one of only three people to win the award this year — the other recipients are Supreme Court Justice Ruth Bader Ginsburg and congressional staff member Bre Swims. All three will accept their awards at a November 17 ceremony at the National Press Club in Washington, D.C. Ginsburg will give the keynote address.
| | |
| --- | --- |
| | St. Olaf names new Director of Academic Support and Advising |
| | March 30, 2015 |
| | Kathy Glampe, presently Director of Student Support Services, will move to the Academic Support Center.  As Director of Academic Support and Advising, Kathy will work to support student success through the services provided by the ASC and through partnering with faculty members and Registrar's Office staff to provide academic advising and faculty training.  Kathy is a veteran in both academic support and advising, having led a nationally-recognized SSS program for many years.  Now all St. Olaf students will benefit from her expertise and commitment to student success and well-being. |
May 2012 – SSS Alumni speaks to the Press

 "Mn Governor Mark Dayton signed a law today expanding Post Secondary Options, allowing 10th graders to take a career tech course on college campuses (11th & 12th graders already can take career/tech and academic courses). Gov Dayton asked Paj Ntaub Lee '09 of the CSC to help explain benefits of this expansion to the press."  ~ Joe Nathan, Director of the Center for School Change.   http://centerforschoolchange.org/2012/05/ ceremony-expanding-pseo-to-include-career-and-technical-courses/
SSS Student wins MN TRIO Scholarship
January 2011 – Ken Medina '12 was selected to receive the Paul and Sheila Wellstone Award.
St. Olaf student support program survives federal cuts
August 23, 2010 – A recent Star Tribune article takes a close look at how a number of federally funded TRiO Student Support Services programs serving low-income, first-generation, or disabled college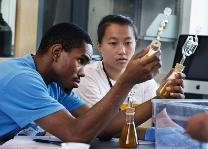 students have not been granted money for the coming year. St. Olaf's SSS program that currently serves 180 students did get re-funded at nearly $1.3 million for five years — in addition to money from other sources, including the college. The story notes that St. Olaf accepts more students into its program than they have funding for, but "There are just so many students that want to be served," says program director Kathy Glampe '92, who benefited from the program when she was a student.  (pictured above: Rashad Washington '14 and Amanda Moua '14)
 Protecting Her Culture
JUNE 16, 2009 — For her senior project, Whitney White '09 made a video collection of interviews with tribal elders of the Prairie Island Indian Community."I'm helping to preserve our identity as a people," she says. Read more…
MPR story profiles St. Olaf TRiO student

MAY 15, 2009 — "Less than half of students of color graduate from high sch ool on time," reports St. Olaf student Mara Kumagai Fink '11 in a recent Minnesota Public Radio story. "Of those who go on to a Minnesota college, the gap in graduate rates betweenwhites and minorities is 15 percent." Fink notes that the federal TRiO program is working to improve these statistics as she profiles fellow student Tenzin Choerap '10 and his journey from India to St. Olaf. Read more…
Star Tribune features family that's 'rollin' in Oles'
APRIL 13, 2009 — The Yangs — Sandy '09, Betty '10, Nou '11 and Kong '12 — have put St. Olaf in the "extraordinary" position of simultaneously educating four siblings from one family, notes the Minneapolis Star Tribune. Sandy Yang first connected with the college through its TRiO program, which continues to provide support services for the siblings. Read more…
SSS Student attends Policy Seminar in DC
March 25, 2009 —Ian Peppel '12 attended Policy Seminar in Washingon, DC and is pictured here with Congressman Jim Oberstar (Minnesota's 8th Congressional District). Policy Seminar enables participants to represent the interests of low-income, first-generation, and disabled students in the policy arena.