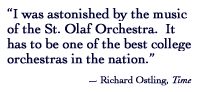 The 92-member St. Olaf Orchestra is one of the premier ensembles at St. Olaf College, a four-year college of the Evangelical Lutheran Church in America known for its excellence in music. Recognized both nationally and internationally, the St. Olaf Orchestra strives for the highest professional standards.

Richard Ostling of Time magazine said, "I've always known about the great St. Olaf Choir, but when I tuned into the St. Olaf Christmas Festival (on National Public Television) I was astonished by the music of the St. Olaf Orchestra. It has to be one of the best college orchestras in the nation."
The St. Olaf Orchestra dates back before 1906, when it was guided by F. Melius Christiansen, the well-known founding conductor of the St. Olaf Choir. A European-trained violinist, he once remarked that "you cannot make a symphony orchestra on a college campus," as very few string players came to college with much formal instruction. Times have changed! Many students now have years of private lessons and performing experience.
A good deal of credit for the unusual depth of St. Olaf's orchestra program belongs to two talented faculty members whose combined careers at St. Olaf spanned 77 years. Violin professor Beatrix Lien, a St. Olaf alumna, began teaching at St. Olaf in 1934 with seven upper strings students. In 1946, Donald Berglund was called upon to lead the modest-sized orchestra.
In 1949, with no financial assistance from the college, the ensemble undertook its first tour. Through persistence, patience, hard work, and a caring attitude, Berglund and Lien lifted the orchestra to remarkable heights by the time they retired in the late 1970s.
A second orchestra was started in 1976 to accommodate the college's growing numbers of string players. The St. Olaf Philharmonia now has 80 members, and more than 120 string players currently take private lessons at St. Olaf.
In addition to its annual tours of the United States, and notably as Garrison Keillor's guest on a broadcast of A Prairie Home Companion, the St. Olaf Orchestra has performed throughout Scandinavia and Europe and recently toured China in 2012. Led for three decades by Conductor Steven Amundson, the orchestra has appeared in some of Europe's finest concert halls and performed with some of the world's most noted conductors and artists. It has also been featured at national, regional, and statewide conventions, and participates each year in the St. Olaf Christmas Festival, which is broadcast on PBS and public radio stations nationwide.
In 1985, Robert Shaw conducted the St. Olaf Orchestra and choirs in a performance of J.S. Bach's Passion According to St. Matthew. In 1987, the St. Olaf Orchestra joined renowned pianist Leon Fleisher in a performance of Ravel's Concerto for the Left Hand. Reviewing that performance for the Twin Cities' Star Tribune, Michael Anthony wrote: "Amundson led a superbly-trained college orchestra… The brasses play with bright, fully-rounded tone, never forcing the climazes; the woodwinds are clear and precise, and the strings… are flexible, evenly-balanced, and warm-toned."
British composer-conductor Sir David Willcocks conducted the orchestra during a visit in the fall of 1991. Afterwards he wrote: "I was struck by the excellent playing of the orchestra, whose members were not only technically assured but were exceptionally musical and responsive."
In 1996, the St. Olaf Orchestra was awarded the "Meritorious Orchestra Program" by the Minnesota chapter of the American String Teachers' Association.
Under Amundson's direction, the St. Olaf Orchestra has successfully performed demanding scores seldom attempted by amateur groups, including Mahler's Symphony No. 2, Stravinsky'sPetrouschka and Rite of Spring, Ravel's La Valse, and tone poems by Richard Strauss. The orchestra has also premiered several new compositions in recent years.