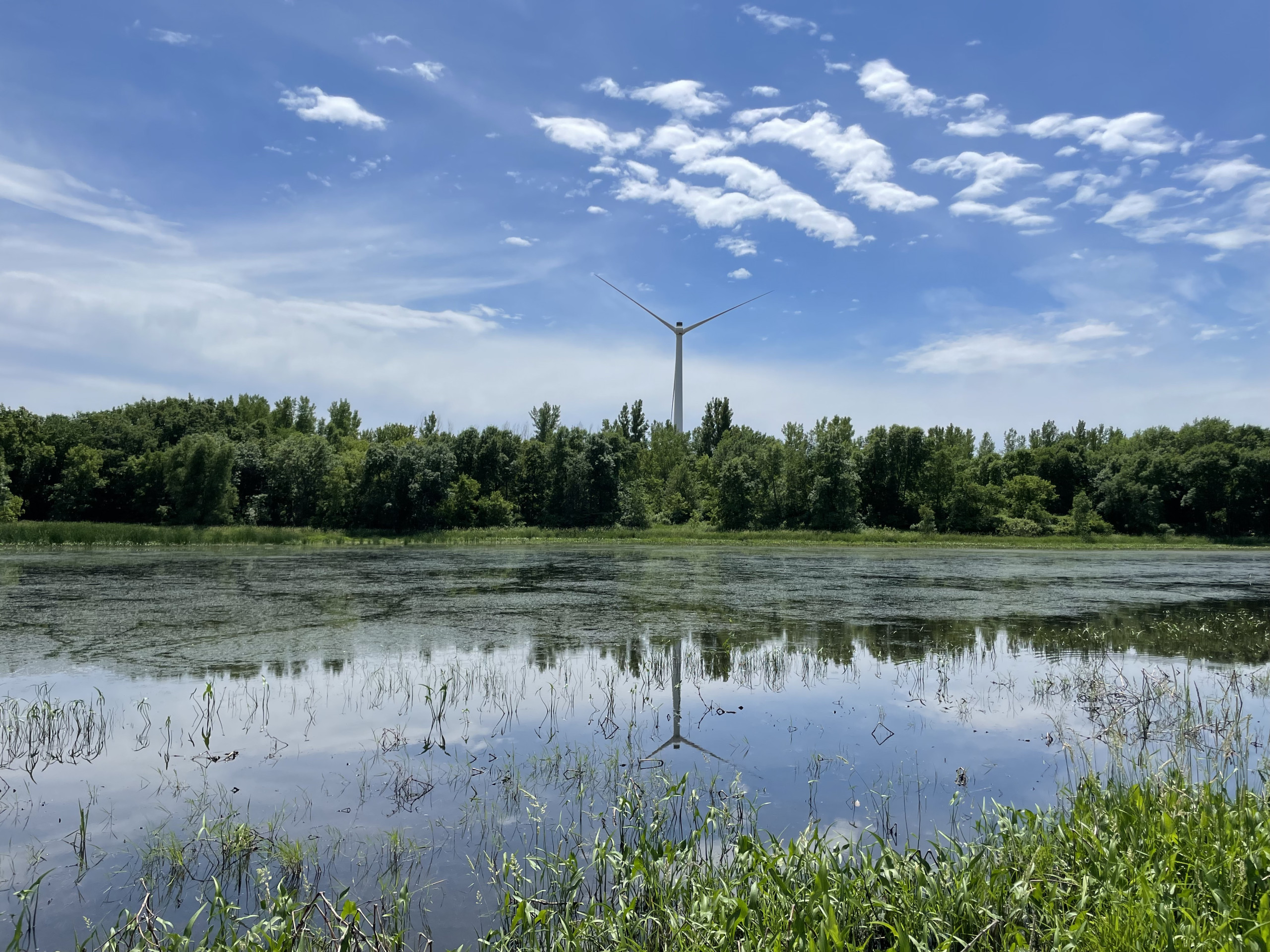 St. Olaf has long been committed to environmental responsibility and sustainability. This is reflected in our attention to reducing carbon emissions and energy conservation measures such as the wind turbine and PV solar field subscriptions. The College has restored natural lands on our property. We routinely recycle and compost food and other waste. Bon Appetit, the College's food service provider, purchases from local growers and farmers as well as the student-run organic farm.
The many complex decisions that are made during a construction or renovation project design process are not merely "checklist" decisions. They are informed by the best practices of the Leadership in Energy and Environmental Design (LEED) green building certification program and the WELL Building Standard programs that consider the inhabitants' health and wellness within the built environment. These best practices are then tailored to address the specific needs and constraints at St Olaf. While not necessarily pursuing accreditation within these codified systems, many of the design aspects of a project meet or exceed these industry standards. Below you'll find a synopsis of considerations that the College uses in our capital enhancement program.
Life Cycle Cost Analysis- Architectural and system decisions are made that best suit the building for the duration rather than simply the "first cost" expenditure.
Siting and Relationship to Surroundings- Consideration is given to project siting that optimizes daylighting, views, pedestrian and bicycle access, vehicular circulation, and public transportation. Landscape design and materials are intentionally designed for slowing stormwater runoff or retaining it completely on site. Native landscape materials are used to the greatest extent possible with an eye to seasonal change, passive solar considerations and reducing allergens. Excess soil from excavation or grading is incorporated into the project or used elsewhere on campus.
Energy Requirements- All projects meet or exceed regulatory agency energy requirements, including the Minnesota Energy Code and the most current American Society of Heating, Refrigerating and Air-Conditioning Engineers (ASHRAE) codes. These codes and standards pertain to building HVAC systems, building exterior envelopes and building insulation, and overall building operations. Every attempt is made to source materials locally or within several hundred miles of site. New buildings and major renovations at St. Olaf also are designed using the local utility's Energy Design Assistance Program, which starts at programming, identifies the broadest range of possible opportunities, and then provides incentives for implementation.
Alternative Energy Sources- Over the past several years the College has subscribed to over 30 PV solar arrays to the extent that all of the College's electrical energy consumption is provided by this green energy source. As new projects are considered, alternative energy sources including solar, geo-thermal, or any emerging sources will be assessed for potential implementation. The College is also installing a solar garden for campus use only that increases our capacity to transition from natural gas to new energy opportunities and technologies.
Mechanical and Electrical- All mechanical systems are evaluated for energy efficiency ratings, active and passive heat and energy recovery components, variable speed pumping and motors, etc. Building systems are integrated into the College's energy management system. Plumbing systems utilize low flow water controls. Appliances are selected based on energy and water saving features.
Natural Lighting and Lighting Pollution- The College looks to make the best use of daylighting for circulation pathways and to drive daylight deeper into the building. All interior light fixtures are high-efficiency LED fixtures, with dimming capabilities or occupancy sensing where appropriate. Light pollution from interior lights is mitigated using site plantings on the exterior & dimming controls on the interior. Exterior Dark -Sky approved LED lighting fixtures maintain a safe level of illumination surrounding the project buildings while reducing light pollution from the site.
Recycled Materials- Care is taken to specify products that can be recycled in some way so they may have a useful life when they are replaced. Interior products and materials are carefully chosen based on their natural properties, recycled material content, sustainable processes, and overall lifespan. We ask our contractors and subcontractors to use waste management and recycling practices for construction wastes and byproducts with the intent that as much material as possible be recycled. The College deconstructs, rather than demolishes, existing structures on campus that will no longer be used. Deconstruction involves taking the building apart, piece by piece, for salvage purposes. Not only do these salvaged materials prevent landfills from clogging up, but they also reduce the amount of carbon dioxide produced when new materials are made.
Air Quality- The College prioritizes products that have low volatile organic compound (VOC) content to improve interior air quality not only for capital enhancement projects but for daily custodial and maintenance work as well.
The Ole Avenue Project website contains a sustainability page that demonstrates how these considerations have been implemented in that project.