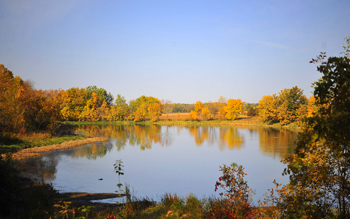 St. Olaf College's Natural Lands — more than 325 acres of restored native tallgrass prairie, wetlands, and woodlands adjoining the campus — provide an ideal outdoor laboratory for the sciences and environmental preservation.
Since 1992, 17 wetlands and 150 acres of native prairie have been restored. A reforestation project has resulted in more than 40,000 tree seedlings and nursery stock being planted by students.
In addition to restoration, neighboring farmland owned by the college has been converted from conventional tillage to no-till agriculture.
Each year the St. Olaf Environmental Studies Department chooses a junior or senior student who is familiar with the environment around campus and the Northfield area to be the college's student naturalist. Student naturalists are responsible for leading field trips, organizing tree plantings and other restoration activities on campus, and creating environmental education opportunities for the local community.