FALL CULTURAL CELEBRATIONS
African and Caribbean Night
2019: Threads: The Patterns that Connects Us
Organized by KARIBU
SPRING CULTURAL CELEBRATIONS
LUNAR NEW YEAR CELEBRATION
Presented by CCC, CIA, D-VINE, KCA, JOY,  Taiko Club, Team Tibet, & VNO/Sponsored By SGA, DISC and the Taylor Center.
2019 Streaming on Demand
AFRICAN AND CARIBBEAN WEEK
Presented by KARIBU
2019: UNAPOLOGETIC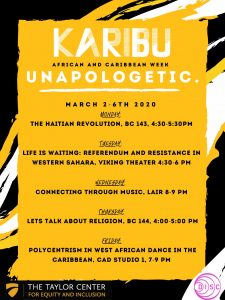 54th International Night:
2019:"Solidarity Through Celebration"-*Cancelled*
Organized by International Students Organization (ISO)
International Night is an opportunity for all the international community to come together and celebrate diversity through many different variety of performances.
¡Viva la Vida!: 
2019 Raíces de Revolución/Roots of Revolution-*Postponed *
Presented by ¡Viva la Vida! Organizing Committee
3rd annual performance for Latinx expression on the Hill. Performances will include poetry, dances, skits, and singing, and other forms of performing arts.