Taylor Center Initiatives
COFFEE HOUR — Learn More
COFFEE HOUR
The Coffee Hour create opportunities for collaborative dialogues around issues that currently impact the lives of Oles, especially on areas of identity, global issues, social justice, and culture. It is a powerful way, through conversation, to learn and integrate new ideas about day to day issues.
Learn More
CULTURAL CONVERSATIONS — Learn more
CULTURAL CONVERSATIONS
The Taylor Center hosts a series of "Cultural Conversations" for students, providing the space for them to engage in conversations with their peers. Each time a faculty or staff member facilitates a conversation addressing various topics on equity and inclusion that enhance the discourse on culture and identity on campus.
Learn more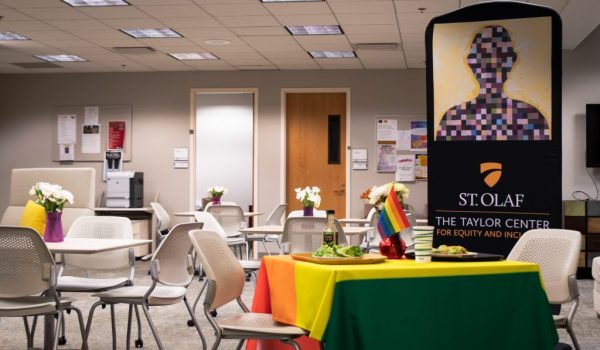 OUT FOR LUNCH SERIES — More information or to register
OUT FOR LUNCH SERIES
Out for Lunch Series aims to create space on campus for education and community building centered on the lives and experiences of LGBTQIA+ individuals. Each month, we invite all students, faculty, and staff (LGBTQIA+ identified and those who support this community) to eat a meal together and engage in conversation.
More information or to register
POC in the Arts
POC in the Arts
POC in the Arts Initiative utilizes methods that help foster POC ethnic communities at St. Olaf College. It seeks to use art pedagogies situated in theory and performance as a practice to explore, reflect, and share various POC ethnic identities and cultural practices. It continuously have several opportunities to explore and reflect about the impact, perception, and realities of POC ethnic identities across campus. Fall 2020 season coming soon!
Have an Idea?
Have an Idea?
Questions? Contact taylorcenter@stolaf.edu or stop by BC 111
Career and Identity Series
Career and Identity Series
The Taylor and Piper Center have launched a series of events that focus on culturally responsive career development and networking opportunities. The events have different formats from panel discussions to formal presentations, employer diversity career fairs, and mingling opportunities. If you have any questions email María Pabón Gautier at pabong1@stolaf.edu.
Social Programs: Let's Have Fun!
Social Programs: Let's Have Fun!
We will be offering opportunities throughout the year to engage Let's Have Fun programs. These programs will range from visiting the Twin Cities to taking cooking classes, get knee deep in the snow, and/or attend a play. It is important that we take time to celebrate who we are and take care of ourselves and each other. If you have any question please email taylorcenter@stolaf.edu.
Taking Care of Me, Taking Care of Us' Workshop Series: A Radical Self-Care
Taking Care of Me, Taking Care of Us' Workshop Series: A Radical Self-Care
Taking Care of Me, Taking Care of Us' Workshop Series: A Radical Self-Care, Led by Professor Arneshia Williams, brings students together to talk about their bodies, and the intersectionalities between gender and race while suing dance as a vehicle. This workshops provide students opportunities to be confident in their bodies and take a break from the stresses of life. Students will consciously work toward good emotional, psychological and social well-being while building communities. For more information, email Prof. Arneshia Williams at willia26@stolaf.edu