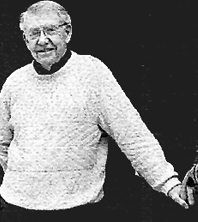 In 1990 St. Olaf College honored Ralph H. Haugen after 41 years of distinguished service to the College, the Speech-Theater Department, and the Theater by renaming the Studio Theater the Ralph Haugen Theater.
A native of Washington, Ralph earned his bachelor of arts degree in speech at Pacific Lutheran University at Tacoma. He received his master's from Northwestern University in Evanston, Illinois, in speech-theater. He enrolled at the University of Minnesota to work on his Ph.D. because it had a prominent Scandinavian studies program to go along with his emphasis in theater, and he could do research on Swedish dramatist August Strindberg. He received his Ph.D. in 1956.
In 41 years of directing, Ralph was always at the cutting edge of discovering and presenting new dramatic material for participants and audiences. He staged Waiting for Godot at St. Olaf before anyone had heard of Samuel Beckett. He brought insight and life to Shakespeare, Moliere, and Ibsen. He was a champion of Miller 's Death of a Salesman in 1959. He supported the work of new playwrights and aimed to give his productions the fresh insight and careful analysis of a master director.
Without Ralph's continued persistence, the St. Olaf Theater would never have become a reality. He worked tirelessly through a number of administrations to push the cause of the theater curriculum and building. Thanks to Ralph, the college community discovered the magic of theater and the importance of the art form in the liberal arts setting.