Led by Greg Kneser, Vice President of Student Life, and Judy Tegtmeyer, Director of Recreation
June 10-16, 2018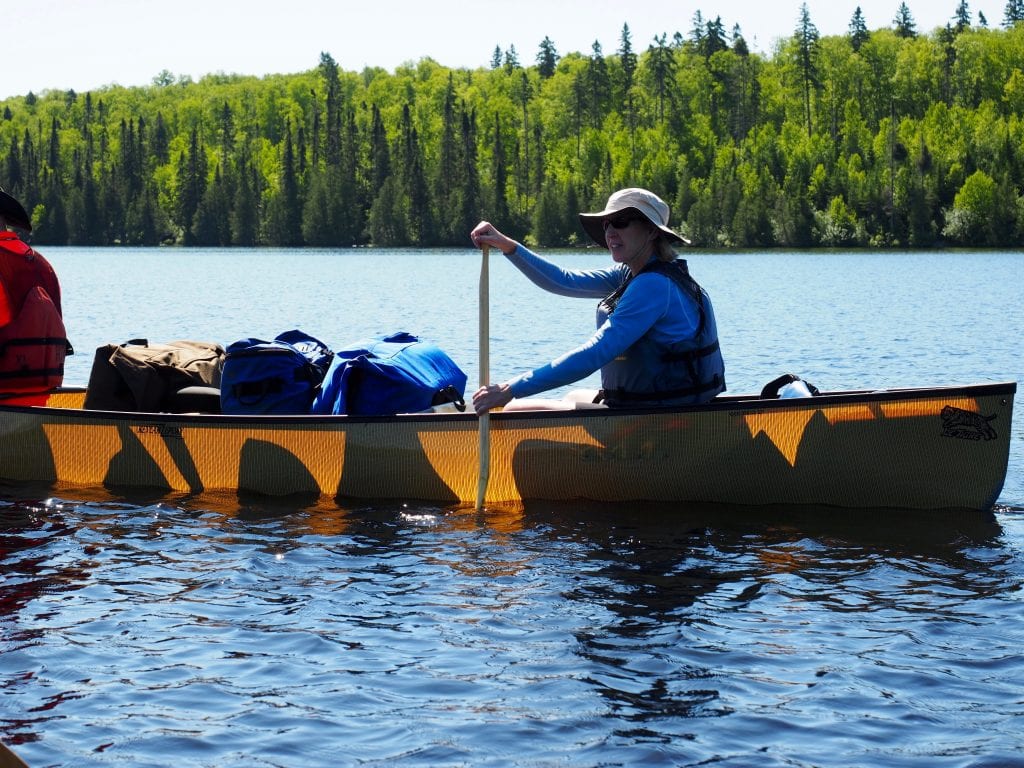 We are blessed to have the Boundary Waters Canoe Area Wilderness in our backyard (well, if not our backyard, then just beyond the neighbors). It lies entirely within Superior National Forest and is the most visited wilderness area in the United States, for good reason. The boundless beauty and tranquility are uplifting and refreshing.
Join us on an Ole adventure in the BWCA. We'll start with a visit to the Chik-Wauk Museum and Nature Center at Seagull Lake, which tells the story of the Gunflint Trail, before having a group dinner at Gunflint Lodge and overnighting at Hungry Jack Outfitters in Grand Marais for our entry into the wilderness area. We will also be fully equipped by Hungry Jack Outfitters, an Ole-owned enterprise.
For 5 days, we'll paddle from lake to river to lake again, and disembark as necessary to use the portage trails between bodies of water. This vast area has changed little in the 10,000 years since the glaciers receded. In this serene setting we are likely to spy loons, moose, bald eagles, deer, otters and more, and we will, of course, hang our food high to avoid sharing space with bears. As Marshall McLuhan said, "There are no passengers on spaceship earth. We are all crew." This program is an adventure of the body, as well as the mind and spirit. You must be physically fit enough to carry gear on the portages, including large, but manageable backpacks and, with your paddling partner, the canoe. Also, everyone in the group will share chores like cooking and camp maintenance.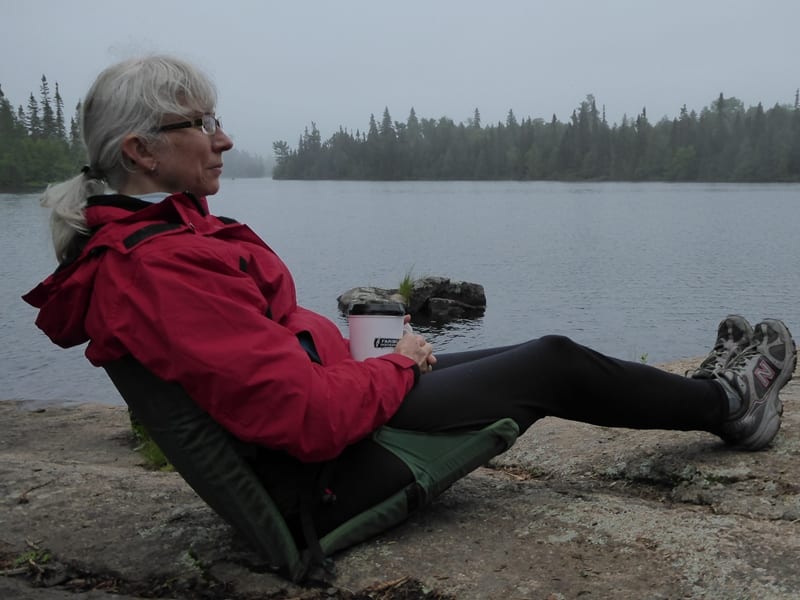 After we exit the BWCA we will stay overnight at Hungry Jack, and will spend our last day taking in the adventure of the North Shore, including breakfast at Nanibijou Lodge, and a visit to the North House Folk School. The Folk School was  a key partner with St. Olaf volunteers in imagining, designing and constructing the Memorial Chime Tower and later, rebuilding the Flaten Art Barn on the St. Olaf campus.  Our hope is that the trip will coincide with the Wooden Boat Show at North House, one of the main summer events of the Summer in Grand Marais.
(Incidentally, Grand Marais won the "Best Midwestern Small Town" award for 2017, as chosen by USA Today readers. A Minneapolis StarTribune article said that USA Today "described the Boundary Waters gateway city as a charming town with 'art galleries, quirky restaurants, local shops and diverse lodging.'")
As we continue down the North Shore and back home, there will be time to visit some of the wonders of America's "North Coast"  that the group will identify.
This unique Study Travel has no deliberate educational theme, but is an opportunity to gather with fellow Oles – official and honorary alike – and share time together in an area of natural beauty.
Program Leaders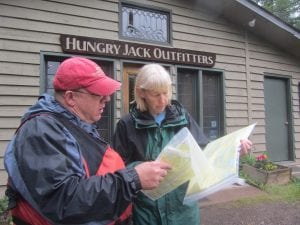 Greg Kneser is the Vice President for Student Life at St. Olaf.  He has traveled extensively with students on domestic service trips,. including New Orleans, Nashville, Mississippi and Chicago.  He has assisted with St. Olaf Interim courses in London and Nicaragua. Greg often describes himself as a "wanderer," and has worked with students to look beyond the obvious when traveling or serving abroad, connecting their experience of the day with their lives back on campus at St. Olaf. Greg led his first Study Travel program on the Danube in April 2015 and the first Ole Wilderness Adventure in the Boundary Waters in June 2015. A graduate of the University of Wisconsin-Whitewater, Greg has spent the last 25 years at St. Olaf, mostly beside his wife, Sandy Kimmes '89, and their teenage children, Amelia and Wylie.
Judy Tegtmeyer is the Director of Recreation and an Instructor in the Exercise Science Department at St. Olaf College. Judy has been at St. Olaf for 23 years and coached both soccer and basketball upon her arrival. She has taught a wide variety of classes including outdoor recreation topics such as orienteering, Nordic skiing, snowshoeing, cycling, canoeing and rock climbing. She has also traveled abroad with the Theater in London Interim course and co-taught an Interim course in Arizona called Bodies and Biomes. She has considerable background in wilderness camping and has led numerous canoe trips to the BWCA, Quetico Provincial Park, and northern Canada. Judy led one of the Ole Wilderness Adventure trips in the Boundary Waters in June 2016. She feels that being "off the grid" is an important opportunity for rejuvenation of the soul and reconnection to the forces of the natural world. Judy received her undergraduate degree in Geology from Denison University in Ohio and her graduate degree in Kinesiology from Indiana University. Judy resides in Northfield and enjoys numerous outdoor activities in the surrounding area.
What to Expect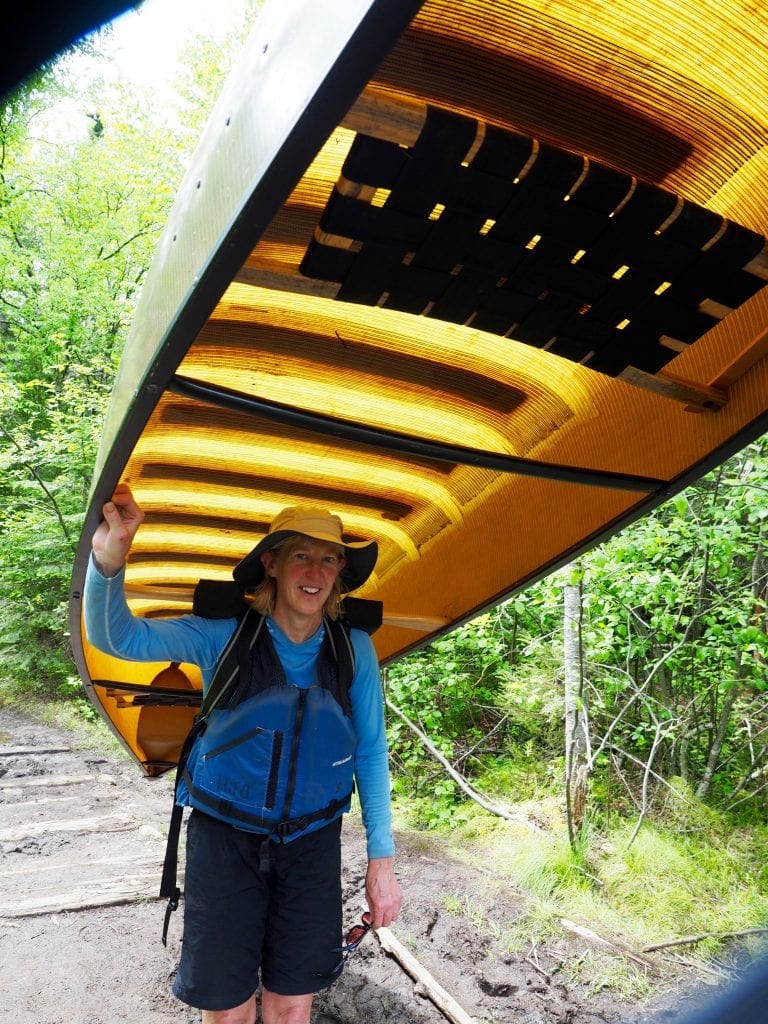 Expect an adventure, as advertised! You will be active in the most positive way and immersed in nature's bounty every day. This program requires that you be physically fit and able to paddle, walk, and carry belongings for an extended distance. You should have fairly sure footing over uneven ground. The level of paddling challenge will be geared toward the ability and experience of the group.  All participants will be expected to pitch in with tasks such as setting up camp, making meals, and repacking your own and group equipment. The weather in mid-June in northern Minnesota should be beautiful, but can be hard to predict. Average temperatures for this time of year are a high around 67º Fahrenheit, low around 48 F, and rainfall of 3.7 inches for the month.
Maximum group sizes in the BWCA are 9 people total. If we go over this number, we will divide into two groups based on ability and rigor preference.
Program Fee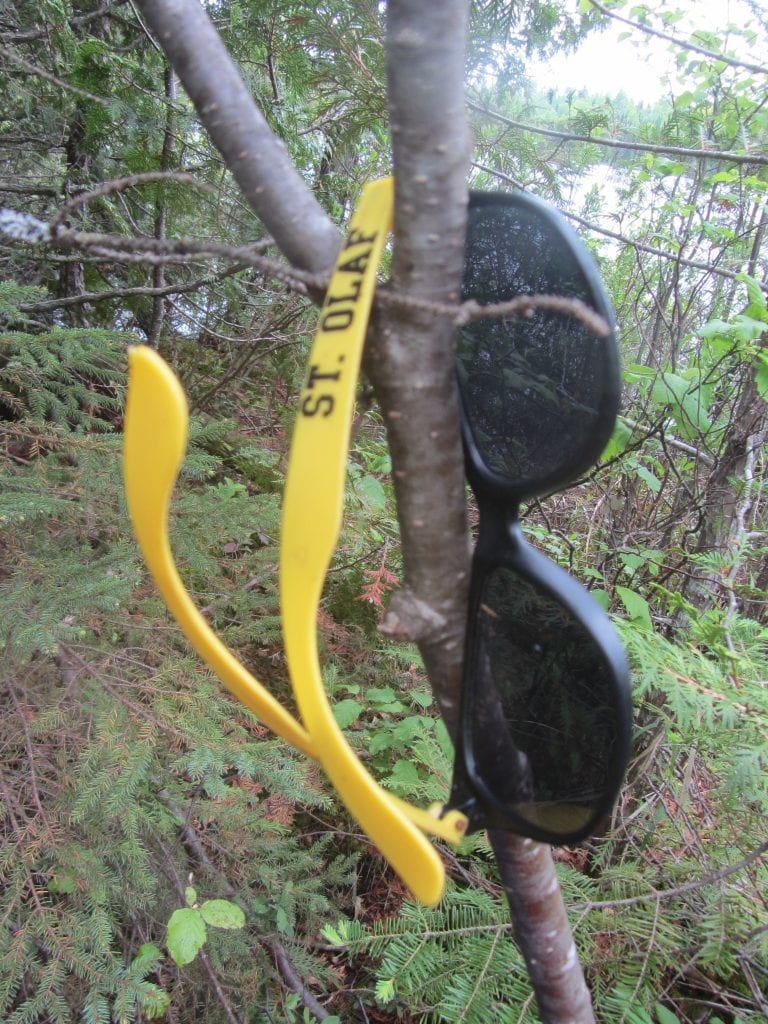 $1,200 per person, completely outfitted (inclusions listed below). Deduct $30 to bring your own sleeping bag and an additional $30 to bring your own tent. Roundtrip transportation between St. Olaf and the BWCA is included. Transportation to and from St. Olaf is not included.
INCLUSIONS
Route planning and permit
All food, chosen from a set menu (special diets can be accommodated within reason)
Personal packs (Cooke Custom Sewing):
Sleeping bags (Marmot or Slumberjack)
Pillows
Clothing bags
Headnet
Therm-a-rest pad
Ponchoes
Crazy Creek Camp Chair
Equipment pack:
Tents (MSR)
Ground cloth
Dining Fly (Cooke Custom Sewing)
Short Rope (Ten Each)
Canoe anchor
First aid kit
Stove (Primus Himalaya)
Fuel
Saw
Kitchen sink bucket
Water bag
Water filtration system (Steri-pen and/or Katydyn filter)
Cook kit (MSR stainless steel)
Fry pan
Griddle
Coffee pot
Plates, cups, bowls, silverware, cooking utensils
Measuring cup
Sharp Knife/filet
Clean-up kit
Toilet paper
Bear rope
A $500 per person deposit is required upon registration and is fully refundable until April 15, 2018. Register now or view the full Payment Schedule.
Itinerary   
This itinerary is subject to change. B, L, D indicate meals included in the program fee.
Sunday, June 10                                                        Depart St. Olaf (L, D)
Meet on campus around 7 a.m. and travel in vans to the Gunflint Trail out of Grand Marais. You may also drive yourself north and meet the group at a designated location. Specific campus departure time and meeting instructions in Grand Marais will be provided prior to departure. Lunch is included on the way north for those in the college van. In the late afternoon, tour the Chik-Wauk Museum at Seagull Lake, followed by a group dinner and welcome session at Gunflint Lodge. Overnight at Hungry Jack Outfitters in Grand Marais. Hungry Jack offers bunkhouse accommodations, with 4 to 6 bunks per room and shared bathrooms; these accommodations are included in the program fee. You also have the option to drive yourself to Grand Marais and reserve alternative lodging for the night on your own. You will then also need to drive yourself to Hungry Jack Outfitters, as that is our jumping off point for the BWCA.
Monday, June 11 — Thursday, June 14                   In the Boundary Waters (B, L, D)
We'll enter the BWCA Monday morning, following an orientation by staff from Hungry Jack Outfitters, who will also transport us to nearby entry points. Depending on the number of participants, groups will be formed prior to departure, based on preferences for rigor of travel and interests of individuals. Specific routes will be chosen very close to our departure. Evening camp sites will be chosen by the group leader based on how much progress was made that day and the availability of space at each site.
Friday, June 15                                                           Exit the Boundary Waters, Overnight at Hungry Jack (B, L, D)
Today we'll exit the BWCA , turn in our gear and bunk at Hungry Jack. Dinner is at the Trail Center on the Gunflint Trail.
Saturday, June 16                                                       Return to St. Olaf (B)
This morning start our trip back with breakfast at Naniboujou Lodge, an iconic establishment up the shore from Grand Marais, before starting our way south. If participants are interested, we'll stop along the way to visit Gooseberry Falls, Split Rock Lighthouse, or attractions in Duluth.
Helpful Documents