Led by Kris Cropsey, Instructor of Spanish
August 5–19, 2018
Nine spaces remain available on this program. We have moved to a slightly larger boutique hotel in Mendoza, so have increased the group size to maximum 24 participants. There are now more single spaces available!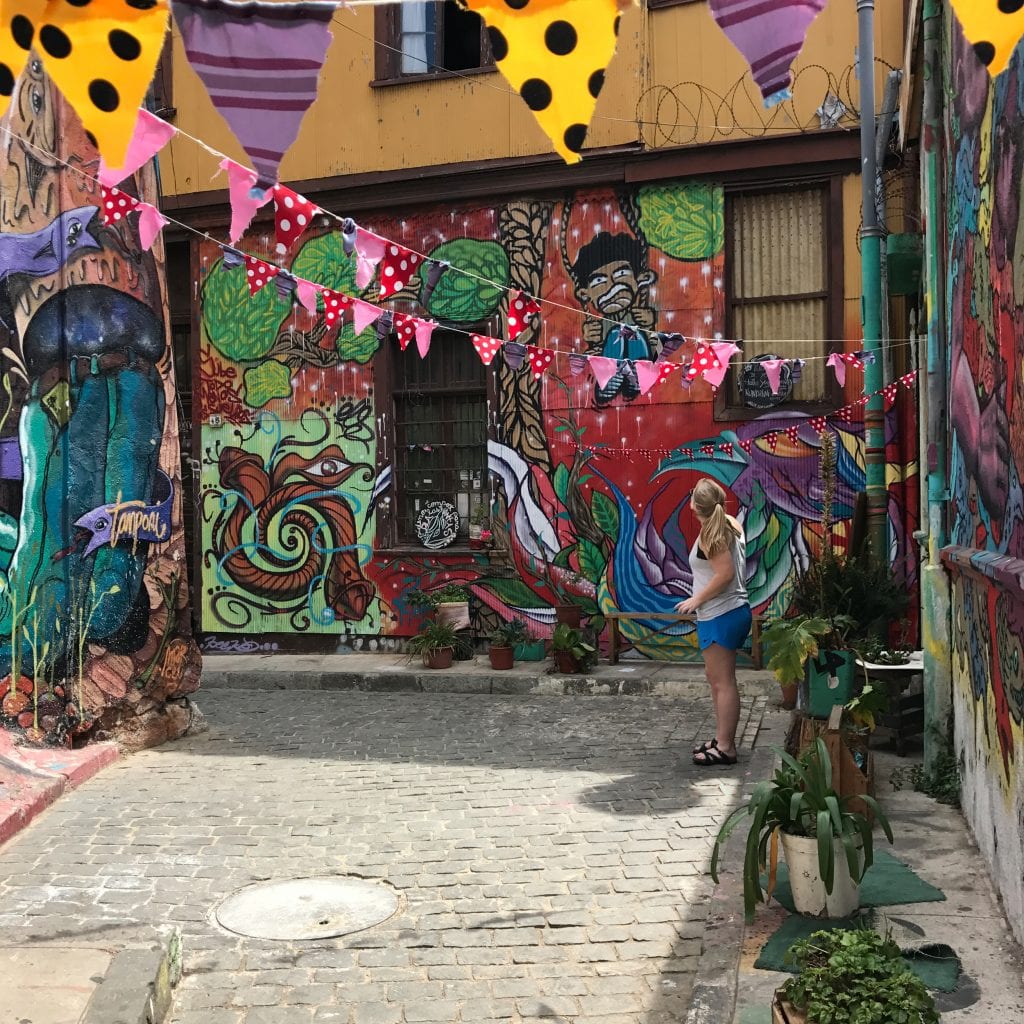 This custom-designed itinerary will highlight the breathtaking landscapes and fascinating culture and history of Chile and Argentina. We begin in Chile's cosmopolitan capital of Santiago and wander the labyrinthine streets of Valparaíso. Then, we'll explore one of the most remote inhabited islands in the world, Easter Island, to try to uncover the secrets of its enigmatic past and witness the beauty and historical sites that make the island so unique. And finally we'll taste Argentina's world-famous Malbec wine in the idyllic vineyards of Mendoza. Join us to experience the region's compelling history, delicious gastronomy, pristine natural environment, and more as you step off the beaten path in Chile, Easter Island, and Argentina.
Highlights
Dive into the culture and history of Santiago, exploring the sights and sounds of Chile's dynamic capital.
Meander coastal Valparaiso's cobblestone streets and enjoy the World Heritage architecture.
Enjoy vineyard visits and tastings in the hills of Casablanca Valley.
Contemplate the mysteries of Easter Island and witness the variety amongst the more than 1,000 moai statues.
Take in the view of the crater lake at the top of the Rano Kau volcano.
Travel back in time at the ceremonial village and petroglyphs of Orongo.
Explore the city and history of Mendoza, and learn local gastronomic techniques from one of the region's renowned chefs.
Sip local varieties in the Uco Valley of Mendoza and try your hand at creating your own wine blend.
Marvel at the natural beauty of the Villavicencio Reserve before experiencing a traditional Argentine asado.
Relax at carefully selected boutique accommodations in spectacular and varied natural settings.
See the full Itinerary.
This Just In   
We're pleased to share that our tour operator, Knowmad Adventures, has just won best trip planner for Argentina and Chile from Travel + Leisure magazine for the 5th year in a row. This matters because it means that we've connected with the best organization possible to oversee the details that create an unforgettable once-in-a-lifetime experience. Click here to read why Knowmad takes this honor to heart.
Program Leader   
Kris Cropsey has been an instructor in the Departments of Romance Languages and Education at St. Olaf College for the past 15 years, having taught Spanish language and culture, literature, and linguistics for over thirty years.  Her areas of interest and research lie in the Acquisition of Second Languages and innovation in pedagogy. She has a passion for mentoring young teachers, having been able to supervise St. Olaf student teachers in their Spanish and ESL placements. Kris has 4 grown children and lives in Eagan, MN. She has traveled extensively in Latin America and Spain and has led groups of St. Olaf students twice to Ecuador, as well as to Costa Rica; and on one occasion she led a semester in Central America for Whitworth College. She is passionate about language, culture and travel.
What to Expect  
This program has a more active, outdoor orientation with walks and hikes. Excursions include walking on unpaved surfaces, uneven pavement, stairs, and hills, and a great deal of standing. Good balance is required. The program is not recommended for travelers with difficulties walking. For all excursions and transfers where coaches are involved, travelers have to board coaches with 3-6 steep steps.
Walking tours are at least 1½ to 2 hours, often over uneven pavement or on unpaved paths.
Many cities/villages have small sidewalks, uneven surfaces and rail tracks.
The program is not appropriate for travelers who use canes or walkers or who need any wheelchair assistance.
It will be winter when we visit, which means the weather should be mild and pleasant. Average temperatures (Fahrenheit) for our destinations are:
Santiago: low 45, high 72
Valparaiso: low 55, high 67
Easter Island: low 59, high 66
Mendoza: low 45, high 67
Keep in mind that these are averages and that actual temperatures could vary by 5–10 degrees either higher or lower. We recommend bringing light layers that can be added or removed as needed throughout the day.
You should plan on seeing your family physician or a travel doctor at least four to six weeks prior to departure, preferably earlier, to talk about routine vaccinations. For more information on travel health, visit cdc.gov or who.int.
Program Fee  
The program fee is $6,488 per person. Based on double occupancy, it includes discussions led by Kris Cropsey, accommodations, breakfast daily and group meals as listed on the itinerary, admissions for group activities, ground transportation (except at the beginning and end of the program), flights within the program, gratuities for group meals, guides, and drivers, and some limited medical travel insurance. For single occupancy, add $1,200.
Airfare between your home town and Santiago is not included in the program fee. Participants are solely responsible for all expenses not specifically included in the program fee. Examples of excluded expenses are: Airfare to Chile and from Argentina • Airport transfers at the beginning and end of the program • Any passport, visa, or immigration fees • Any entry or exit taxes • Any recommended immunizations or vaccinations • Baggage insurance • Trip cancellation insurance above $2,000 lifetime coverage • Alcoholic beverages • Spa treatments • Internet or phone charges • Gratuities to hotel staff.
A $1,000 per person deposit is required upon registration and as of 11/30/17 is non-refundable. View the full Payment Schedule and register now.
Making your Travel Plans  
You should plan to depart the U.S. on August 5, 2018 in order to arrive in Santiago, Chile the following morning. Plan to depart from Santiago on August 18, 2018 and arrive home the next day (August 19, 2018). More details about the timing of flights home will be given to participants closer to departure.
See also some helpful information on booking your flights.
Registered participants, see the Flight Information below under For Participants.
More Program-Related Information and Documents   
Immunizations: Please visit the Centers for Disease Control web site for recommendations on vaccines and medicines.
Entry Visa: please visit the U.S. State Department web site for information on entry and exit requirements for Chile and Argentina.
See also a variety of Resources, including frequently asked questions, general health information, included travel insurance, and more.
Helpful Documents
For Participants