Led by Jeane DeLaney, Associate Professor of History, and Gwen Barnes–Karol, Professor of Spanish
June 8–20, 2018
At least 15 participants are needed by February 1, 2018 for this program to go. (But don't wait until then to register — spaces could fill quickly!) Group size is 23 participants total.
Join us on an in-depth exploration of Cuba from Havana to Trinidad and Santa Clara. We'll meet with scholars, leaders at non-profit organizations, and friends that Jeane and Gwen have collaborated with for the past 15 years. Their combined expertise provides us the opportunity to explore and come to understand the many nuances of Cuban society, culture, history, and relationship with the United States. We'll witness the economic transition, hear talented musicians, admire the efforts to assist marginalized populations, and discover the country's diverse cities.
Program Highlights
Begin our journey with an examination of Cuban American Culture in Miami
Explore Old Havana with a guide from the Office of the City Historian
Learn about agricultural production and food security issues with Dr. Rafael Hernández, editor of Temas magazine
Tour Cabildo Quiscuaba, a community organization focused on Afro-Cuban spiritual traditions
Visit with the staff of the Núnez Jiménez Foundation (FANJ)
Meet with the Christian center for Christian Dialogue (CCRD), an independent organization involved in local development and human rights
Enjoy a private concert and dance performance at the Danza Teatro Retazos
Hear the Cuba perspective of the 1961 Bay of Pigs invasion in Girón
Visit the Che Guevara Mausoleum and monuments related to the Cuban Revolution in Santa Clara
Visit the colonial city of Trinidad and explore nature in the Topes de Collantes Park in the nearby Escambray Mountains
See the full Itinerary.
Program Leaders  
Jeane DeLaney (Ph.D. in Latin American History, M.A. Latin American Studies) is Director of Latin American Studies and Associate Professor of History and at St. Olaf. She teaches courses on Modern Latin America, Cuba, the Environmental History of Latin America, as well as courses focusing on U.S.–Latin American cultural relations. Since 1997, she has traveled to Cuba regularly, and has led six St. Olaf interim programs to the island. This highly popular program, which focuses on Cuban history and the construction of historical memory through the use of museums, memorials and monuments, also introduces students to the workings of contemporary Cuba and to the experiences of ordinary citizens. During their month-long stay, students travel throughout the country and learn first-hand how Cubans face the challenges of a socialized economy and an authoritarian political system that are only slowly beginning to change. This is Professor DeLaney's third St. Olaf Study Travel program; she is eager to share her expertise in Cuban affairs with "continuing learners" and to collaborate with Professor Barnes-Karol to make possible this rare opportunity to travel to one of the hemisphere's most fascinating countries.
Gwen Barnes-Karol (Ph.D. in Hispanic and Luso-Brazilian Literatures) is Professor of Spanish at St. Olaf. She teaches a wide of range of courses in the Spanish language as well as the literature and culture of Spain including courses on religious minorities throughout Spanish history (Jews, Muslims, and Protestants), the Spanish Civil War, and contemporary issues in Spain. She has taught eight St. Olaf interims abroad in Costa Rica, Ecuador, Mexico, and Spain, in addition to leading two St. Olaf Study Travel programs in Spain and teaching summer graduate-level courses in Spain for U.S. teachers of Spanish. In addition, she has taught the Spanish-language discussion component for Professor DeLaney's Modern Latin American History course ten times. This will be Professor Barnes-Karol's third Study Travel program to Cuba with Professor DeLaney, and she is looking forward to continuing her long-standing collaboration with her on the island.
What to Expect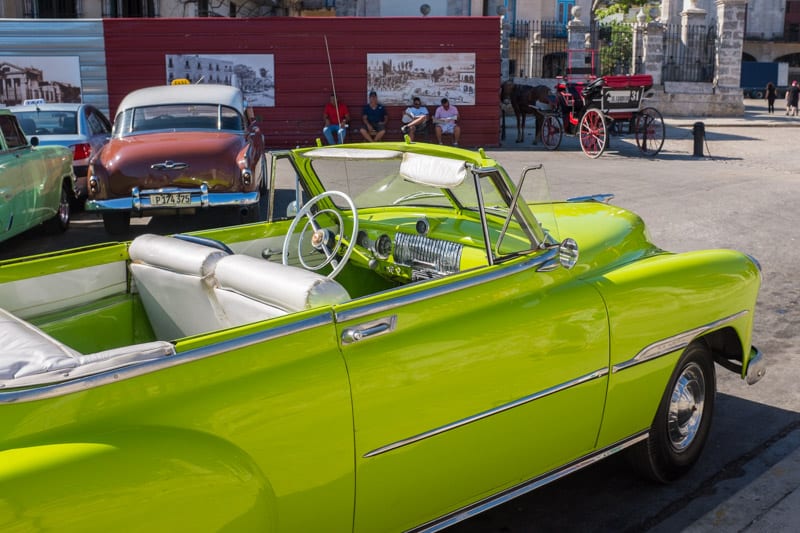 Movement between cities will be by air-conditioned private motor coach. Movement within each city and at cultural/historic sites will be on foot. You should be capable of walking up to five miles per day over possibly uneven terrain, of climbing stairs that may not have handrails, of climbing in and out of various types of transportation, of keeping pace with an active group of travelers on long days of traveling, of dealing with the emotional highs and lows that can occur when experiencing different cultures, and of traveling with a group for several hours each day.
Hotels will be tourist class (three or four star) with private baths, air conditioning, and English-speaking staff.
Temperatures in June will average lows around 74º Fahrenheit, and highs around 86.
You should plan on seeing your family physician or a travel doctor at least four to six weeks prior to departure, preferably earlier, to talk about routine vaccinations. For more information on travel health, visit cdc.gov or who.int.
Program Fee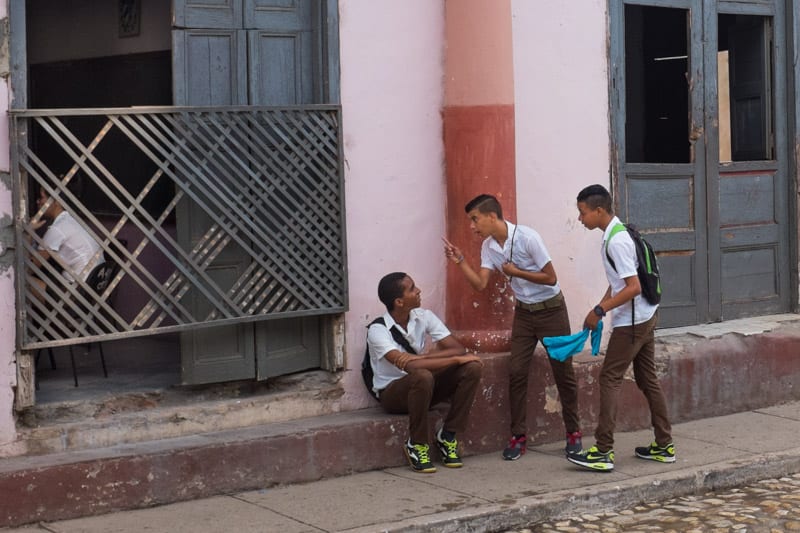 The program fee is $6,188 per person. Based on double occupancy, it includes seminars by Jeane DeLaney and Gwen Barnes-Karol, airfare for Miami-Havana-Miami, accommodations, breakfast daily and group meals as listed on the itinerary, admissions for group activities, ground transportation (except at the beginning and end of the program), gratuities for group meals and guides, entry visa, Cuban departure tax, required Cuban health insurance, and some other limited medical travel insurance. For single occupancy, add $1,675.
Airfare between Miami and your home town is not included in the program fee. Participants are solely responsible for all expenses not specifically included in the program fee. Examples of excluded expenses are: All airfare • Airport transfers at the beginning and end of the program • Any passport, visa, or immigration fees • Any recommended immunizations or vaccinations • Baggage insurance • Trip cancellation insurance above $2,000 lifetime coverage • Alcoholic beverages • Spa treatments • Internet or phone charges • Gratuities.
A $500 per person deposit is required upon registration. Register now or view the full Payment Schedule.
You should not book airfare to/from Miami until we announce that the program is an official go.
More Program-Related Information and Documents   
Ready to register? Go to the secure online form.
Immunizations: please visit the Centers for Disease Control web site for recommendations on vaccines and medicines.
Entry Visa: a tourist visa is required to visit Cuba and is included in the program fee. We will help you apply for the visa at the appropriate time.
See also a variety of Resources, including frequently asked questions, general health information, included travel insurance, and more.