Led by Dave Van Wylen '80, Professor Emeritus of Biology and Dean for Natural and Applied Sciences at Hope College, and Pat Van Wylen '80, Retired Visiting Scholar Coordinator
December 27, 2018 – January 13, 2019
This program is full. Please contact us to add your name to the wait list: travel@stolaf.edu or 507-786-3629.
New Zealand is a densely packed land of vast beauty, with diverse geographic regions that we will experience as we travel across the North and South Islands over 16 days.
Our program begins in Auckland, the largest city in New Zealand and home to almost one third of the country's population. On our journey south we will see a volcanic plateau, precious rainforests, grinding glaciers, dense forests, lovely waterfalls, spouting geysers, boiling mud, picturesque fjords, rugged mountains, and miles of sandy and jagged shoreline. In addition, we will learn about the Maori culture, sheep farms, breweries, and visit Hobbiton and Te Papa Museum.
Designed to be a more physically active program, voluntary activities include walking to the top of an extinct volcano, whale watching, snorkeling, biking, kayaking, hiking, and riding a helicopter and gondola. The program ends in Queenstown. Maximum group size is 24 and with such an enticing itinerary, we expect the program to fill quickly.
Activities include:
Travel to the top of the Auckland Skytower
Guided tour of Rangitoto Island
Sheep Farm Tour
Visit to the Film Set of the Hobbit and Lord of the Rings
Bike ride through the Redwood Forest
Te Puia geothermal park and Arts and Craft Centre
Maori Cultural Evening and Hangi
Kiwi encounter
Huka Falls
Te Papa Museum guided tour
Cable car ride
Zealandia Eco-Sanctuary twilight tour
Whale watching or snorkeling with dolphins in Kaikoura
Kayaking in Abel Tasman National Park
Helicopter flight and Glacier Walk
Winery tour and wine tasting
Dart River tour in Queenstown
Cruise through Doubtful Sound
Kayaking or nature walk in Doubtful Sound
Gondola Ride and buffet dinner
See the current Itinerary (subject to change).
Program Leaders   
Dave and Pat Van Wylen are veteran group travel leaders, having led both student and adult study travel programs. Their first venture with adults was April 2015 when they led a sustainability-themed activity-based (mostly biking) program in the Netherlands. Most recently, they led their inaugural program to New Zealand in 2017. With students, they have led semester abroad programs in Asia (1998), the Middle East (2008), and Australia (2013). Dave has also taught three January interims in Peru (Peruvian Medical Experience), six interims of Cardiac Surgery and Research at Emory University in Atlanta, plus a 2010 summer Global Health in Tanzania experience. Pat assisted on most of these interims as well as on an interim Health Care and Culture course in Hawaii/Micronesia (2010).
Dave (Biology) and Pat (International and Off-Campus Studies) worked for 21 years at St. Olaf before moving in Summer 2015 to Holland, Michigan, where Dave currently serves as the Dean for Natural and Applied Sciences at Hope College. In addition to his administrative work, Dave is a frequent teacher and speaker on sustainability and water-related issues.
Dave and Pat both graduated from St. Olaf College in 1980. Dave later received his Ph.D. in physiology from the University of Michigan (Go Blue), while Pat completed master's degrees from the University of Michigan and the University of Virginia in health administration and exercise physiology. They relish physical activity, and are delighted to have this opportunity to lead another activity-rich St. Olaf adult study travel program.
What to Expect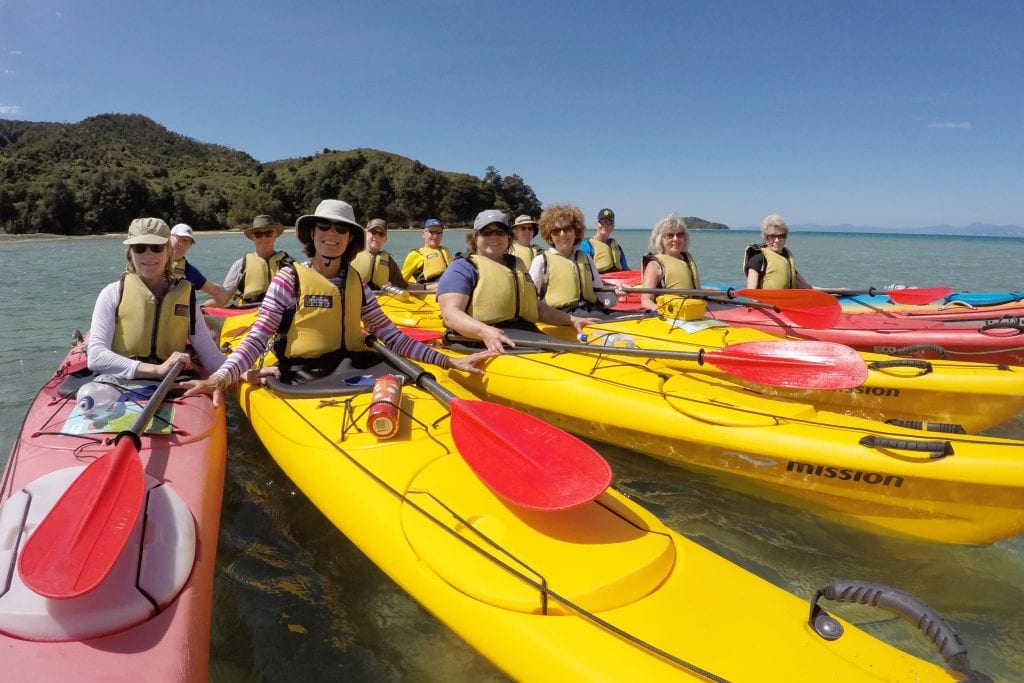 This program is designed to be more active than the average Study Travel program. The times of higher activity will be balanced by down times as well. Activities are encouraged, but you can choose to spend your time alternatively as desired.
To fully partake in this program, you should be capable of walking a minimum of one mile at a time over uneven terrain and up to five miles per day, of climbing stairs that may not have handrails, of keeping pace with an active group of travelers on long days of traveling, of dealing with the emotional highs and lows that can occur when experiencing a different culture, and of traveling with a group for several hours each day. You always have the option of skipping a group activity you think will be too strenuous and remaining back at the hotel or coach.
Hotels will be tourist class (typically three or four star) with private baths and air conditioning. Wi-fi may not be available at all locations.
According to the Terms and Conditions imposed by the company running the helicopter flight and glacier walk, "visitors with a weight of more than 116kg (255.7lb) will be subject to restrictions; this may include cancellation of your experience." This experience is also subject to cancellation due to poor weather.
Temperatures in our major cities will average:
Auckland: high of 75° F, low of 60
Rotorua: high of 75° F, low of 51
Wellington: high of 68° F, low of 57
Queenstown: high of 65° F, low of 45
Keep in mind that these are averages. You should plan on potentially 5-10 degrees warmer or cooler. We recommend bringing light layers that can be added or removed as needed. Rainfall is a possibility throughout the program, of course, and so a light rain jacket is a good idea.
You should plan on seeing your family physician or a travel doctor at least four to six weeks prior to departure, preferably earlier, to talk about routine vaccinations. For more information on travel health, visit cdc.gov or who.int.
Program Fee   
The program fee is $6,800 per person. Based on double occupancy, it includes discussions led by Dave Van Wylen, assistance by Pat Van Wylen, a dedicated tour manager, accommodations, breakfast daily and group meals as listed on the itinerary, admissions for group activities, ground transportation during the program, gratuities to group guides, drivers, and meal servers, and some limited medical coverage while overseas. For single occupancy, add $1,792.
Airfare to and from New Zealand is not included. Participants are solely responsible for all expenses not specifically included in the program fee. Examples of excluded expenses are: Airfare between your home town and New Zealand • Airport transfers • Any passport fees • Any recommended immunizations or vaccinations • Baggage insurance • Trip cancellation insurance above $2,000 lifetime coverage • Beverages at group meals • Laundry • Dry cleaning • Phone charges • Room service or other items of a personal nature • Expenses incurred during free time or non-group activities • Lunch and dinner, unless specifically included on program itinerary.
Making Your Travel Plans   
Note that the arrival and departure cities are different: you should plan to depart the U.S. on Thursday, December 27, 2018 in order to arrive in Auckland on December 29.  Plan to depart from Queenstown on January 13, 2019. More details on preferred timing of flights will be provided to registrants closer to departure.
You should not book your flights until we can determine that the program is an official go.
More Information and Documents