July 25–August 2, 2018
This program is an official go. Five spaces remain available. Registration will close around March 15, but don't wait until then to register — it could fill earlier!
Switzerland is a gem nestled in the heart of Europe. Join us and discover picture-perfect towns, alpine meadows, and majestic mountains during excursions via cable cars, lifts, and alpine railways. We'll base our entire stay in Interlaken, in the Alps' Bernese Oberland, with day excursions to the surrounding area. First up is a train ride to Kandersteg and Oeschinen Lake. Then we'll stroll through the town of Lucerne and take a relaxing cruise on Lake Lucerne. Another rail excursion takes us to Grindelwald and the Rosenlaui Glacier Gorge. We'll explore the Lauterbrunnen Valley by train or on foot — the choice is yours — and make our way to Mürren for incredible views of the Jungfrau, Mönch and Eiger peaks. We'll visit the wood-carving center of Brienz and travel by antique steam train to see the famed Rothorn. We'll spend our last day exploring more of Interlaken.
See the full Itinerary.
Educational talks are supplied by local guides and lecturers. The focus of the program is threefold, covering these topics:
Essential Switzerland. Discuss the iconic and unique elements of Swiss culture.
Mountaineering. Switzerland enjoys a long tradition of mountain climbing. Learn about this popular pastime, which draws enthusiasts eager to tackle the challenging peaks of the Swiss Alps.
Wines of Switzerland. Sample Swiss wines as you learn about the country's wine industry (nearly all Swiss wine remains in Switzerland).
We hope you'll come along to experience quintessential Switzerland.
What to Expect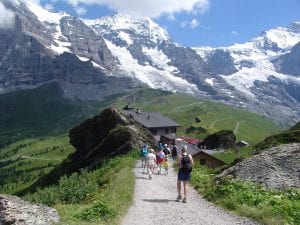 This program has a more active, outdoor orientation with walks and hikes. Excursions include walking on cobblestones, uneven pavement, stairs, and hills, and a great deal of standing. Good balance is required. The program is not recommended for travelers with difficulties walking. For all excursions and transfers where coaches are involved, travelers have to board coaches with 3-6 steep steps.
Walking tours are at least 1½ to 2 hours, often over uneven pavement or on unpaved paths.
Many cities/villages have cobblestones, small sidewalks, uneven surfaces and rail tracks.
The program is not appropriate for travelers needing any wheelchair assistance.
Accommodations are at Hotel Carlton-Europe (or similar) in Interlaken, located in the city center on the famous Höheweg, and featuring private baths, English-speaking staff, and several restaurants on site.
Temperatures in July average 73º Fahrenheit. Keep in mind that this is an average and that actual temperatures could vary by 5–10 degrees either higher or lower. We recommend bringing light layers that can be added or removed as needed throughout the day.
You should plan on seeing your family physician or a travel doctor at least four to six weeks prior to departure, preferably earlier, to talk about routine vaccinations. For more information on travel health, visit cdc.gov or who.int.
Program Fee  
The program fee is $3,190 per person. Based on double occupancy, it includes the hotel for seven nights, seven breakfasts, three lunches and three dinners, including Welcome and Farewell Dinners; tea or coffee with all meals, plus wine with dinner, admissions for group activities, ground transportation (except airport transfers, unless you purchase your flights from the tour operator), gratuities for group meals, drivers, and guides, guide headset system, and some limited medical travel insurance. For single occupancy, add $450.
Airfare between Zürich and your home town is not included in the program fee. Participants are solely responsible for all expenses not specifically included in the program fee. Examples of excluded expenses are: Airfare • Airport transfers, unless you purchase your flights from the tour operator • Any passport, visa, or immigration fees • Any recommended immunizations or vaccinations • Baggage insurance • Trip cancellation insurance above $2,000 lifetime coverage • Alcoholic beverages • Spa treatments • Internet or phone charges.
A $600 per person deposit is required with your registration. Register Now or view the full Payment Schedule.
Making Your Travel Plans  
You should plan to depart the U.S. on Wednesday, July 25, 2018 in order to arrive in Zürich on Thursday, July 26. Plan to depart from Zurich on Thursday, August 2, 2018 and probably arriving home the same day.
For a seamless travel experience, you may wish to purchase flights through our tour operator, AHI Travel. Doing so offers the following advantages:
price guarantee
arrival and departure transfers
flexibility to change or cancel
discounted upgrades
assistance with changes or delays
flight insurance
Some notes:
If you wish you can make flight reservations or simply receive assistance with airline reservations by contacting our tour operator, AHI. Their Passenger Sales Department  phone number is 800-323-7373.
Or, if you wish to book your own flights, you can still purchase AHI group transfers, as long as your flight schedule falls in these time windows:
To qualify for an arrival transfer, your flight MUST:  Arrive in Zurich between 12:01 am and 3:00 pm on July 26
To qualify for a departure transfer, your flight MUST:  Depart Zurich between 12:01 am and 11:59 pm on August 2
Note that the transfer time between Zurich airport and the hotel in Interlaken is 2 hours. AHI strongly  suggests ensuring your flights arrive and depart within the transfer windows. Taxis can be very expensive and the train may be cumbersome with luggage.
More Program-Related Information and Documents   
Registered Travelers: Make a Payment
helpful documents
See also a variety of Resources, including frequently asked questions, general health information, included travel insurance, and more.