There's no better way to see Alaska! Lindblad-National Geographic expedition ships are fully equipped with tools for exploration that enable you to:
Venture into a land of mist shrouded fjords, tidewater glaciers and islands teeming with wildlife
Hike through lush forests to cascading waterfalls, and ride Zodiacs into secluded inlets to look for brown bears
See the Alaska undersea through live video
Benefit from Lindblad's 30+ years of experience and relationships in Alaska to see all you came for and more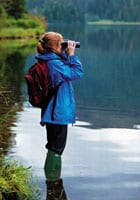 Every day is active and engaging
You'll have the opportunity to hike over spongy earth on trails used by bears for centuries or along boardwalks built over bogs and winding through forests. You'll take expedition landing craft past floating icebergs for closer looks at glaciers, and each day you'll have the option to walk or kayak, and to join a different naturalist as you choose: there are no assigned groups.
Encounter iconic and abundant wildlife
Brown bears. Humpback whales. Orcas. Steller sea lions. Bald eagles. Sure-footed mountain goats on steep cliffs. The wildlife of Alaska is legendary — see it in abundance.
Travel in excellent company
Along with the educational and group travel expertise brought by your faculty leaders, Ted and Michelle Johnson (see below for more info), you'll explore under the sure guidance of an expedition leader, five veteran naturalists, including a Lindblad-National Geographic certified photo instructor and an undersea specialist, plus a wellness specialist — the largest and most knowledgeable expedition team in Alaska. Their knowledge and passion for Alaska is the key to your once-in-a-lifetime experience.
Aug 17 Sitka, Alaska/Embark Ship
Aug 18 Southeast Alaska's Islands, Bays, and Fjords
Aug 19 Icy Strait and the Inian Islands
Aug 20 Glacier Bay National Park
Aug 21 Frederick Sound and Chatham Strait
Aug 22 Petersburg
Aug 23 Tracy Arm-Fords Terror Wilderness
Aug 24 Juneau/Disembark Ship