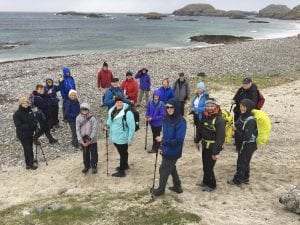 We invite you to join us for a wonderful adventure that combines hiking in spectacular locations with a wealth of fascinating history and archaeology. After our welcome dinner and a night in Glasgow, our hiking tour takes us in three minivans along Scotland's west coast to the Inner and Outer Hebrides, visiting the islands of Mull, Iona, Staffa, Eigg, and Skye, and then to Harris and Lewis. We return to Glasgow on a one-hour flight.
The western Highlands and Islands have evolved as a landscape of gentle farmland and expansive peat bog surrounded by rugged hills, secret glens, and hidden lochs. At the edge of the land is a unique seascape, wild and exposed, dominated by the archipelago of islands that make up the Inner and Outer Hebrides. Sculpted by the sea, these islands have long and varied coastlines with high cliffs, caves and arches, spectacular sea lochs or fjords, and enchanting bays of sand or pebble. Some of the natural highlights on our tour include the magnificent basalt columns on the Isle of Staffa, stunning vistas of sea and mountains on ferry rides, and spectacular day hikes in hills and on coastal paths winding through secluded valleys, sandy and rocky bays, and rugged terrain.
We have chosen our visits and walks to showcase the varied forms of natural beauty and cultural interest to be found on Scotland's islands. We visit several unique sites guaranteed to appeal to anyone who has an active curiosity about history. Many sites are "off the beaten track," and, where they are internationally renowned, such as those on Iona and Lewis, we try to see them at their quietest and best. You will experience daily the interest and variety woven into the story of Scotland.
Cultural highlights include the restored medieval abbey of Iona, the ruins of several ancient forts and castles, striking churches and chapels, and the 5000-year old Standing Stones of Callanish. On the Isle of Lewis we will be joined by Dr. Mary Macleod, an archaeologist and part-time minister. John will provide optional readings and lead discussions on Celtic Christianity, pilgrimage, and rituals of walking in the world's religions; Meg will share her ideas and insights about landscape photography. Together they will lead discussions about the philosophy, aesthetics, psychology, and pleasures of walking, referring to classic and recent literature and works of art.
See the full Itinerary.