We are blessed to have the Boundary Waters Canoe Area Wilderness in our backyard (well, if not our backyard, then just beyond the neighbors). It lies entirely within Superior National Forest and is the most visited wilderness area in the United States, for good reason. The boundless beauty and tranquility are uplifting and refreshing.
Join us on an Ole adventure in the BWCA. We'll start with a visit to the Chik-Wauk Museum and Nature Center at Seagull Lake, which tells the story of the Gunflint Trail, before having a group dinner at Gunflint Lodge and overnighting at Hungry Jack Outfitters in Grand Marais for our entry into the wilderness area. We will also be fully equipped by Hungry Jack Outfitters, an Ole-owned enterprise.
For 5 days, we'll paddle from lake to river to lake again, and disembark as necessary to use the portage trails between bodies of water. This vast area has changed little in the 10,000 years since the glaciers receded. In this serene setting we are likely to spy loons, moose, bald eagles, deer, otters and more, and we will, of course, hang our food high to avoid sharing space with bears. As Marshall McLuhan said, "There are no passengers on spaceship earth. We are all crew." This program is an adventure of the body, as well as the mind and spirit. You must be physically fit enough to carry gear on the portages, including large, but manageable backpacks and, with your paddling partner, the canoe. Also, everyone in the group will share chores like cooking and camp maintenance.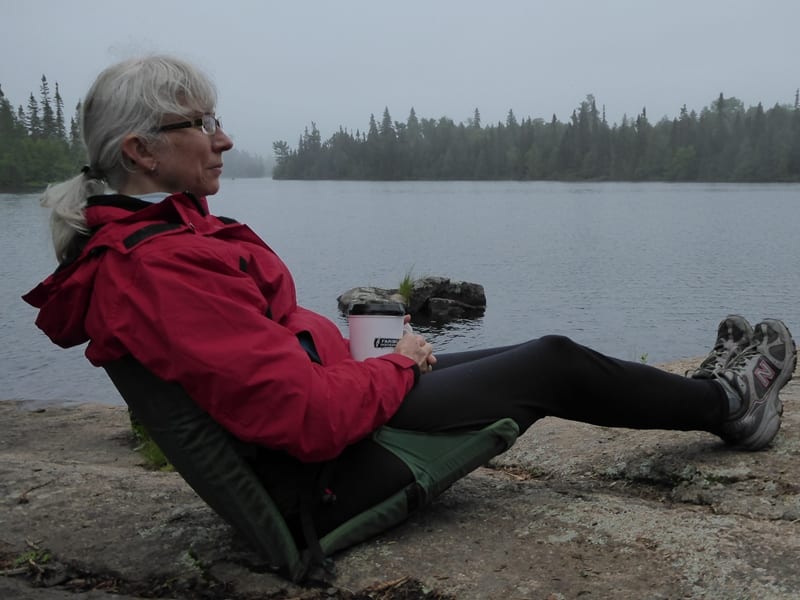 After we exit the BWCA we will stay overnight at Hungry Jack, and will spend our last day taking in the adventure of the North Shore, including breakfast at Nanibijou Lodge, and a visit to the North House Folk School. The Folk School was  a key partner with St. Olaf volunteers in imagining, designing and constructing the Memorial Chime Tower and later, rebuilding the Flaten Art Barn on the St. Olaf campus.  Our hope is that the trip will coincide with the Wooden Boat Show at North House, one of the main summer events of the Summer in Grand Marais.
(Incidentally, Grand Marais won the "Best Midwestern Small Town" award for 2017, as chosen by USA Today readers. A Minneapolis StarTribune article said that USA Today "described the Boundary Waters gateway city as a charming town with 'art galleries, quirky restaurants, local shops and diverse lodging.'")
As we continue down the North Shore and back home, there will be time to visit some of the wonders of America's "North Coast"  that the group will identify.
This unique Study Travel has no deliberate educational theme, but is an opportunity to gather with fellow Oles – official and honorary alike – and share time together in an area of natural beauty.
ITINERARY
This itinerary is subject to change. BLD indicate meals included in the program fee.
Sunday, June 12                                                         Depart St. Olaf (LD)
Meet on campus around 7 a.m. and travel in vans to the Gunflint Trail out of Grand Marais. You may also drive yourself north and meet the group at a designated location. Specific campus departure time and meeting instructions in Grand Marais will be provided prior to departure. Lunch is included on the way north for those in the college van. In the late afternoon, tour the Chik-Wauk Museum at Seagull Lake, followed by a group dinner and welcome session at Gunflint Lodge. Overnight at Hungry Jack Outfitters in Grand Marais. Hungry Jack offers bunkhouse accommodations, with 4 to 6 bunks per room and shared bathrooms; these accommodations are included in the program fee. You also have the option to drive yourself to Grand Marais and reserve alternative lodging for the night on your own. You will then also need to drive yourself to Hungry Jack Outfitters, as that is our jumping off point for the BWCA.
Monday, June 13 — Thursday, June 16             In the Boundary Waters (BLD)
We'll enter the BWCA Monday morning, following an orientation by staff from Hungry Jack Outfitters, who will also transport us to nearby entry points. Depending on the number of participants, groups will be formed prior to departure, based on preferences for rigor of travel and interests of individuals. Specific routes will be chosen very close to our departure. Evening camp sites will be chosen by the group leader based on how much progress was made that day and the availability of space at each site.
Friday, June 17                                                         Exit the Boundary Waters, Overnight at Hungry Jack (BLD)
Today we'll exit the BWCA , turn in our gear, have dinner together at the Trail Center on the Gunflint Trail, and bunk at Hungry Jack.
Saturday, June 18                                                   Return to St. Olaf (B)
This morning start our trip back with breakfast at Naniboujou Lodge, an iconic establishment up the shore from Grand Marais, before starting our way south. If participants are interested, we'll stop along the way to visit Gooseberry Falls, Split Rock Lighthouse, or attractions in Duluth.