Led by Bruce Benson, Retired St. Olaf Pastor, and Carol Benson, Retired Music Teacher | September 21-October 4, 2022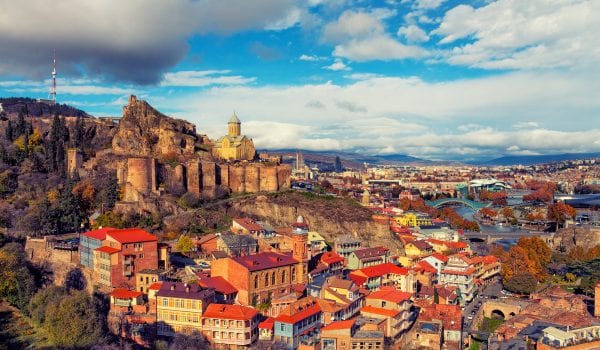 Nestled between the Black and the Caucasus Mountains, the former Soviet Republic of Georgia offers millennia of history and culture. On this extraordinary journey, travel through Georgia to discover the country's many World Heritage Sites, enjoy world-renowned hospitality, and admire the stunning natural beauty of this mountainous area. This is a once-in-a-lifetime opportunity to immerse yourself in a culture that few travelers experience—an ancient land influenced by both the West and the East, set in a majestic mountainous region. Together we will explore Georgia's breathtaking monasteries and encounter exceptional archaeological collections. Another highlight of this itinerary is an exclusive wine tasting in the land where wine production dates back 8,000 years.
HIGHLIGHTS
Admire ancient monasteries and cathedrals in one of the world's oldest Christian nations
Discover the excellent art and ecclesiastical treasures inside the Museum of Fine Arts in the capital city of Tbilisi
Sample regional vintages in the land where evidence of "the world's oldest" wine was discovered
Meet with a journalist to discuss contemporary issues in this former Soviet republic
Attend a performance at either the Marionette Theater or the Opera & Ballet Theater (pending schedule)
Listen to Georgian polyphonic singing in Tbilisi
Visit the UNESCO World Heritage Sites of Jvari Church, Svetitskhoveli Cathedral, and Gelati Church
See more details below and use the button above to register now.
This program was custom designed to explore all that Georgia has to offer: natural beauty, history, cultures, religions, arts, cuisine, and more.
This itinerary is subject to change. Travel demands flexibility. We will strive to balance adaptability with remaining on schedule. Please trust that, when it is not possible to follow the plan laid out below, your program leaders and tour manager will work to find substitutions that retain the quality of this Study Travel program. Various details may be added or changed due to information obtained while making reservations. B, L, and D indicate meals included in the program fee.
Wednesday, September 21    DEPART USA
Depart by air for Tbilisi, Georgia on an overnight flight.
Thursday, September 22         Arrive Tbilisi, Georgia (L)
Upon arrival in Tbilisi, if you arrive on or before the recommended flights, you will be transferred to the group hotel. Tbilisi is one of the most ancient cities in the Caucasus and Georgia's capital almost continuously since the 5th century. Take a walking tour of the Old Town, with its beautiful Orthodox Christian churches, mosque, synagogue, and narrow cobbled streets lined with distinctive wooden houses. View Narikala Fortress and walk along the glass Bridge of Peace to Freedom Square and Rustaveli Avenue. Group lunch and transfer to the hotel for check-in. Remainder of the day free with dinner on your own, at your own pace. Overnight Tbilisi.
Friday, September 23               Tbilisi (B, Reception, D)
After a morning discussion at the hotel, we'll continue our discovery of Tbilisi, with its blend of Asian and European charm. This morning we'll visit Metekhi Church of the Virgin, which overlooks the Mtkvari River from a rocky plateau. Admire the exquisite gold treasury at the Georgian History Museum. Also view the museum's archaeological collection, which shows the country's historical links with Greece and the Near East. We'll have a meeting with a Georgian historian and we'll have a short introduction about Georgian past and current history. Cocktail reception before the lecture. Group dinner at a local restaurant. Overnight Tbilisi.
Saturday, September 24          Tbilisi — Lopota (B, L, D)
Today we'll travel to the region of Kakheti, known for its winemaking, centuries-old feasting traditions, and hospitality. Our first stop will be the tiny town of Sighnaghi, situated within a defensive wall. Take a walk, enjoy the views, and continue to a local winery. We have a chance to participate in baking Georgian bread (shoti) and making traditional sweets (churchkhela). Enjoy a home-made lunch featuring typical Georgian food accompanied by a performance of Georgian polyphonic songs. After lunch, continue to our resort on Lopota Lake. Dinner is in Lopota, where we will spend two nights.
Sunday, September 25             Lopota / Day Excursion (B, D)
This morning we'll visit a vineyard to take part in the grape harvest. Continue to a local master potter's studio for a demonstration in making traditional clay jars (ovevri), which are buried underground and used for storing wine. In the afternoon, take a walk in Telavi and visit its colorful agricultural market. Stop at a winery to taste Georgian wines and local cheeses before returning to Lopota in the late afternoon. Group dinner. Overnight Lopota.
Monday, September 26           Lopota — Tbilisi (B, L)
After breakfast, drive back to Tbilisi. Visit the famous Dry Bridge flea and art market. Group lunch. Afternoon free or take an optional Art Nouveau walking tour focusing on 19th-century Tbilisi. Dinner on your own, and then attend a performance at either the Marionette Theatre or Opera & Ballet Theatre (pending schedule). Overnight Tbilisi.
Tuesday, September 27           Tbilisi — Kazbegi (B, D)
This morning travel to Mtskheta, the ancient capital and religious center of Georgia. See UNESCO-listed Jvari Monastery, which dates to the 6th century, and Svetitskhoveli Cathedral, where the robe of Christ is believed to be buried. Continue along the famous Georgian Military Highway and stop at the castle complex of Ananuri for views of Jinvali lake. Drive through the ski resort of Gudauri and over to the Cross Pass. Upon arrival in Kazbegi, visit a felt (Teka) studio to see how local crafts are made, and try Georgian herbal teas and sweets. Dinner is in Kazbegi, where we spend two nights.
Wednesday, September 28    Kazbegi/Day Excursion (B, L, D)
After a morning discussion, we'll depart the hotel in four-wheel-drive vehicles for an adventurous drive to the remote village of Juta. Visit with a local family, learn how Georgian cheese is made, and taste traditional Georgian yogurt (matsoni) and honey. After spending time with our hosts, walk to the top of the village for spectacular views of Mt. Chaukhebi. Return to Kazbegi for a visit to Gergeti Trinity Church. Group dinner. Overnight Kazbegi.
Thursday, September 29         Kazbegi — Borjomi (B, D)
This morning, transfer to Gori, hometown of Georgia's infamous son, Joseph Stalin. Visit the original house where he was born and the museum. From Gori, delve into Georgia's ancient history during a visit to Uplistsikhe. This cave city used to host the old caravans transporting goods from Asia to Europe along the Silk Road. Drive to Borjomi for group dinner and overnight.
Friday, September 30               Borjomi — Kutaisi (B, D)
Today, travel west to the town of Tskaltubo. According to ancient myths and legends, this was the royal town of King Aeetes and Medea. Visit Prometheus Grotto, with its halls of stalactites and stalagmites. Next, see the 12th-century Gelati Monastery, a UNESCO World Heritage Site noted for its beautiful altar mosaics. Group dinner and overnight in Kutaisi.
Saturday, October 1                  Kutaisi — Mestia (B, L, D)
This morning explore historic Dadiani Palace, which became a museum in 1921. Afterwards, drive to Svaneti, with a stop at a hydroelectric power plant. Take in the magnificent scenery during a drive along a road surrounded by forests, rivers, snow-capped mountain ranges, and small villages. Stop for photos, short walks, or to visit some roadside cafés. Upon arrival in Mestia, stroll to the town center and see a traditional Svanetian house and tower. Dinner and overnight in Mestia.
Sunday, October 2                     Mestia / Day Excursion (B, L, D)
Drive to Ushguli, the highest permanently populated village in Europe. Along the way, stop at beautiful Svanetian villages and the Maiden Tower. After we arrive in Ushguli, wander through the surrounding village to view Mt. Shkhara, the highest point in Georgia. Before leaving Ushguli, have lunch with a local family. Return to Mestia in the late afternoon. Group dinner.
Monday, October 3                   Mestia — Batumi (B, L, D)
A morning drive takes us to Batumi, known as the gem of the Black Sea. Take a walking tour in the Old Town and along its seaside boulevard. Group lunch and some free time. This evening, gather for a festive farewell dinner.
Tuesday, October 4                   Depart Georgia (B)
If you are booked on the recommended flights or later, a transfer to Batumi airport is included. Otherwise, individual departures.
HOTELS
Hotels are generally 3 or 4 star (perhaps less in smaller towns, where, often with fewer choices, we simply book the best available), are centrally-located, and have English-speaking staff. Rooms will have private baths, but are typically smaller than those in American hotels. We are currently planning on the following hotels (subject to change).
Rooms Hotel Tbilisi
Rooms Hotel Tbilisi, a former publishing house in the charming Vera neighborhood and today a hub for local and international creatives. The design of Rooms Hotel Tbilisi was conceived to highlight the industrial splendour of its structure. The aesthetics of the 125 rooms and suites are the epitome of industrial-chic. Nine categories of guest rooms are spread over five floors, with the top floor reserved for luxurious rooms and suites with their own terraces and views over Tbilisi's rooftops.
Lopota Lake Resort & Spa
This peaceful retreat is located in the Kakheti region of Eastern Georgia, surrounded by the Caucasus Mountains. Rooms are fully equipped with a mini-bar, climate control, hair dryer, Wi-Fi, and satellite TV. Enjoy spectacular views of Lopota Lake and the valley from the private balconies of each room. Several restaurants, cafés, and bars feature local and international cuisine. The resort includes an indoor pool, and the spa offers an array of treatments. Other facilities include a wine cellar and gift shop.
Rooms Hotel Kazbegi
The hotel's modern yet rustic rooms have floor-to-ceiling windows offering views of the surrounding forests and woodland. Amenities include Wi-Fi, a gym, swimming pool, and sauna. Enjoy traditional, farm-to-table dishes at The Kitchen. Other restaurants include Lolita (featuring contemporary cuisine), the Garden Bar, and the Bar Room.
Crowne Plaza Borjomi
Crowne Plaza Borjomi is situated in the heart of Borjomi, a picturesque Georgian resort town well known for its artesian natural springs. Nestled between hills and by a small river, nearby Historical Park, the hotel features 101 guest rooms, five conference rooms, two restaurants, wine bar, lobby bar, club lounge and most importantly, a 2400 sq.m. Spa and wellness center, which is unrivaled not only in Borjomi or Georgia, but through the entire Southern Caucasus region.
Best Western Kutaisi
The Best Western Kutaisi is the contemporary smile of Kutaisi, Georgia. The hotel is located in the heart of Kutaisi, Georgia's legislative capital. The White Bridge is only a couple steps away from the hotel, which will lead you directly into the historic center of the city. Small cobbled streets and one-story buildings carefully restored; a true charm for its visitors. Warm hospitality of the locals, together with the unmatchable UNESCO World Heritage Sites, Bagrati Cathedral and Gelati Monastery; make Kutaisi a top destination for both local and international visitors alike.
Hotel Posta Mestia
Set in Mestia, 700 metres from Museum of History and Ethnography, Hotel Posta offers accommodation with a restaurant, free private parking, a bar and a shared lounge.
Le Meridien Batumi
Overlooking the Black Sea, Le Méridien Batumi brings an inspired beach, city or family holiday. Attractive to all travelers, including young families, our hotel offers spectacular facilities such as on-site dining at Brasserie Restaurant and Latitude Bar. Take a dip in our indoor pool after a long day in Batumi, relax with a massage at our on-site spa or exercise in our fitness centre. Should you wish to plan an event, we offer a variety of stunning spaces to ensure an unforgettable gathering. Energise in one of our invigorating hotel rooms or suites with stunning views of the Black Sea and discover all Georgia has to offer at Le Méridien Batumi.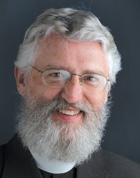 Before retiring from St. Olaf after 30 years as College Pastor, Bruce Benson traveled many times to Israel and Palestine, most often leading International Study programs for students during January, teaching a course called Historical Geography and the Bible. His interest in the relationship between history, culture, geography and Biblical interpretation led him to develop and lead a similar course in Greece and Turkey as well.
During the years he was leading these programs, his wife, Carol, was busy teaching music at Greenvale Elementary School in Northfield, and directing two children's choirs at her church in town. She was, therefore, unable to go along.  But that changed in a big way when they led St. Olaf's Global Semester in 2004-05, and Term in Asia in 2009-10. Now both of them are seasoned group leaders in international travel and study.
Their children have all spent extended time outside of the country; one in Russia and Austria, another in Turkmenistan and the Republic of Georgia, the third is an alum of St. Olaf's Global Semester.
Georgia is a relatively unknown country to most US citizens, making it an under-touristed hidden gem. The small nation boasts spectacular landscapes, a rich and varied history, a crossroads of cultures, a mostly Orthodox Christian religion, a unique singing tradition, and strong culinary traditions.
The capital, Tbilisi, reflects almost all of these traits. It's surrounded by mountains on 3 sides and offers ethnic diversity and eclectic architecture. And Ushguli, Europe's highest village, has cultural traits all its own due to being cut off from the rest of the country geographically.
Georgia will introduce you to things that only exist in this place: one of the world's oldest wine regions, one of the most unique musical traditions – polyphonic singing – and a unique culinary feast called supra.
And finally there's the vaunted Georgian hospitality. Georgians will treat you like royalty and you'll feel cared for and welcomed.
Georgia offers stunning natural beauty, a complicated history, and rich cultures. We'll explore all of these aspects and more.
You must be in good physical shape to fully participate on St. Olaf Travel programs, with the ability to walk several miles unassisted and participate in 6–8 hours of physical activities each day. Excursions include walking on unpaved surfaces, uneven pavement, stairs, and hills, and a great deal of standing. Good balance is required. The program is not recommended for slow walkers or travelers using walkers or canes. You are always free to opt out of an activity that you feel is not a good fit for you. We reserve the right for group leaders to restrict participation, or in some circumstances send travelers home, if their limitations impact the group's experience.
Hotels will be tourist class (four-star or superior rating) with private baths, air conditioning, and English-speaking staff.
You should plan on seeing your family physician or a travel doctor at least four to six weeks prior to departure, preferably earlier, to talk about routine vaccinations. For more information on travel health, visit cdc.gov or who.int.
Covid Information
As a condition of participation in this program all attendees must have received a COVID-19 vaccine and received a booster shot at least 2 weeks prior to attending the program. The Centers for Disease Control now say all adults can and should get a booster shot once they are six months past their second dose of the Pfizer or Moderna vaccines or two months past their single Johnson & Johnson dose. If, by departure time, you are not yet 6 months past your second dose or 2 months past your single J&J dose, you will not be required to have a booster. Because changing conditions may result in additional or different participation restrictions, we will strive to keep you promptly informed of any changes resulting from the ongoing pandemic.
What happens if you develop symptoms or test positive for covid while traveling on the St. Olaf program?
we will expect everyone to follow the isolation and other protocols of the host country and will provide those to you, to the best of our knowledge, closer to departure, as they may be updated frequently in the next several months
our itinerary cannot be altered, so if it calls for the group to move to a new city/hotel, we will do so
group leaders cannot stay back with sick or covid-positive individuals
the injury and illness coverage provided with your program fee includes covid-related illness. Here is the language from the latest FAQs:
Is there coverage for COVID-19? (new as of 5/1/21)
Yes, participants diagnosed with COVID-19 would have the same coverage as if they had any other illness.
Is there coverage for pandemic quarantine? (new as of 5/1/21)
Yes, if the participant is required to quarantine while on a covered trip due to exposure to, or a confirmed case of a virus/illness due to epidemic/pandemic not requiring hospitalization, the policy would provide up to $5,000 of benefits for food and lodging. If the participant requires hospitalization, the basic emergency medical coverage would apply.
You can read more, including the full FAQ and a Summary of Coverage document, on our Travel Insurance page.
The program fee is $6,872 per person. Based on double occupancy, it includes discussions led by Bruce Benson and Carol Benson, assistance by a tour manager, accommodations, breakfast daily and group meals as listed on the itinerary, admissions for group activities, ground transportation during the program (except initial and final airport transfers), gratuities to group guides, drivers, and meal servers, and some limited medical coverage while overseas. For single occupancy, add $979.
Airfare to Tbilisi and from Batumi is not included. Participants are solely responsible for all expenses not specifically included in the program fee. Examples of excluded expenses are: Airfare between your home town and Georgia • Airport transfers • Any passport fees • Any recommended immunizations or vaccinations • Baggage insurance • Trip cancellation insurance above $2,000 lifetime coverage • Beverages at most group meals • Tips to housekeeping staff • Laundry • Dry cleaning • Phone charges • Room service or other items of a personal nature • Expenses incurred during free time or non-group activities • Lunch and dinner, unless specifically included on program itinerary.
This schedule is based on payments St. Olaf College must make to program vendors to guarantee group rates. We highly recommend that you purchase trip cancellation insurance at the time of registration to recover your payments should you need to withdraw from the program.
Because of ongoing uncertainty surrounding COVID-19, it is possible that a program could be postponed. In such a case, while we will strive to make full refunds when we can, there are certain expenses that may not be refunded to either St. Olaf or the participant.  
Deposit due:                          $1,000 upon registration
Refund if you cancel:          $500 until October 31, 2021. If the deposit is made after October 31, 2021 there is no refund.
Interim payment due:        $3,000 by November 1, 2021
Refund if you cancel:          $1,500 until April 30, 2022
Final payment due:             May 1, 2022
Refund if you cancel:          None, unless the program is full and your place can be resold
Cancellations must be in writing.
Review the latest information on recommended immunizations at the Centers for Disease Control (CDC).
Check your passport: no entry visa is required for our stay. However, you should look at your passport now and ensure that it has at least 6 months' validity past the program return date. Should you need to renew, visit the U.S. Department of State for instructions.
Prepare for your adventure by checking out a variety of resources, including frequently asked questions, general health information, included travel insurance, safety overview, and more.
Feel free to book your flights. This program is an official GO. As a condition of participation in this program all attendees must have received a COVID-19 vaccine and completed the vaccination process at least 2 weeks prior to attending. Because changing conditions may result in additional or different participation restrictions, we will strive to keep you promptly informed of any changes resulting from the ongoing pandemic.
We strongly recommend you consider adding flight cancellation insurance to that purchase. Here are the recommended flights:
Turkish Airlines (TK) #2          21SEP    JFK/IST 700P/1145A (22SEP)
Turkish Airlines (TK) #382      22SEP    IST/TBS115P/430P
Turkish Airlines (TK) #391       04OCT  BUS/IST 1025A/1130A
Turkish Airlines (TK) #1           04OCT  IST/JFK 130P/520P
The intention is that these flights give you ample time to connect to your hometown on both departure and return. You are free to book any flights with any airline that you wish. If you arrive in Georgia after the recommended time on Sep 22, you will be responsible for making your own way to the group hotel. Likewise, if you depart Georgia before the recommended time on Oct 4, you will need to make your own way to the airport.
Please pay close attention to the arrival and departure airports in Georgia.
You can also view some helpful tips at Booking Your Flights.