Led by Jim May, Professor Emeritus of Classics, and Donna May, Retired Teacher | April 28-May 13, 2022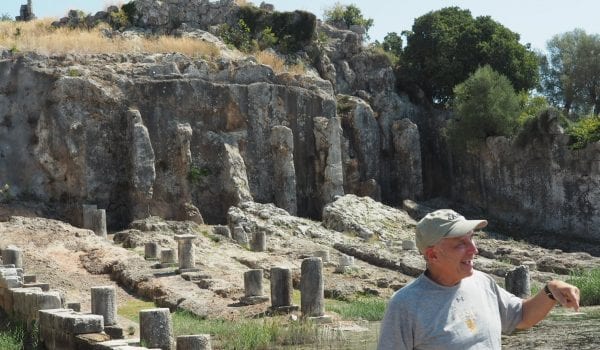 Greece, the cradle of Western civilization, boasts a storied history of more than 5,000 years.
This study travel program will concentrate on two important periods of that history: the Bronze Age as illustrated by the Minoan civilization on the island of Crete (of Minotaur and Theseus fame) and the Mycenaean civilization on the mainland (the society depicted in the Homeric poems); and the period of the Crusades and following, during which time the Knights of St. John, the Hospitallers, established themselves on the island of Rhodes.
We will spend concentrated time at each of these locales, while seeing important classical sites in Athens, Corinth (where St. Paul lived and preached), Epidaurus, and elsewhere.
As always, we will, on a daily basis, encounter modern Greek society, with plenty of opportunities for sharing good food, excellent fellowship (what the Greeks call "parea"), and plenty of Greek dancing!
This program was custom designed to explore not only 3,000 years of history in Greece, but also contemporary society.
This itinerary is subject to change. Travel demands flexibility. We will strive to balance adaptability with remaining on schedule. Please trust that, when it is not possible to follow the plan laid out below, your program leaders and tour manager will work to find substitutions that retain the quality of this Study Travel program. Various details may be added or changed due to information obtained while making reservations. B, L, and D indicate meals and T indicates a tasting included in the program fee.
Thursday, April 28                     Depart USA
Individual departures from your hometown. Plan to arrive in Athens by mid-afternoon.
Friday, April 29                            Athens (D)
Upon arrival in Athens, transfer on your own to Hotel Herodion near the old town of Plaka. We'll meet for welcome drink in the hotel at 5:30 pm, along with a welcome lecture by Jim. We'll head out on foot to our welcome dinner arund 7:30 pm (remember, we're in a Mediterranean culture!) in the old town, probably with live Greek music.  Overnight at Hotel Herodion or similar.
Saturday, April 30                      Athens (B)
We'll be met by our national guide, Stella Galani, who will stay with us for the duration of the program. She'll lead us on a walking tour including the Ancient Agora, the Acropolis Museum, Theatre of Dionysus, and the Acropolis. There will be a break for lunch on your own. Late afternoon and evening free, with dinner on your own. Overnight at Hotel Herodion or similar.
Sunday, May 1                            Athens to Naplion (BT)   May Day (Greece)
Check out and settle your personal charges (or confirm nothing has been mistakenly charged to your room). We'll depart on our private bus towards the Peloponnese, passing by the Corinth Canal, and stopping at the site of Ancient Corinth for a look. (Because it's May Day, the site is closed.) Visit Markellos olive oil mill for a tasting and to learn how the tasty Greek olive oil is made. Lunch on your own. Continue to Naplion, the small seaside town, the first capital of liberated Greece. Dinner on your own. Overnight at Hotel Marianna or Grand Sarai or similar.
Monday, May 2                          Naplion/Day Excursion to Epidaurus (BLD)
Drive to visit Epidaurus, the open-air ancient theater and its small museum in the morning. We have arranged a private cooking demonstration at the Zotos farm, which is located just outside Naplion amidst orange groves, and you will learn some delicious Greek recipe and enjoy lunch, your own culinary creations. Afternoon return to Naplion. Afternoon (optional) visit the Palamidi Castle if time allows. Group dinner in the old town. Overnight in Naplion
Tuesday, May 3                          Naplion to Athens/Overnight Ferry (BTL)
After breakfast we'll take our private bus to visit the site of Mycenae, the remnants of the Palace of Agamemnon, and Nemea to visit the stadium and archaeological museum. We'll visit a local winery to learn how the famous red variety agiorgitiko is made, along with a wine tasting and light lunch.  We'll continue on to Athens and the port of Piraeus. Dinner on your own or on the ferry. Depart on the overnight ferry to Chania, Crete; accommodations are in twin-bedded, outside cabins.
Wednesday, May 4                   Arrive Chania, to Heraklion (BD)
We'll arrive in the picturesque town of Chania around 7 am and have breakfast and short walking tour in the old town. We'll take our new private bus to the town of Rethymnon, where we'll have a short walk around the port area, stopping to see the famous phyllo maker in the old town. Lunch on your own.  Then we'll continue to the new museum at Eleftherna. In the late afternoon we'll arrive in Heraklion. Group dinner at a traditional taverna. Overnight at the centrally located hotel Aquila Atlantis or similar.
Thursday, May 5                         Heraklion (BD)
We'll start today with a guided visit of the Heraklion Archeological Museum, within walking distance from the hotel. Then we'll take our private bus to visit the Palace of Knossos. We'll make a stop for lunch on your own in the traditional village of Archanes. On our return to Heraklion we'll stop to visit the Tomb of Nikos Kazantzakis, author of Zorba the Greek. Group dinner at the hotel. Overnight in Aquila Atlantis or similar.
Friday, May 6                               Heraklion/Day Excursion (BLT)
After breakfast we'll drive to the beautiful  Monastery of Kresmasta, then on to Neapolis, Vrysses, the picturesque port of Agios Nicholas, and finally to Elounda, where we'll stop for a group lunch. After, we'll take a small boat on a one-hour trip around the island of Spinalonga, an old lepers' colony, famous from the book Island by Victoria Hislop. On the return, we'll stop at the Lyrarakis Winery for a wine tasting, tour of the facilities, and light snacks. Return to Heraklion for a free evening with dinner on your own. Overnight at Hotel Aquila Atlantis or similar.
Saturday, May 7                         Heraklion to Overnight Ferry (B)
This morning we'll travel to the coast of the Libyan sea to visit Gortyna and then the Minoan Palace of Phaestos. Continue to the town of Matala, famous for its caves, with lunch on your own their. We'll return to Heraklion to board the overnight ferry to the port of Athens (two bedded outside cabins with private showers). Dinner in Heraklion or on the ferry on your own.  Overnight onboard the ferry.
Sunday, May 8                            Athens to Rhodes (BD)
We'll arrive in the port of Athens in the early morning and drive to Hotel Herodion for breakfast. Then we'll visit a replica of an Ancient Trireme in the Marina of Flisvos. Next we board a one-hour flight to Rhodes. Transfer to the hotel for check-in and group dinner. Overnight at Rodos Palace or similar.
Monday, May 9                          Rhodes (BL)
We'll transfer to the city center for a guided walking tour of the Rhodes old town, including the Street of the Knights, archaeological museum, and the Palace of the Knights. Group lunch in the old town before driving to the Acropolis of Lindos, once visited by St. Paul. In the afternoon we'll visit Cair Winery, which produces a local champagne. Return to the hotel for dinner on your own and a relaxing evening. Overnight at Rodos Palace or similar.
Tuesday, May 10                        Rhodes/Day Excursion to Symi (BL)
Today we'll take a full day boat trip to Symi, the island of the sponge divers. Upon arrival we'll see the sponge workshop and enjoy a group lunch in a local taverna. Return via ferry or catamaran to the Rhodes port and then by bus to our hotel. Overnight at Rodos Palace or similar.
Wednesday, May 11                 Rhodes/Day Excursion (BD)
We'll take another day trip, this time on our private bus, to explore Ancient Kamiros, Ialyssos, and Filerimos, a medieval monastery on a hill with nice views of the bay. Lunch on your own at a local restaurant. Return to the hotel for group dinner and overnight at Rodos Palace or similar.
Thursday, May 12                      Rhodes to Athens (BD)
Likely morning free before our return flight to Athens. Transfer to Hotel Herodion. Meeting at the hotel before our farewell dinner at a local restaurant. Overnight at Hotel Herodion.
Friday, May 13                            Depart Greece
Transfer on your own to the airport for return flights to the U.S.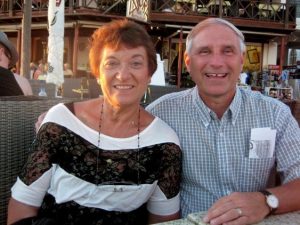 Jim May, Professor of Classics and Kenneth O. Bjork Distinguished Professor Emeritus, retired from St. Olaf College in 2017, after a 40-year career in teaching and service. He is the author of many articles and chapters on Cicero, classical rhetoric, and Latin pedagogy, as well as the author, co-author, or editor of eight books. His latest volume, How to Win an Argument: An Ancient Guide to the Art of Persuasion (Princeton 2016), has been translated into Modern Greek, German, and Turkish.
May received the Award for Excellence in the Teaching of the Classics from the American Philological Association (now the Society for Classical Studies) in 1986, and the Sears-Roebuck Foundation Teaching Excellence and Campus Leadership Award in 1991. Former President of the Classical Association of the Middle West and South and the Classical Association of Minnesota, May has held two NEH Fellowships and directed two NEH Summer Seminars for School Teachers. He was Provost and Dean of St. Olaf College from 2002 to 2011.
In retirement, Jim continues to compete in handball, restore antique trucks, cars, and tractors, and sing in two church choirs. He was a rower on the reconstructed Greek trireme Olympias in 1990 and 1993. He has led nearly 30 study tours to Greece and the Mediterranean.
Expect to marvel, learn, feast, and soak in famous Greek hospitality! Movement between cities will be by air-conditioned private motor coach. Movement within each city and at cultural/historic sites will be on foot, requiring a lot of walking and standing, often over uneven ground. You should be capable of walking up to five miles per day over possibly uneven terrain, of climbing stairs that may not have handrails, of climbing in and out of various types of transportation, of keeping pace with an active group of travelers on long days of traveling, of dealing with the emotional highs and lows that can occur when experiencing different cultures, and of traveling with a group for several hours each day.
Hotels will be tourist class (four-star or superior rating) with private baths, air conditioning, and English-speaking staff.
You should plan on seeing your family physician or a travel doctor at least four to six weeks prior to departure, preferably earlier, to talk about routine vaccinations. For more information on travel health, visit cdc.gov or who.int.
Covid Information
As a condition of participation in this program all attendees must have received a COVID-19 vaccine and received a booster shot at least 2 weeks prior to attending the program. The Centers for Disease Control now say all adults can and should get a booster shot once they are six months past their second dose of the Pfizer or Moderna vaccines or two months past their single Johnson & Johnson dose. If, by departure time, you are not yet 6 months past your second dose or 2 months past your single J&J dose, you will not be required to have a booster. Because changing conditions may result in additional or different participation restrictions, we will strive to keep you promptly informed of any changes resulting from the ongoing pandemic.
What happens if you develop symptoms or test positive for covid while traveling on the St. Olaf program?
we will expect everyone to follow the isolation and other protocols of the host country and will provide those to you, to the best of our knowledge, closer to departure, as they may be updated frequently in the next several months
our itinerary cannot be altered, so if it calls for the group to move to a new city/hotel, we will do so
group leaders cannot stay back with sick or covid-positive individuals
the injury and illness coverage provided with your program fee includes covid-related illness. Here is the language from the latest FAQs:
Is there coverage for COVID-19? (new as of 5/1/21)
Yes, participants diagnosed with COVID-19 would have the same coverage as if they had any other illness.
Is there coverage for pandemic quarantine? (new as of 5/1/21)
Yes, if the participant is required to quarantine while on a covered trip due to exposure to, or a confirmed case of a virus/illness due to epidemic/pandemic not requiring hospitalization, the policy would provide up to $5,000 of benefits for food and lodging. If the participant requires hospitalization, the basic emergency medical coverage would apply.
You can read more, including the full FAQ and a Summary document, on our Travel Insurance page.
Inclusions and exclusions vary from program to program, so please read the following information carefully.
The program fee is $5,927 per person. Based on double occupancy, it includes discussions led by Jim May, assistance by Donna May and a national guide, accommodations, breakfast daily and group meals as listed on the itinerary, admissions for group activities, ground transportation during the program (except initial and final airport transfers), ferry tickets for overnight passage from Piraeus to Chania and Heraklion to Piraeus, roundtrip flight Athens/Rhodes/Athens, gratuities to group guides, drivers, and meal servers, and some limited medical coverage while overseas. For single occupancy, add $950.
Airfare to and from Athens is not included. Participants are solely responsible for all expenses not specifically included in the program fee. Examples of excluded expenses are: Airfare between your home town and Greece • Airport transfers • Any passport fees • Any recommended immunizations or vaccinations • Baggage insurance • Trip cancellation insurance above $2,000 lifetime coverage • Beverages at most group meals • Gratuities to housekeeping staff • Laundry • Dry cleaning • Phone charges • Room service or other items of a personal nature • Expenses incurred during free time or non-group activities • Lunch and dinner, unless specifically included on program itinerary • Items not specifically listed above as included.
This schedule is based on payments St. Olaf College must make to program vendors to guarantee group rates. We highly recommend that you purchase additional trip cancellation insurance at the time of registration to recover your payments should you need to withdraw from the program.
Because of ongoing uncertainty surrounding COVID-19, it is possible that a program could be postponed. In such a case, while we will strive to make full refunds when we can, there are certain expenses that may not be refunded to either St. Olaf or the participant.
Deposit due:                          $500 upon registration
Refund if you cancel:          Full refund ($500) until October 14, 2021. If the deposit is made after October 14, 2021 there is no refund.
Interim payment due:        $2,000 on October 15, 2021
Refund if you cancel:          $1,000 if you cancel before February 14, 2022
Balance due:                         February 15, 2022
Refund if you cancel:          None, unless the program is full and your place can be resold
Cancellations must be in writing.
Some limited travel insurance is included with your program fee.
Read these legal documents: Terms and Conditions and Release and Waiver

Review the latest information on recommended immunizations, visit the Centers for Disease Control (CDC).
Check your passport: ensure that it has at least 6 months' validity past the program return date. Should you need to renew, visit the U.S. Department of State for instructions. A Travel Authorization will be required for entry into Greece, per new rules for Schengen Zone countries that started in January 2021. We will give you more information about this process a couple of months prior to departure.
Prepare for your adventure by checking out a variety of resources, including frequently asked questions, general health information, included travel insurance, safety overview, and more.
Book your flights. We strongly recommend you consider adding flight cancellation insurance to that purchase. Here are some additional notes:
— The program starts and ends in Athens.
— You should time your travel to arrive in Athens by mid-afternoon on Friday, April 29. We will start the program with a welcome drink at the hotel at 5:30 pm, followed by a group dinner.
— Feel free to depart Athens any time on Friday, May 13.
Check out some tips on our Booking Your Flights page.