Led by John Barbour, Professor Emeritus of Religion, and Judith Nelson, Master Teacher of Dance | May 9–21, 2022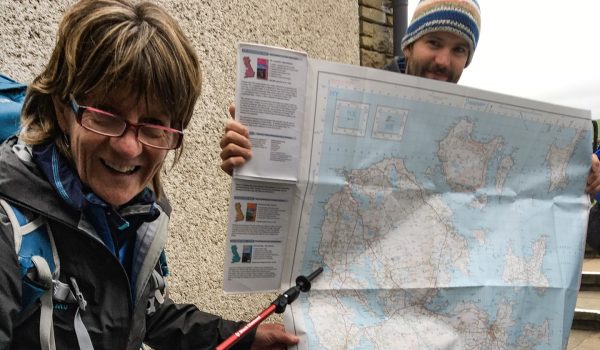 We invite you to join us for a wonderful adventure that combines hiking in spectacular locations with a wealth of fascinating history and archaeology. We meet in Aberdeen, Scotland's "granite city," and take the evening ferry to Kirkwall, on the main island of Orkney. Our hiking tour takes us in three minivans to outstanding sites on the mainland of Orkney and the islands of Hoy, Rousay, and Egilsay. Orkney is Europe's premier setting of archeological sites and offers many outstanding coastal walks. Houses and tombs dating back 5000 years share the landscape with Bronze Age cemeteries, standing stones, 2000 year old brochs (forts), Viking ruins, medieval churches, and Renaissance palaces. The Vikings and Norse ruled these islands for 800 years, and their impact is still evident. Our hikes include parts of the St. Magnus Way pilgrimage, honoring this Earl of Orkney who was murdered in 1115. During our five days exploring the Orkney Islands, we will also discover glorious natural beauty, including striking geological formations, and abundant wild flowers, birds, and marine wildlife.
Midway through our program, we'll travel to Lerwick, the capitol of the Shetland Islands. Here, as on Orkney, we will be joined by a local archeologist who will accompany us as we visit Neolithic and Viking sites. We hike spectacular coastal paths and see monastic ruins, sea birds, fishing stations, and the constantly changing seascape edging dramatic cliffs, stacks, and caves. After five days exploring Shetland, we'll return to Aberdeen, where you can continue your adventures in Scotland or take a plane home.
We have chosen our visits and walks to showcase the varied forms of natural beauty and cultural int rest to be found on Scotland's northern islands. We visit several unique sites guaranteed to appeal to anyone who has an active curiosity about history. Many sites are "off the beaten track," and, where they are internationally renowned, we try to see them at their quietest and best.
John will provide optional readings about the philosophy, aesthetics, literature, psychology, and pleasures of walking. He'll lead discussions on pilgrimage, rituals of walking in the world's religions, and the mixture of Pictish and Norse traditions with Christianity that shaped the history of these islands. The walking guides are highly experienced and will share their own stories.
Judith will lead participants in Connecting to Ancient History and Place: Druidism, Sacred Animals, and Traditional Dances. Two related workshops will each include a brief meditation and attunement, followed by the BrainDance warmup and community building activities. Participants will select and discuss an animal from the Druid Animal Oracle cards, the core qualities of which may prove a useful personal guide in their experience of the trip. We will learn several traditional dances and explore some of the specific sites through movement and shared experience. No dance experience is necessary.
This program is full and wait listed. Send us an email to add your name to the wait list.
Professor of Religion Emeritus John Barbour co-led St. Olaf's Global Program in 2001-02, Term in Asia in 2008-09, and seven January interim courses in Rome, Mexico City, Chicago, and Holden Village. In all these places and many more he has been an avid walker! In 2017 and 2019 he c0-led Alumni Programs devoted to walking in Scotland, with different itineraries. John's teaching and research interests center on ethical and theological issues raised by works of fiction and autobiography, for instance their exploration of the nature of sin, grace, or community. He is the author of four scholarly books and Renunciation: A Novel (2013). The grandson of a Scottish geologist, John spent his junior year in college at the University of Aberdeen and has visited Scotland many times.
Judith Nelson, MFA, of New York City, is a master teacher of dance with over 35 years of experience in higher education, public schools, and community programs. She danced with the Jose Limon Dance Company, among many others, and toured the US and Europe as a solo artist and in musical theatre. Judith has directed dance programs and taught at a number of colleges, including St. Olaf and Carleton. She taught for many years at the Mark Morris Dance Center and the 92nd Street Y in NYC, working with students of all ages and abilities. Judith incorporates the BrainDance and other modalities to create a safe space where all may feel welcome and free to express themselves through the joy of movement.
When we talk about spectacular scenery, not everyone thinks of Scotland. But you should. The peaks may not be of the piercing, cloud-shattering variety. Instead, the landscape is diverse, craggy, and sometimes shrouded and moody.
This interesting landscape means there's no need to worry about altitude training. You'll be making ascents, for sure, but you needn't worry about altitude sickness.
Moving about outdoors is highly encouraged through Scotland's excellent right of way access. You're not allowed to just tromp across someone's garden, but you do have the option to roam the hills whether a path exists or not.
Scotland has some interesting wildlife. Besides the farm animals you may encounter that don't look like any you'll see in the US (just glance at the photo to the left), you may see reindeer, the Golden Eagle, and otters.
This is the third time we've offered this program, always with the same faculty leader and experienced tour operator and guides, who have received highest marks from previous travelers. You'll be in great hands, led by people passionate about hiking in Scotland.
This program was custom designed to combine hiking in spectacular locations with a wealth of fascinating history and archaeology.
This itinerary is subject to change. Travel demands flexibility. We will strive to balance adaptability with remaining on schedule. Please trust that, when it is not possible to follow the plan laid out below, your program leaders will work to find substitutions that retain the quality of this Study Travel program. Various details may be added or changed due to information obtained while making reservations, or perhaps on site, especially because of the weather. All meals are included from dinner on May 10 through breakfast on May 21.
Monday, May 9                          Depart USA
Individual departures from your home town.
Tuesday, May 10                        Aberdeen — Kirkwall
You should plan to arrive in Aberdeen no later than 1 pm. We will meet at the Aberdeen ferry terminal at 3 pm for the ferry to Kirkwall on Orkney, where we will stay 5 nights.
Wednesday, May 11                Broch of Birsay, Magnus Kirk, Skara Brae
Today we will explore the northwest of Orkney Mainland. The Brough of Birsay tidal island can only be visited at low tide via the 240m causeway over the Sound of Birsay. Now uninhabited, there are Pictish, Norse and medieval remains. The Norse settled on the island in the 9th century. Later, a small church and monastery were built on Birsay. Our walk also includes visits to the Earl's Palace and Magnus Kirk. In the afternoon we will visit Skara Brae, possibly Orkney's most exciting archaeological site. A sandstorm buried the original village in about 2500 BC, preserving it until another storm in 1850 revealed it. From Skara Brae we will walk south along the spectacular coast with geos, natural arches, caves, and sea stacks. A local archaeologist will join the group. Total of 6.5 miles, 520ft of ascent.
Thursday, May 12                      Islands of Rousay and Egilsay
Today we will take the ferry to Rousay, where we will wander through 5,000 years of history, visiting burial cairns, including Midhowe, the 'Great Ship of Death', Pictish brochs, Viking settlements, remains of the period of the Earls and the troubled crofting times, and the ruined St Mary's Church. We then sail to the Island of Egilsay for our first St Magnus Way pilgrimage walk. Egilsay marks the place where Magnus Erlendsson, Earl of Orkney, was murdered, most likely in 1115. We will visit three key historical sites: the Magnus memorial, the beach, and the ruins of St Magnus Kirk. A local archaeologist will join the group. 2 miles, 180ft of ascent, and 3.5 miles, 205ft of ascent.
Friday, May 13                            Ophir and Stromness
We start the day with a visit to the Italian Chapel. It was built during World War II by Italian prisoners of war who also built the Churchill Barriers to the east of Scapa Flow. The chapel was made from two Nissan huts joined together and leftovers from work on the barriers. We then go to Ophir. Ophir is linked to Hakon, Magnus's cousin, who ordered his death and in penance made pilgrimage to Jerusalem. We visit the remains of Orphir Kirk, Scotland's only surviving circular medieval church, Earl's Bu, and the Orkneyinga Saga Centre which tells the story of the Norse Earls of Orkney. The afternoon is free for exploring Stromness, the second large town of Orkney, which has a museum, arts center, and interesting shops. 2 miles, 105ft of ascent.
Saturday, May 14                       Isle of Hoy
We will take the ferry across the Scapa Flow to the Isle of Hoy. Hoy, the second largest of Orkney's islands, is different from the others in that it mostly consists of high uncultivated land. We will drive to the west of the island where we will walk along spectacular cliff-top scenery to the sea stack known as the Old Man of Hoy, a vertical pillar of red and yellow sandstone rising 450 feet from a sea-level plinth of lavas and volcanic ash. 5.75 miles, 720ft of ascent.
Sunday, May 15                          The Heart of Neolithic Orkney and Kirkwall
We will visit several important Neolithic sites on Mainland Orkney: the Ring of Brodgar, the Ness of Brodgar, the Standing Stones of Stenness, and Maeshowe, which is Britain's largest chambered cairn. This, the 'Heart of Neolithic Orkney,' was inscribed as a UNESCO World Heritage site in 1999. We will then walk the final part of the St Magnus Way from Scapa to Kirkwall, finishing at St Magnus Cathedral, founded in 1137 by Earl Rognald, nephew of Magnus. We'll fly to Shetland in the late afternoon and transfer to our hotel near the airport where we will stay 3 nights. Total of 4 miles, little ascent.
Monday, May 16                        South Mainland and Isle of Mousa
We will start by exploring the south Mainland. We will walk across a sand bar (tombolo) to St Ninian's Isle, followed by a visit to Jarlshof, which was occupied for more than 4,000 years. In the afternoon we will take a boat to the uninhabited island of Mousa, which is famous for its Iron Age broch—the world's best preserved Pictish broch. It rises to 40 feet, and the skill and accuracy of its builders has resulted in a 2,000-year-old construction that appears today as though the builders have just laid the last stone and gone home for the night. A local archaeologist will accompany the group. Back on Mainland, we will travel north to our hotel near Brae, our accommodation for four nights. 4 miles, limited ascent.
Tuesday, May 17                        Culswick and Lerwick
We'll go to the Westside for one of the finest walks in this part of Mainland at Culswick. The hike follows the track through a dramatic valley, which narrows and rises when we reach the cliffs. Near the coast, the track rises and Culswick Broch and ramparts appear ahead, above the Loch of the Broch. From the broch we head southeast along the cliff tops with sea stacks and caves. There are remains of a monastic settlement on one of the sea stacks and a tiny dwelling on another. We then head for Lerwick where you can explore its shops and its excellent museum. 4 miles, 460ft of ascent.
Wednesday, May 18                 Eshaness
We will travel north to the Eshaness peninsula. The Eshaness peninsula tells a fascinating story of a long extinct volcano. The spectacular cliffs we see today cut right through the flank of what was the Eshaness volcano. The sea has exploited cracks in the volcanic bedrock to carve out this dramatic array of stacks, geos, and blowholes including the Hols o Scraada (Old Scratch, or the Devil), formed when the roof caved in at the end of a deep and narrow sea cave stretching more than one hundred yards from the coast. Another highlight is an active storm beach still being shaped by hurricane force winds from the Atlantic in the winter. Today we transfer hotels for the last three nights. 4.5 miles, 200 feet of ascent.
Thursday, May 19                      Isle of Unst
Our visit to the Isle of Unst is a day of "northernmosts"; the most northerly island, village, beach, and bus stop. We will take two ferries and drive across the Isle of Yell to get to Unst. The rare serpentine rock underlying the islands is the remnant of a lost ocean sea floor: the Lapetus ocean of 600 million years ago. The rock gives a barren and stark look to the landscape and has created habitats for rare plants and flowers. Unst is also famous for its Norse archaeological sites. We will visit a replica Viking longhouse and longship. We finish our day on Unst with a visit to Hermaness Nature Reserve. The hike on good paths and boardwalks brings us to a huge and spectacular gannet colony on cliffs 558ft/170m high. This is a great place to see puffins. Total of 4 miles, 560ft of ascent.
Friday, May 20                            Fethaland
Fethaland is the northernmost part of the mainland of Shetland. We walk to a ruined Haaf (meaning open sea) fishing station dating from the late eighteenth century. The ever-enterprising lairds established this and other Haaf fishing stations on remote north-western parts of Shetland to profit from the catch of ling and cod during the summer months. Extremely brave fishermen ventured 50 miles out into the Atlantic ocean in open boats called sixareens. Set within the fishing station is a large circular Neolithic house and a ruined iron age broch. Other places of interest during the walk are a Viking soapstone quarry, a 6th century chapel site, and an abandoned settlement situated on precarious headlands. 6 miles, 450 feet of ascent.
Saturday, May 21                       Fethaland to Aberdeen, Depart Scotland
It will be an early start today in order to catch our flight back to mainland Scotland. We travel south to Sumburgh Airport for our flight to Aberdeen, arriving in Aberdeen at about 9:30 am. Be sure to book onward flights that allow enough time for a flight delay this morning.
This active land tour features daily hikes that are moderate in difficulty. To fully enjoy the experience, participants should be in good walking condition and enjoy hiking. We will enjoy three walks of about six miles, five walks of about four miles, and two walks of two miles, sometimes over rough paths with several hundred feet of ascent.
Three minibuses, each with a local driver/guide, will accompany our group, which is limited to only 16 participants. Our guides will explain in advance the difficulty of each day's hike and, if you prefer, you can opt out of any hiking excursion. Some days require several hours of driving—past spectacular scenery, and with breaks for meals, ferries, and sightseeing.
The weather in May can vary dramatically. No two days are the same here as cloud and sun, light and shade, wind and rain continually alter the canvas. May is usually one of the driest months in Scotland, but you need to be prepared for rain and wind. In May in Shetland the average daytime high is in the mid 50s, with nighttime temperatures dropping to the upper 40s. The days will be long with a late sunset and extended twilight as late as midnight on Shetland: what locals call the "simmer dim."
You need to be fit and an active walker by the time of departure. You should plan on seeing your family physician or a travel doctor at least four to six weeks prior to departure, preferably earlier, to talk about routine vaccinations. For more information on travel health, visit cdc.gov or who.int.
Covid Information
As a condition of participation in this program all attendees must have received a COVID-19 vaccine and received a booster shot at least 2 weeks prior to attending the program. The Centers for Disease Control now say all adults can and should get a booster shot once they are six months past their second dose of the Pfizer or Moderna vaccines or two months past their single Johnson & Johnson dose. If, by departure time, you are not yet 6 months past your second dose or 2 months past your single J&J dose, you will not be required to have a booster. Because changing conditions may result in additional or different participation restrictions, we will strive to keep you promptly informed of any changes resulting from the ongoing pandemic.
What happens if you develop symptoms or test positive for covid while traveling on the St. Olaf program?
we will expect everyone to follow the isolation and other protocols of the host country and will provide those to you, to the best of our knowledge, closer to departure, as they may be updated frequently in the next several months
our itinerary cannot be altered, so if it calls for the group to move to a new city/hotel, we will do so
group leaders cannot stay back with sick or covid-positive individuals
the injury and illness coverage provided with your program fee includes covid-related illness. Here is the language from the latest FAQs:
Is there coverage for COVID-19? (new as of 5/1/21)
Yes, participants diagnosed with COVID-19 would have the same coverage as if they had any other illness.
Is there coverage for pandemic quarantine? (new as of 5/1/21)
Yes, if the participant is required to quarantine while on a covered trip due to exposure to, or a confirmed case of a virus/illness due to epidemic/pandemic not requiring hospitalization, the policy would provide up to $5,000 of benefits for food and lodging. If the participant requires hospitalization, the basic emergency medical coverage would apply.
You can read more, including the full FAQ and a Summary document, on our Travel Insurance page.
The program fee is $5,975 per person. Based on double occupancy, it includes discussions led by John Barbour, accommodations, ​all meals from dinner on May 10 through breakfast on May 21, admissions for group activities, ground transportation during the program, gratuities to group guides, drivers, and meal servers, and limited medical coverage while overseas. For single occupancy, add $619.
Airfare to and from Scotland is not included. Participants are solely responsible for all expenses not specifically included in the program fee. Examples of excluded expenses are: International Airfare • Airport transfers • Any passport and visa fees • Any recommended immunizations or vaccinations • Baggage and trip cancellation insurance • Beverages, including at group meals • Laundry • Dry cleaning • Phone charges • Room service or other items of a personal nature • Expenses incurred during free time or non-group activities • Lunch and dinner, unless specifically included on program itinerary.
A $500 per person deposit is required upon registration. View the full Payment & Refund Schedule below.
This schedule is based on payments St. Olaf College must make to program vendors to guarantee group rates. We highly recommend that you purchase additional trip cancellation insurance at the time of registration to recover your payments should you need to withdraw from the program.
Because of ongoing uncertainty surrounding COVID-19, it is possible that a program could be postponed. In such a case, while we will strive to make full refunds when we can, there are certain expenses that may not be refunded to either St. Olaf or the participant.
Payments and Refunds:
Deposit due:                          $500 upon registration
Refund if you cancel:          Full refund ($500) until September 30, 2021. If the deposit is made after September 30, 2021 there is no refund.
Interim payment due:        $2,500 by October 1, 2021
Refund if you cancel:         $1,250 until January 31, 2022
Final payment due:             February 1, 2022
Refund if you cancel:         None, unless the program is full and your place can be resold
Cancellations must be in writing.
Some travel insurance for international Alumni and Family Travel programs is included with your program fee. Visit our Travel Insurance page for full details.
Review the latest information on recommended immunizations, visit the Centers for Disease Control (CDC).
Check your passport: no entry visa is required for the UK (nor is the UK part of the Schengen Zone that will start requiring in January 2021 a Travel Authorization for US visitors). However, you should look at your passport now and ensure that it has at least 6 months' validity past the program return date. Should you need to renew, visit the U.S. Department of State for instructions.
Prepare for your adventure by checking out a variety of resources, including frequently asked questions, general health information, included travel insurance, safety overview, and more.
This ​

program is an official GO

As a condition of participation in this program all attendees must have received a COVID-19 vaccine and completed the vaccination process at least 2 weeks prior to attending. 

​

Because changing conditions may result in additional or different participation restrictions, we will strive to keep you promptly informed of any changes resulting from the ongoing pandemic.

Feel free to purchase your flights. We strongly recommend you consider adding flight cancellation insurance to that purchase. Here are some additional notes:

— The program starts and ends in the same city: 

​Aberdeen

.

— You should time your travel to arrive 

​in Aberdeen ​

by 

​1 pm 

on 

​Tuesday May 10

. 

​We plan to take the 3 pm ferry from Aberdeen to Kirkwall that same day. If you are concerned about flight delays or would like some time to start getting over jet lag, we encourage you to arrive a day earlier, but the hotel expense will be on your own.

— You

​r​

​ flight should 

depart 

​Aberdeen 

​after 11:30 am 

on Saturday, 

​May 21

. 

​That morning we will fly from 

Sumburgh Airport

​,​ 

arriving in Aberdeen at about 9:30 am.