Led by Diana Postlethwaite, Professor Emerita of English, and Paul Thiboutot, Retired Vice President and Dean of Admissions, Carleton College | September 9-18, 2022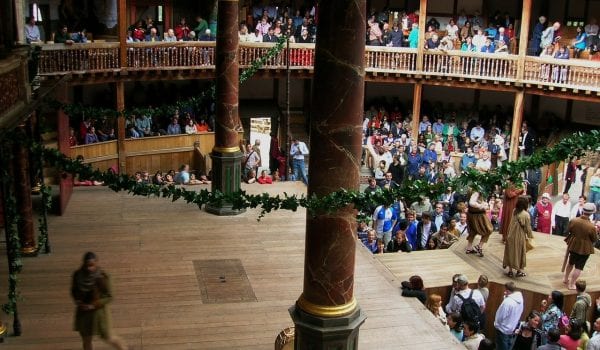 Theater expresses multiple facets of human nature and helps us process how we think and act in our lives. It is mind expanding – it is a safe way to explore subjects we might otherwise shy away from. Theater can be entertaining, disturbing, thought-provoking, moving. The space can influence the story and performances, and vice versa. Live theater has an energy not duplicated in other mediums. In fact, the St. Olaf Magazine just covered this facet in the Winter 2020 edition. See Reason for Optimism #3 in the article "Everything's Going to be Okay," by Erin Peterson.
London is a vibrant, diverse, cosmopolitan city, spattered with a large number of bucolic green spaces. You can return to the city again and again and always experience different things. Whatever your interest – art, parks, royal dwellings, cutting-edge culture – London has it all.
Register now using the button above.
Over the years, Theater in London has been one of the most popular Study Travel programs. Here are what some  previous travelers had to say:
"I absolutely LOVED London! We saw a variety of plays and fantastic acting. It was interesting to see many theaters, all different and appropriate to each performance."
"Lectures, preparation and discussions made each play come alive."
"Hopping the Tube to travel all over London was great."
Now it is your turn to participate in this exceptional experience! Attend performances both classic and contemporary by The Royal Shakespeare Company and at the National Theatre, and in venues such as the Globe, Royal Court, Old Vic, and Menier Chocolate Factory. Tour backstage at the Globe, and meet with one of London's premier theater critics. We anticipate attending seven or eight performances. Final selections will depend on productions offered and timing of the performances.
This itinerary is subject to change due to unforeseen circumstances. B, L and D indicate included meals. Performances will be added in as they are available to book. The day of the excursion to Stratford may change depending on performance schedules.
Travel demands flexibility. We will strive to balance adaptability with remaining on schedule. Please trust that, when it is not possible to follow the plan laid out below, your program leaders will work to find substitutions that retain the quality of this Study Travel program. Various details may be added or changed due to information obtained while making reservations.
Friday, September 9                                Departures from U.S.
Individual departures from your home town.
Saturday, September 10                        Arrive London (D)
On arrival in London, make your way to the group hotel. Possible mid-afternoon informal outing led by Diana to acquaint you with the neighborhood, visit an ATM, and the like. Group welcome dinner. Hotel x 8 nights: Club Quarters Trafalgar Square.
Sunday, September 11                           London (B)
Morning discussion at a hotel meeting room. Afternoon free with lunch and dinner on your own. Attend evening performance of The Tempest at Shakespeare's Globe Theatre.
Monday, September 12                         London (B)
Morning discussion at a hotel meeting room. Afternoon free with lunch and dinner on your own. Attend evening performance of Come From Away at the Phoenix Theatre.
Tuesday, September 13                         London (B)
Morning discussion at a hotel meeting room, afternoon free with lunch and dinner on your own. Attend evening performance of Silence at the Donmar Warehouse.
Wednesday, September 14                  London (B)
Morning discussion at a hotel meeting room, afternoon free with lunch and dinner on your own. Late afternoon guided tour of the National Theatre and an evening performance of The Crucible in the Olivier Theatre at National Theatre.
Thursday, September 15                       Day Excursion to Stratford-upon-Avon (B,D)
We'll take a private motor coach to Stratford for lunch on your own, then a matinee of Richard III, and a group dinner in town before returning to London.
Friday, September 16                              London (B)
Morning discussion at a hotel meeting room, afternoon free with lunch and dinner on your own, and "traveler's choice" for the evening performance.
Saturday, September 17                        London (B, D)
Morning discussion at a hotel meeting room. Lunch on your own before a 2 pm matinee performance of To Kill a Mockingbird at the Gielgud Theatre, 35-37 Shaftesbury Avenue, London W1D 6AR. Farewell group dinner.
Sunday, September 18                           Return to the U.S. (B)
Individual departures.
Diana Postlethwaite retired in June 2018 from the St. Olaf Department of English, where she has taught since 1988. A Minnesota native, she received her undergraduate degree from Harvard University and a Ph.D from Yale University. A dedicated Anglophile, her academic specialty is nineteenth-century British fiction, with a particular love for Jane Austen and George Eliot. She has reviewed contemporary novels for a variety of national newspapers. As a movie enthusiast, she enjoyed a decade of on-air reviewing for St. Olaf's radio station WCAL, and worked to establish a Film Studies Concentration at St. Olaf. Her lifelong love affair with the theater began in l963 with a junior high school class outing to the then-brand- new Guthrie Theater—still her favorite Twin Cities institution! One of the courses she's enjoyed teaching most at St. Olaf has been her first year writing seminar, "Page, Stage and Screen," which compares the different ways novels, plays and movies tell their stories.
Diana has led St. Olaf's January interim Theatre in London program five times since 2004 and the Alumni & Family version for the first time in 2018. Her favorite aspect of Theatre in London is the morning-after class discussions, where there can be as many critical opinions as people in the room! She will be joined on the trip by her husband, Paul Thiboutot, Vice President and Dean of Admissions at Carleton College, who shares her love of theater, travel and things British.
Except for possible excursion days, our schedule starts with breakfast and a "class meeting" at the hotel for reviews and previews of each of our plays. Most afternoons will be free so that you can explore London on your own, relax before the evening's performance or join fellow travelers to visit some of London's cultural sites. We will attend nightly performances, plus at least one matinee. This schedule can be vigorous, depending on how you use your free time. There will be at least two or three group lunches/dinners provided as a way to socialize and relax together.
Accommodations are in standard rooms at the Club Quarters Hotel Trafalgar Square, a 4-star hotel ideally located in Central London, with easy access to our theaters and activities. The hotel is quiet, with sizable rooms, and amenities such as complimentary coffee, tea, and snacks in the Club Living Room, "Wine@5" from 5 to 6 pm every Monday through Thursday, free high speed internet, unlimited chilled bottled water at H2O To Go stations, and self-service laundry and traditional valet service.
London is best experienced on foot. Be prepared for lots of walking! You can take the "Tube" (Underground) to and from matinee and evening performances, restaurants, and other sites around town. This can include walking several blocks to the Tube stop, walking down and up one or more flights of stairs in the subway station, and walking several blocks to the final destination. Some of the theaters are old and require walking up narrow stairs to our seats. Comfortable shoes override the latest fashion!
Participants will be provided with a £20 Oyster card to which you can add funds if you use it frequently. Alternatively, you may take taxis (at your own expense) — and Uber now provides an accessible and relatively economical cab alternative throughout London.
To fully participate in this program, you should be able to walk up to five miles per day over possibly uneven terrain (e.g. cobblestones or aged sidewalks), climb stairs that may not have handrails, keep pace with an active group of travelers, deal with the emotional highs and lows that can occur when experiencing a different culture, and be a considerate member of the group (prompt, courteous and flexible).
Covid Information
As a condition of participation in this program all attendees must have received a COVID-19 vaccine and received a booster shot at least 2 weeks prior to attending the program. The Centers for Disease Control now say all adults can and should get a booster shot once they are six months past their second dose of the Pfizer or Moderna vaccines or two months past their single Johnson & Johnson dose. If, by departure time, you are not yet 6 months past your second dose or 2 months past your single J&J dose, you will not be required to have a booster. Because changing conditions may result in additional or different participation restrictions, we will strive to keep you promptly informed of any changes resulting from the ongoing pandemic.
What happens if you develop symptoms or test positive for covid while traveling on the St. Olaf program?
we will expect everyone to follow the isolation and other protocols of the host country and will provide those to you, to the best of our knowledge, closer to departure, as they may be updated frequently in the next several months
our itinerary cannot be altered, so if it calls for the group to move to a new city/hotel, we will do so
group leaders cannot stay back with sick or covid-positive individuals
the injury and illness coverage provided with your program fee includes covid-related illness. Here is the language from the latest FAQs:
Is there coverage for COVID-19? (new as of 5/1/21)
Yes, participants diagnosed with COVID-19 would have the same coverage as if they had any other illness.
Is there coverage for pandemic quarantine? (new as of 5/1/21)
Yes, if the participant is required to quarantine while on a covered trip due to exposure to, or a confirmed case of a virus/illness due to epidemic/pandemic not requiring hospitalization, the policy would provide up to $5,000 of benefits for food and lodging. If the participant requires hospitalization, the basic emergency medical coverage would apply.
You can read more, including the full FAQ and a Summary of Coverage document, on our Travel Insurance page.
The program fee is $3,922 per person. Based on double occupancy, it includes discussions led by Diana Postlethwaite, assistance by Paul Thiboutot, accommodations, theater tickets, breakfast daily and group meals as listed on the itinerary, admissions for group activities, £20 Oyster card, private motor coach transfer to and from Stratford, gratuities to group guides, drivers, and meal servers, and limited medical coverage while overseas. For single occupancy, add $1,092.
Airfare to and from London is not included. Participants are solely responsible for all expenses not specifically included in the program fee. Examples of excluded expenses are: International Airfare • Airport transfers • Any passport and visa fees • Any recommended immunizations or vaccinations • Baggage and trip cancellation insurance • Beverages, including at group meals • Laundry • Dry cleaning • Phone charges • Room service or other items of a personal nature • Expenses incurred during free time or non-group activities • Lunch and dinner, unless specifically included on program itinerary.
A $500 deposit is necessary to guarantee your space. See the full Payment and Refund Schedule below.
This schedule is based on payments St. Olaf College must make to program vendors to guarantee group rates. Due to the COVID-19 pandemic, our payment terms are more flexible than before. We highly recommend that you purchase additional trip cancellation insurance at the time of registration to recover your payments should you need to withdraw from the program.
Because of ongoing uncertainty surrounding COVID-19, it is possible that a program could be postponed. In such a case, while we will strive to make full refunds when we can, there are certain expenses that may not be refunded to either St. Olaf or the participant.
Payments and Refunds:
Deposit due:                          $500 upon registration
Refund if you cancel:          Full refund ($500) until October 31, 2021. If the deposit is made after October 31, 2021 there is no refund.
Interim payment due:        $2,000 by November 1, 2021
Refund if you cancel:          $1,000 until June 30, 2022
Final payment due:             July 1, 2022
Refund if you cancel:         None, unless the program is full and your place can be resold
Cancellations must be in writing.
Some limited travel insurance is included with your program fee.
Read these legal documents: Terms and Conditions and Release and Waiver.
Check the Travelers' Health recommendations from the Center for Disease Control (CDC).
Take a look at the International Travel section of the U.S. State Department, including Before You Go, Country Information, While Abroad, and Emergencies.
Prepare for your adventure by checking out a variety of resources, including frequently asked questions, general health information, included travel insurance, safety overview, and more.
Feel free to book your flights. This ​program is an official GO. As a condition of participation in this program all attendees must have received a COVID-19 vaccine and completed the vaccination process at least 2 weeks prior to attending. Because changing conditions may result in additional or different participation restrictions, we will strive to keep you promptly informed of any changes resulting from the ongoing pandemic.
We strongly recommend you consider adding flight cancellation insurance to that purchase. Here are some additional notes:
— The program starts and ends ​​in London.
— You should time your travel to arrive in London by mid-afternoon on Saturday, Sep 10. We plan to book a performance that night.
— Feel free to depart London any time on Sunday, Sep 18.
You can also see our tips for Booking Your Flights.