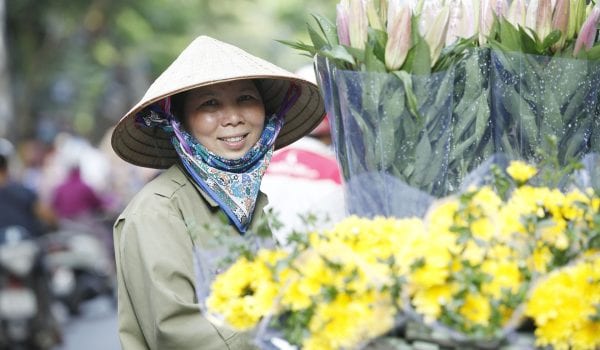 Vietnam has a rich 2,000-year history. During our journey we'll examine the traditional heritage of Vietnam — a synthesis of indigenous cultures with Chinese culture and religion — while observing its modern transformation under French colonial rule, Communist revolution, American intervention and recent globalization.
Through guest speakers and site visits we'll gain an appreciation of Vietnamese civilization and an understanding of how French colonialism and Communism transformed the country. We'll also observe and experience contemporary life and culture.
See all the details in the sections below.
Given the US involvement in Vietnam's recent history, it's easy to forget that the country has a rich history going back thousands of years. The country is full of stunning landscapes, excellent food, striking architecture, vibrant religious traditions, and much more.
On this learning adventure you'll discover beautiful architecture, including buildings, bridges, and temples, experience centuries-long cultural traditions, imbibe in food with influences from China and France and that varies from region to region, view breathtaking natural beauty, and explore Vietnam's rich history and recent changes.
This program was custom designed to examine the history of Vietnam, the mix of indigenous cultures and Chinese influence, religions, and the country's modern transformation under French colonial rule, Communist revolution, American intervention and recent globalization.
This itinerary is subject to change. Travel demands flexibility. We will strive to balance adaptability with remaining on schedule. Please trust that, when it is not possible to follow the plan laid out below, Our program leaders will work to find substitutions that retain the quality of this Study Travel program. Various details may be added or changed due to information obtained while making reservations, or perhaps on site, especially because of the weather. BLD indicate included group meals.
Saturday, October 8                  Depart USA
Individual departures from your home town.
Sunday, October 9                     Arrive Hanoi (D)
Welcome to Hanoi. We'll be met on arrival and transferred to the hotel. Welcome meeting at 6 pm to meet Our fellow travelers. Then we'll have a group welcome dinner at KOTO restaurant, a wonderful project which provides vocational training for underprivileged people. Overnight at Q Hotel, theqhotel.com.vn.
Monday, October 10                 Hanoi (BL)
This morning we'll embark on a full-day tour of the city, visiting major sites such as One Pillar Pagoda and the former residence of Vietnam's most famous revolutionary, Ho Chi Minh. We'll also visit Van Mieu (The Temple of Literature), the first Vietnamese University, founded in in the 11th century by the Emperor Ly Thai Tong. We'll learn about the educational system in traditional Vietnam, which was still applied until early 20th century. We'll also examine the importance of Confucian belief and its influence on social order in Vietnam. Then, we'll head to the local market next to the Temple of Literature to experience a bit of local life, and then have a group lunch. Next up is Tran Quoc Pagoda, on the banks of West Lake, a very interesting site to learn more about Buddhism and typical architecture in Vietnam. Dinner on your own and overnight at Q Hotel.
Tuesday, October 11                 Hanoi (BD)
Today we'll head to one of the biggest and most important museums of Vietnam, the Ethnology Museum, to discover the very interesting ethnical mosaic of Vietnam. We'll be able to learn more about each ethnic group's traditions and culture. This afternoon, we'll enjoy a traditional water puppet performance. Our host Liem invites us into his home, a small-scale theatre that continues a long running family tradition, passed down from generation to generation. We'll witness not only the show itself but gain behind-the-scenes insight into how the puppets are made and animated. Liem is only too happy to discuss the history and development of this age-old cultural practice. Overnight at Q Hotel.
Wednesday, October 12          Hanoi/Day Excursion to Halong Bay (BL)
Today will be a long day, but worth it. We'll travel by private minibus to World Heritage-listed Halong Bay, which is dotted with sandy coves, grottoes and 1600 limestone islands formed over millennia by wind and water erosion. There's a reason Halong Bay is one of the most photographed places in Vietnam — it's ridiculously beautiful.  We'll board a traditional junk with other groups and glide through azure waters while enjoying a seafood lunch on board. After lunch, we'll sail past some of the bay's most iconic locations and then disembark for a guided walk to Surprise Cave and climb up to the top of island. There's no better way to travel Halong Bay for a day. We'll return to Hanoi for dinner on your own. Overnight at Q Hotel.
Thursday, October 13               Hanoi – Hue (BD)
This morning we'll explore Hanoi's Old Quarter through the ancient "36 streets" and discover an impressive array of shops that sell everything from souvenirs to exquisite silk clothing, jewelry and beautifully embroidered tablecloths. We'll continue to the heart of Hanoi, Hoan Kiem Lake, with its magnificent Huc Bridge and Ngoc Son temple. Experience the spiritual harmony of different religions coexisting in the same place. In the afternoon we say goodbye to Hanoi and transfer to the airport for our flight to Hue. Group dinner at a local restaurant. Overnight at Cherish Hotel Hue.
Friday, October 14                     Hue (BD)
The former imperial capital of Vietnam, Hue holds the treasures of Vietnam's royal past. It's a curious mix of bustling streets and tranquil settings. We'll visit the Imperial Citadel and the Forbidden Purple City, which was almost entirely destroyed by bomb blasts during the war. Then we'll visit the tomb of Emperor Tu Duc and the beautiful lake with its frangipani and pine trees. This evening, we'll experience local life in its most authentic way: helping to prepare dinner with a Vietnamese family, dining with three generations, and learning all about their life. Overnight at Cherish Hotel Hue.
Saturday, October 15               Hue/Day Excursion (BL)
Today, we'll visit the Vietnamese Demilitarized Zone (DMZ), established in the 1950s, on this day trip from Hue. We'll drive to Quang Tri and stop at Truong Soon National Cemetery on the historic Road 9 linking with Laos. Then we'll continue to Hien Luong Bridge and the fascinating tunnels at Vinh Moc, which were initially built in the late 1940s as a resistance hideout against the French and were extended and enlarged during the American War in order to accommodate civilian families trying to survive the aerial bombardment. On our way back we'll stop by La Vang Basilica, known as one of the most important Roman Catholic pilgrimage sites of Vietnam. Dinner on your own back in Hue. Overnight at Cherish Hotel Hue.
Sunday, October 16                   Hue – Saigon/Ho Chi Minh City (BD)
After breakfast, take a short flight (approximately 1 hour) to Saigon, Vietnam's economic hub. Vietnam's largest city is a fascinating blend of old and new, East and West. The French influence is evident in the excellent baguettes and coffee on offer. On arrival, take a tour of the city, passing the Reunification Palace, Notre Dame Cathedral and the Opera House. Head to the War Remnants Museum for a sobering yet informative lesson on the Vietnam War. Here we'll see things like old military equipment, an F5A fighter and a UH1-Huey helicopter. Then, pay a visit at Ngoc Hoang (Jade Emperor) Pagoda, famous in Saigon for a set of about 100 statues made from cardboard that depict a meeting of genies with the Jade Emperor. It has now become a favorite destination of tourists. Lunch on your own at an appropriate point. Group dinner. Overnight at M Boutique Hotel, millenniumboutiquehotel.com.
Monday, October 17          Saigon (BD)
We'll embark on a full-day walking tour for a fun and fascinating insight into the history, culture, and the daily life of the locals in this busy, buzzing city. We start our tour by heading to Chinatown and wandering through the fascinating back streets near Cho Lon. This area is one of the busiest commercial districts of Saigon and its atmospheric streets are home to some of the city's most interesting sites. From there, we'll pay a visit to Thien Hau Temple, which was built in the early 19th century and dedicated to the goddess of seafarers. We delve deeper into Chinatown, visiting the amazing Cholon and Binh Tay Markets, which are full of energy and dazzling array of goods. Then we'll stop at Fito Museum, which displays over 3,000 objects relating to traditional Vietnamese medicine and dating back to the country's foundation. Heading back to down-town, we'll pass the major Saigon sights: Reunification Palace, Notre Dame Cathedral, General Post Office, and the Opera House. Lunch on your own at an appropriate point. We'll cap our Vietnam adventure with a farewell dinner at Rex hotel. Overnight at M Boutique Hotel.
Tuesday, October 18                 Departure (B)
Individual departures.
Movement between cities will be by air-conditioned private motor coach. Movement within each city and at cultural/historic sites will be on foot, requiring a lot of walking and standing. You should be capable of walking up to five miles per day over uneven terrain, of climbing stairs that may not have handrails, of climbing in and out of various types of transportation, of keeping pace with an active group of travelers on long days of traveling, of dealing with the emotional highs and lows that can occur when experiencing different cultures, and of traveling with a group for several hours each day.
Hotels will be tourist class (four-star or superior rating) with private baths, air conditioning, and English-speaking staff.
You should plan on seeing your family physician or a travel doctor at least four to six weeks prior to departure, preferably earlier, to talk about routine vaccinations. For more information on travel health, see our General Health Information and visit cdc.gov or who.int.
COVID INFORMATION
As a condition of participation in this program all attendees must have received a COVID-19 vaccine and received a booster shot at least 2 weeks prior to attending the program. The Centers for Disease Control now say all adults can and should get a booster shot once they are six months past their second dose of the Pfizer or Moderna vaccines or two months past their single Johnson & Johnson dose. If, by departure time, you are not yet 6 months past your second dose or 2 months past your single J&J dose, you will not be required to have a booster. Because changing conditions may result in additional or different participation restrictions, we will strive to keep you promptly informed of any changes resulting from the ongoing pandemic.
What happens if you develop symptoms or test positive for covid while traveling on the St. Olaf program?
we will expect everyone to follow the isolation and other protocols of the host country and will provide those to you, to the best of our knowledge, closer to departure, as they may be updated frequently in the next several months
our itinerary cannot be altered, so if it calls for the group to move to a new city/hotel, we will do so
group leaders cannot stay back with sick or covid-positive individuals
the injury and illness coverage provided with your program fee includes covid-related illness. Here is the language from the latest FAQs:
Is there coverage for COVID-19? (new as of 5/1/21)
Yes, participants diagnosed with COVID-19 would have the same coverage as if they had any other illness.
Is there coverage for pandemic quarantine? (new as of 5/1/21)
Yes, if the participant is required to quarantine while on a covered trip due to exposure to, or a confirmed case of a virus/illness due to epidemic/pandemic not requiring hospitalization, the policy would provide up to $5,000 of benefits for food and lodging. If the participant requires hospitalization, the basic emergency medical coverage would apply.
You can read more, including the full FAQ and a Summary document, on our Travel Insurance page.
Inclusions and exclusions vary from program to program. Please read the following information carefully.
The program fee is $2,487 per person. Based on double occupancy, the fee includes a St. Olaf host • conversations with guest speakers • a full-time tour manager/national guide • accommodations, meals, entrance fees, and activities listed in itinerary • private motor coach transportation • gratuities to drivers, guides, and at group meals • some limited medical coverage while overseas. For single occupancy, add $255.
Exclusions: Airfare to and from Vietnam is not included. Participants are solely responsible for all expenses not specifically included in the program fee. Examples of excluded expenses are: Airfare between your home town and Vietnam • Airport transfers in your home town • Any passport fees • Any recommended immunizations or vaccinations • Baggage insurance • Trip cancellation insurance above $2,000 lifetime coverage • Housekeeping tips • Porter tips, if you choose to engage them at hotels • Laundry • Dry cleaning • Phone charges • Room service or other items of a personal nature • Expenses incurred during free time or non-group activities • Meals not specifically included on program itinerary • Items not specifically listed above as included.
A $500 per person deposit is required upon registration. See more details on the payment and refund schedule below.
This schedule is based on payments St. Olaf College must make to program vendors to guarantee group rates. We highly recommend that you purchase additional trip cancellation insurance at the time of registration to recover your payments should you need to withdraw from the program.
Because of ongoing uncertainty surrounding COVID-19, it is possible that a program could be postponed. In such a case, while we will strive to make full refunds when we can, there are certain expenses that may not be refunded to either St. Olaf or the participant.
Payments and Refunds: 
Deposit due:                          $500 upon registration
Refund if you cancel:          Full refund ($500) until January 14, 2022. If the deposit is made after January 14, 2022 there is no refund.
Interim payment due:        $1,000 by January 15, 2022
Refund if you cancel:          $500 until June 30, 2022
Final payment due:             July 1, 2022
Refund:                                  None, unless the program is full and your place can be resold
Cancellations must be in writing.
See the Resource List.
Read these legal documents: Terms and Conditions and Release and Waiver
Review the latest information on recommended immunizations, visit the Centers for Disease Control (CDC).
A valid passport and visa are required for entry into Vietnam. Check your passport: ensure that it has at least 6 months' validity past the program return date and at least one blank visa page. U.S. citizens can apply online for a single entry e-visa. We'll provide instructions on this option closer to departure.
Prepare for your adventure by checking out a variety of resources, including frequently asked questions, general health information, included travel insurance, safety overview, and more. See also this Trip Information Sheet added on 6/29/22.
Book your flights. This program is an official GO. ​As a condition of participation in this program all attendees must have received a COVID-19 vaccine and ​booster at least 2 weeks prior to attending. Because changing conditions may result in additional or different participation restrictions, we will strive to keep you promptly informed of any changes resulting from the ongoing pandemic. Meanwhile, feel free to purchase your flights. We strongly recommend you consider adding flight cancellation insurance to that purchase. Here are some additional notes:
​

The program starts and ends in 

different cities.

You should time your travel to ​​arrive in HANOI by mid-afternoon on Sunday, October 9. We will start the program with a welcome meeting around 6 pm, followed by a group dinner.

Feel

 free to depart SAIGON any time on Tuesday, October 18.
See our Booking Your Flights page for some additional tips.