Led by Jim May, Professor Emeritus of Classics, and Donna May, Retired Teacher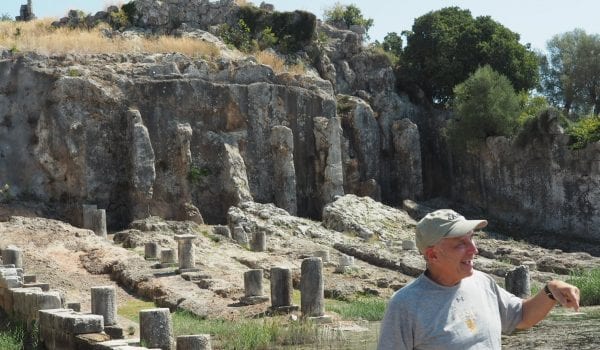 Greece, the cradle of Western Civilization, boasts a storied history of more than 5000 years.
This study travel program will follow in the footsteps of three famous and influential figures of antiquity, Philip II of Macedon (the father of Alexander the Great), Alexander the Great, and St. Paul.  Highlights of the tour will include visits to the Royal Tomb of Philip at Vergina (perhaps the greatest archaeological find of the 20th Century), the important Macedonian cities of Pella and Thessaloniki, and several sites visited by St. Paul, including Athens, Philippi, Lydia, Thessaloniki, and Ephesus (Turkey).  We will tour other important ancient sites, including Delphi, Thermopylae (the 300 Spartans!), the monasteries on the cliffs of Meteora, as well as the islands of Thassos, Samos, and Patmos (where St. John the Evangelist wrote the Apocalypse).
As always, we will, on a daily basis, encounter modern Greek society, with plenty of opportunities for sharing good food, excellent fellowship (what the Greeks call "parea"), and plenty of Greek dancing!
This program is full. We recommend adding your name to the waitlist at no obligation.
This tour starts and ends in Athens, with ferries to islands and a day excursion to Turkey, with much more in between. To travel in the footsteps of someone like St. Paul sometimes requires covering great distances in short amounts of time. For this reason, toward the beginning of the tour, there will be a couple of short hotel stays and longer bus rides.
You can view and print the most current itinerary here.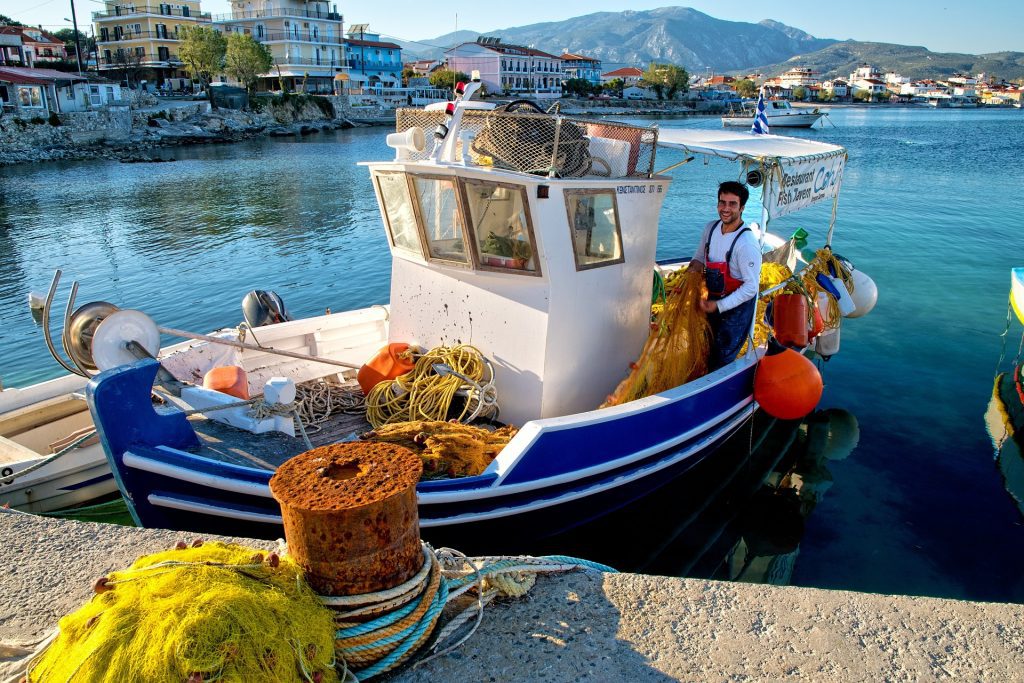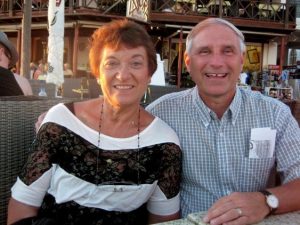 Jim May, Professor of Classics and Kenneth O. Bjork Distinguished Professor Emeritus, retired from St. Olaf College in 2017, after a 40-year career in teaching and service. He is the author of many articles and chapters on Cicero, classical rhetoric, and Latin pedagogy, as well as the author, co-author, or editor of eight books. His latest volume, How to Win an Argument: An Ancient Guide to the Art of Persuasion (Princeton 2016), has been translated into Modern Greek, German, and Turkish.
May received the Award for Excellence in the Teaching of the Classics from the American Philological Association (now the Society for Classical Studies) in 1986, and the Sears-Roebuck Foundation Teaching Excellence and Campus Leadership Award in 1991. Former President of the Classical Association of the Middle West and South and the Classical Association of Minnesota, May has held two NEH Fellowships and directed two NEH Summer Seminars for School Teachers. He was Provost and Dean of St. Olaf College from 2002 to 2011.
In retirement, Jim continues to compete in handball, restore antique trucks, cars, and tractors, and sing in two church choirs. He was a rower on the reconstructed Greek trireme Olympias in 1990 and 1993. He has led nearly 30 study tours to Greece and the Mediterranean.
Expect to marvel, learn, feast, and soak in famous Greek hospitality! Movement between cities will be by air-conditioned private motor coach. Movement within each city and at cultural/historic sites will be on foot, requiring a lot of walking and standing, often over uneven ground. You should be capable of walking up to five miles per day over possibly uneven terrain, of climbing stairs that may not have handrails, of climbing in and out of various types of transportation, of keeping pace with an active group of travelers on long days of traveling, of dealing with the emotional highs and lows that can occur when experiencing different cultures, and of traveling with a group for several hours each day.
On most transfers, there will be porters available (at your own cost), but there will be occasions when — because of restricted access, narrow streets, or boarding ferry boats — it may be necessary for you to move/carry your own luggage; traveling lightly is highly recommended.
Hotels will be tourist class (four-star or superior rating) with private baths, air conditioning, and English-speaking staff.
Updated covid information
We recommend you be fully vaccinated against COVID-19, including any recommended boosters for your age or health group, before departure. You should plan on seeing your family physician or a travel doctor at least four to six weeks prior to departure, preferably earlier, to talk about recommended vaccinations for this destination. For more information on travel health, visit cdc.gov or who.int.
You should also check with your airline (after we call the program a go and you book your flights) and/or the FAA regarding vaccination requirements.
While Greece has abolished the need to show proof of vaccination or Covid recovery on entering the country, Turkey's current requirement is that "A PCR test is required for individuals over the age of 12 years old who are unable to show proof of vaccination or are unable to submit a document stating that they have had the virus within the last 6 months." We will monitor these requirements and update you should they change.
Masks may continue to be recommended or required in certain spaces, so you should be sure to pack a few quality masks like N95 or KN95.
The travel insurance included with your program fee covers illness overseas, including covid. You can read more, including the full FAQ and a Summary document, on our Travel Insurance page.
Inclusions and exclusions vary from program to program, so please read the following information carefully.
The program fee is $6,329 per person. Based on double occupancy, it includes discussions led by Jim May, assistance by Donna May and a national guide, accommodations, hotel taxes, breakfast daily and group meals as listed on the itinerary, admissions for group activities, ground transportation during the program (except initial and final airport transfers), ferry tickets or airfare between islands per the itinerary, gratuities to group guides, drivers, and meal servers, and some limited medical coverage while overseas. For single occupancy, add $875.
Airfare to and from Athens is not included. Participants are solely responsible for all expenses not specifically included in the program fee. Examples of excluded expenses are: Airfare between your home town and Greece • Airport transfers • Any passport fees • Any recommended immunizations or vaccinations • Baggage insurance • Trip cancellation insurance above $2,000 lifetime coverage • Beverages at most group meals • Gratuities to housekeeping staff • Laundry • Dry cleaning • Phone charges • Room service or other items of a personal nature • Expenses incurred during free time or non-group activities • Lunch and dinner, unless specifically included on program itinerary • Items not specifically listed above as included.
P.S. The most recent five year average for Alumni & Family Travel program fees is $449 per program day. (We do not include pure travel days when calculating the daily fee, because international airfare is not included in the program fee.) This is a longer program, and is a great value, coming in at $396 per day.
This schedule is based on payments St. Olaf College must make to program vendors to guarantee group rates. We highly recommend that you purchase additional trip cancellation insurance at the time of registration to recover your payments should you need to withdraw from the program.
Because of ongoing uncertainty surrounding COVID-19, it is possible that a program could be postponed. In such a case, while we will strive to make full refunds when we can, there are certain expenses that may not be refunded to either St. Olaf or the participant.
Deposit due:                          $500 upon registration
Refund if you cancel:          Full refund ($500) until November 30, 2022. If the deposit is made after November 30, 2022 there is no refund.
Interim payment due:        $2,000 on December 1, 2022
Refund if you cancel:          $1,000 if you cancel before January 31, 2023
Balance due:                         February 1, 2023
Refund if you cancel:          None, unless the program is full and your place can be resold
Cancellations must be in writing.
Read the Terms and Conditions and Release and Waiver.

Review the latest information on recommended immunizations, visit the Centers for Disease Control (CDC).
Check your passport: ensure that it has at least 6 months' validity past the program return date. Should you need to renew, visit the U.S. Department of State for instructions.
Take time to Prepare for your adventure by checking out a variety of resources, including frequently asked questions, general health information, included travel insurance, safety overview, and more.
Book your flights. This program is an official GO. ​We strongly recommend you consider adding flight cancellation insurance to that purchase, but that you also check what situations are covered. Here are some additional notes:
— The program starts and ends in Athens.
— You should time your travel to arrive in Athens by mid-afternoon on Sunday, April 23. We will start the program with a welcome drink at the hotel around 5:30/6:00 pm, followed by a group dinner.
— You can depart Athens any time on Tuesday, May 9.
— If you're interested, see our tips in Booking Your Flights.