Most people know Bruce Benson as a former college pastor, a role he filled at St. Olaf for 30 years. He is also the host of Sing For Joy, teaches in the Great Conversation program, and leads programs for Alumni & Family Travel.
Bruce and his wife, Carol, will be leading "The Treasures of Georgia" from September 23 to October 6, 2020, one of the more than 20 programs on offer to alumni, parents, and friends of the college.
Alumni & Family Travel Director Heidi Quiram recently sat down with Bruce to gather some of his thoughts on the variety of ways that he interacts with St. Olaf.
What classes have you been teaching at St. Olaf since your retirement?
Due to the unexpected departure of a faculty member three years ago, I was asked to step into a teaching role in the Great Conversation program. Five classes over two years, reading nothing but landmark works of significant and enduring value, and discussing them with bright St. Olaf students. What's not to like about that?! 
What do you enjoy most about being in the classroom? 
I suppose I should be cautious about using the word "ferment" in reference to a "dry" campus, but it's a pretty good word to label what I enjoy about the classroom. There is always something brewing! Most of the ingredients come from texts, from the items on the class syllabus; but it takes student engagement with those ingredients to create the ferment I enjoy.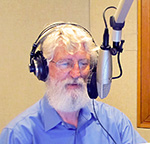 Can you tell me about your work with Sing For Joy?
For the past 18 years I have been on-air host of a St. Olaf-produced and listener-supported radio program called Sing For Joy. It is a weekly, half-hour program of choral music inspired by and/or complementary to the Biblical texts read in churches each week. My job as host has been to help listeners hear the "conversation" between music and scripture as each helps interpret the other. I also write a 500-word "host letter" for each monthly newsletter. Currently, the show can be accessed anytime online, and heard each week on 150 or so stations across the country, as well as in several countries in Africa. 
What do you enjoy most about leading study travel? 
Frankly, what I enjoy most is being part of the learning. But in addition, it always feels good to help facilitate moments and events that people enjoy, things that leave a pleasant and satisfying memory. One small example: planning and leading new building dedication ceremonies on campus. I did quite a bit of that in 30 years. Well, study travel is like that, but with deeper significance. It is a good, meaningful, life-enriching thing to do, and participants enjoy it and are thankful for it. I like being part of such things. 
What would you like to share with readers about the differences between interacting with 18-to-22-year-olds and interacting with lifelong learners?  
The difference? The joke, you know, is that lifelong learners go to bed — that's the difference. But I'll try one other approach too. Mostly, I have found over the years that college students and older adults are interested in the same human issues: Why? How? Who says? Who am I? What is true? But students have so much urgency about those questions! Older adults, on the other hand, see some of those questions as open questions for a lifetime, questions that need to be lived with rather than answered, and others having answers that evolve through years of experience. I find that same age difference in study travel too. Students have more urgency both to experience and to understand. Right now! Older adults have more patience and accumulated wisdom. Each has advantages. Please don't ask me to choose one over the other!
Do you have any favorite stories from students or adult learners?
So many stories, so little time! Here's one. I was with 30 Oles in Jerusalem, staying at the Ecce Homo Convent in the Muslim quarter of the Old City. Within a literal stone's throw are at least three minarets that broadcast the Call to Prayer five times a day, including not long before sunrise each day. For the first few days, every student woke up during that call. But also, right beside the convent was an enclosed courtyard in which a local family kept a few chickens. Both before and after the pre-dawn Call to Prayer, a rooster would crow. Several times. And several more times. The third morning of our stay I was at our breakfast table when a bleary eyed, sleep-deprived student joined me. "You know I'm a vegetarian," she said. Yes, I knew that. "Well I want you to know that if I could find a way into that courtyard out there, I would personally wring that rooster's neck, pluck him clean, cook him, and eat him myself!" Ah, the things we learn: not just about other cultures, but about ourselves! 
What have you learned from being a college pastor, a classroom teacher, and an alumni and family travel leader?
I have learned that the world and each person have this in common: we are more wonderfully made, more complex, more vulnerable, and more in need of love than we generally admit. 
You can see all the details on Bruce's upcoming program in Georgia and many more destinations at stolaf.edu/travel.