Dimitri Cocconi and his daughter Thalia have been trusted travel partners for years. Heidi Quiram, Director of Alumni & Family Travel, recently reached out to them to see how their faring during the pandemic.
How long have you had a travel connection with St. Olaf, including student study abroad?
We have been organizing study abroad program for students and alumni for more than 45 years, when the first study tours to Greece started with professor Gunderson.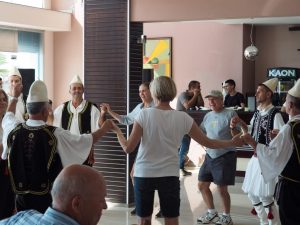 Do you know or can you guess how many trips you've planned with St. Olaf, both students and adults, over the years?
For over 45 years, an average of two study trips for the Classics department and Religion department, plus every second year the adult groups, and also the Global semester abroad … there should be over 100 study tours!!!
Where are you during the pandemic and what does daily life look like for you right now?
I (Thalia) am in Boston right now and my daily life is similar to before (besides also being a full-time stay-at-home mom and home school teacher this spring!), working on future projects regarding our business such as updating our website and social media, reconnecting with old clients, and ensuring that all safety and health measures and protocols are in place in Greece and Italy for our travelers to come back in a secure environment.
Are your parents still in Greece, and if so, how are they doing and what does daily life look like for them right now?
Dimitri and Myrto are coping well in Greece. Life is back to normal in Greece right now and activities such as traveling domestically, visiting museums and sites are open with safety precautions such as masks used in public transport, buses, trains, air crafts, and social distancing when possible.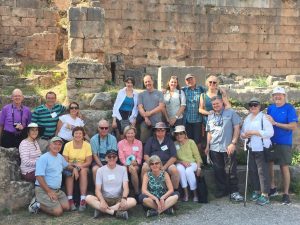 How has your travel business been affected since the pandemic took hold?
In March, only 2 university groups materialized and one travel program was interrupted with the participants having to return to the US. Two groups were cancelled as well as all our groups for April, May and June.
How is the gradual re-opening of Europe affecting your travel business?
We have very little business from Europe during normal years, so the re-opening of Europe has not affected our normal operations.
What do you see the immediate future of group travel looking like? What do you think some permanent changes to group travel might be?
We think and hope that group travel will be back in full force, as soon as travelers have full confidence in the airline and hospitality industry, the virus cases are to a minimum and that there is a vaccine for the virus. We anticipate that as of April and May of next year, group travel will resume again, depending on the US situation. Some permanent changes in group travel will be a smaller number of participants, for example.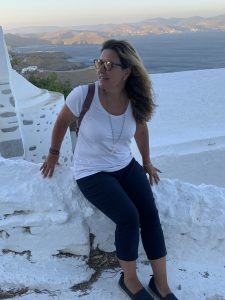 Above: Thalia Cocconi of Educational Tours
What do you want educational group travelers to know right now?
Greece is safe and are welcoming visitors again as of July 1st this year, being one of the best countries in the world containing the virus and making plans for tourism development, along with safety guidelines and protocols. For example, buses are being sanitized and provide spacing when possible this summer, with filtered air and specific protocols, and hotels have their own hygiene protocols, such as extra cleaning measures, and medical providers in closer proximity, among others. Greece has one of the best records with few fatalities among other European countries (a total 190!) due to the early lock down measures and we hope this trend will continue, providing good services, safety and hygiene for all travelers visiting Greece this summer. Travel will not be the same as we have experienced before; it will be a different reality with more precaution and new hygiene and safety measures.
What else would you like to share with St. Olaf travelers?
I want to assure you that we will there for you when you are ready to come back and we will are already making all necessary adjustments with our vendors and our practices in order to be in line with all health, safety and sanitary protocols to provide a safe, enjoyable and worry free time in Greece and the Mediterranean. (E.g., smaller groups in buses, special sanitizing and hygiene policies on our buses and at each hotel, outdoor seating in restaurants, even personal sanitizers and masks available upon arrival with ETC logo- you cannot miss that 😊 !)
We do hope we will not only be reunited in spirit with our love for travel to Greece, but soon in real time in Greece enjoying and making new lasting memories for you and your fellow travelers!