A charitable gift annuity—or "CGA" for short—can be a wonderful tool for a savvy donor looking to maximize their financial security while making a significant gift to St. Olaf.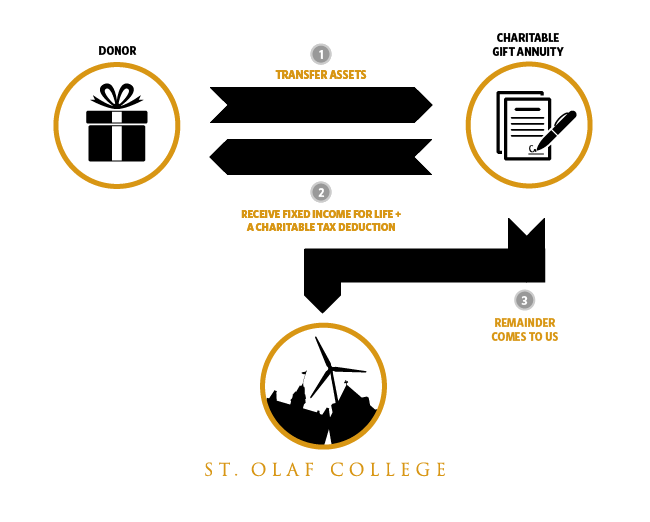 What you need to know
CGAs are established through irrevocable gifts of at least $10,000 in the form of cash, appreciated securities, or property.
The value of your gift is invested in the college's gift annuity pool.
In exchange for the gift, St. Olaf promises to pay a fixed amount each year (an annuity payment) to you and/or one other income beneficiary for life.
Payments begin right away, typically on the day following the end of a quarter.
The payment amount is based on the ages of the income beneficiaries and the size of the gift.
Key benefits
Charitable gift annuities can help complement or even replace other fixed income products in your portfolio, can diversify your taxable income, and allow for a charitable deduction in the year the gift is made.
Payments are guaranteed for life and are backed by the full faith and credit of St. Olaf.
After the final beneficiary's lifetime, the college and its students benefit from the remaining value of your gift.
Don't think you'll need the income right away?
Deferred charitable gift annuities enable you to delay your payments until a later date and provide a larger annuity payment for the income beneficiaries.
Have questions? Interested in a customized gift illustration?
We can help. Contact us at 800-776-6523 or plannedgiving@stolaf.edu to learn if a charitable gift annuity is right for you.