A charitable remainder trust enables a donor to provide income streams for several beneficiaries and provide a generous gift to one or more charitable organizations.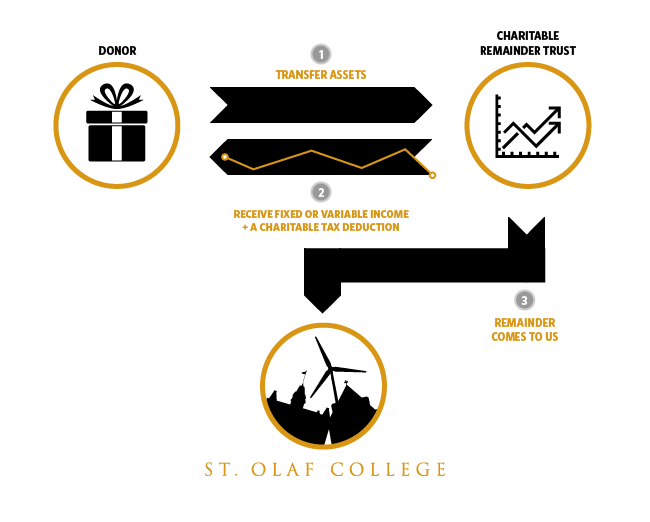 What you need to know
Charitable remainder trusts are established through irrevocable gifts of cash, appreciated securities, property, or any combination thereof.
Payments can be fixed (charitable remainder annuity trust) or variable on an annual basis (charitable remainder unitrust).
The funding gift(s) are invested and interest earned provides income to the trust's beneficiaries.
Payments are provided for the lifetime of one or more beneficiaries or for a specific term of years (up to 20).
Key benefits
Payments can begin immediately, can be deferred to a specific date, or until a specific financial or life event (e.g. retirement, sale of property, etc.).
You can make additions to a charitable remainder trust at any time, creating a charitable deduction and increasing the trust's income stream.
St. Olaf can serve as trustee for charitable remainder trusts if the college is at least a 50% beneficiary of the trust's remaining value and if the trust meets or exceeds a threshold of $100,000 at the time of its funding.
In conjunction with TIAA Kaspick–a national leader in managing charitable interests–St. Olaf can invest your trust in assets that provide the greatest return on your investment while ensuring the greatest possible charitable gift.
After the final beneficiary's lifetime, the college and its students benefit from the remaining value of your gift.
Have questions? Interested in a customized gift illustration?
We can help. Contact us at 800-776-6523 or plannedgiving@stolaf.edu to learn if a charitable remainder trust is right for you.