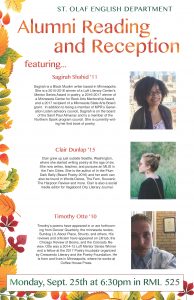 May 16th was the last day of classes which means the English faculty hosted the English majors to a pizza party outside on the courtyard of Rølvaag Library! Check out the pictures!!
 * * * * * * * * * * * *

On Thursday February 23, the English Department held an "Inspiration to Aspiration" dinner for senior majors in Library 525. Faculty and seniors discussed the value of majoring in English for one's professional life and one's life as an engaged citizen. the guest of honor was Leslie Moore. St. Olaf English Alum and director of the Piper Center. Leslie's message to seniors is that they should be confident that the diverse, transferable skills they've developed through literary study and writing will be highly valued as they transition into their lives as professionals and leaders.
 * * * * * * * * * * * *
Save the Date! Thursday, February 23, 2017 (6 PM)
You are cordially invited to a special event with English Department Faculty:
"Inspiration to Aspiration" –
Senior English Major Dinner

Every year, the English department examines our goals and intended
outcomes for our major, and this year we are hoping you can help us do
that by joining us for a dinner with English department faculty and
senior majors.
Our hope is to share a meal and talk about how engaging in literary
study and creative writing shapes our understanding and
engagement with the world around us.
We also hope to talk practically about the values literary study can have
in the real world, and how to talk about those values in professional situations.
Our guest will be Leslie Moore, former St. Olaf English major and
director of the Piper Center.
More details to come, but for now, we hope you'll save the date:
Thursday, February 23, 2016, at 6 PM. We hope all of our senior majors
will be able to join us.
Thanks,
Colin Wells, Chair
Department of English
October 20, 2016 – Creative Writing Faculty Juliet Patterson and Sequoia Nagamatsu gave readings from their new books.
Threnody by Juliet Patterson
and
Where We Go When All We Were Is Gone by Sequoia Nagamatsu