Holiday Celebration for English Majors – December 12th, 2018
Sigma Tau Delta held a Halloween Reading with Goodies!
Dessa visited St. Olaf September 27, 2018
**********************************
Professor Diana Postlethwaite Retirement Celebration!
Her last class taught at St. Olaf College…
**********************************
English 289 – Journalistic Writing – Spring 2018
**********************************
New Majors Declaration Day 2018 – March 1st
Lead by our intrepid leader,  Colin Wells.
**********************************
On December 12th, 2017, we celebrated the end of fall semester classes and the Holiday Season beginning by the English faculty hosting the English majors to homemade goodies, Santa, crafts and games! It was a huge success.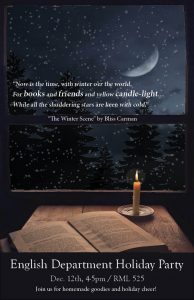 **********************************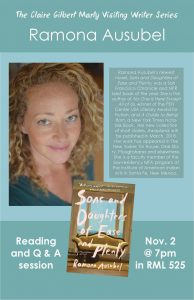 On November 1, the English Department hosted the inaugural reading of the Claire Gilbert Marty Visiting Writers Series – which was created to honor the memory of St. Olaf English alumna and creative writer Claire Gilbert Marty ('10). The series brings to St. Olaf prominent writers of fiction and creative nonfiction whose work compliments Claire's fascination with life and does so with wit, humor, and complexity. Our first author in the series was Ramona Ausubel, author of several books, including No One is Here Except All of Us and Sons and Daughters of Ease and Plenty. Ramona began the day with a creative writing workshop for students and finished with a reading of a story likely to appear in her upcoming collection of short stories. The event was well attended by St. Olaf students, faculty and friends and family of Claire.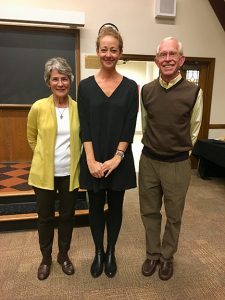 Ramona Ausubel with Claire's parents Mark and Sabina Gilbert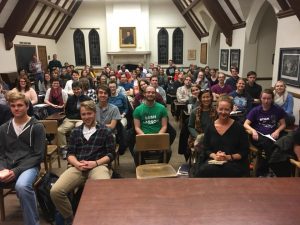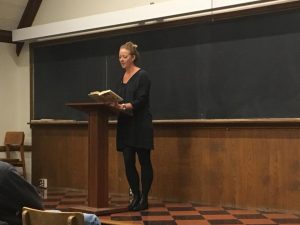 **********************************
On September 25, 2017, the English Department welcomed back three recent alums who have distinguished themselves in the field of contemporary poetry. Clair Dunlap '15 is the author of In the Plum Dark Belly (Beard Poetry 2016) and works as social media director for Vagabond City Literary Journal. Timothy Otte '10, who works at Coffee House Press, has published widely in poetry journals and was the 2014-15 Loft Mentor Series Winner. Sagirah Shahid '11 was the 2015-16 Loft Mentor Series Award as well as a 2017 recipient of a Minnesota State Arts Board grant.
Hosted by junior Anders Mattson of the Quarry editorial board, the event included readings by Clair, Timothy, and Sagirah, followed by a Q&A session in which the alumni poets shared their experiences about writing, getting their work published, and making ​​contacts within the broader poetry community.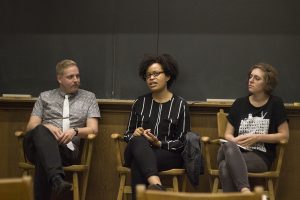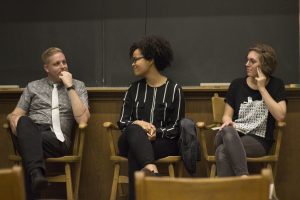 **********************************
May 16th was the last day of classes which means the English faculty hosted the English majors to a pizza party outside on the courtyard of Rølvaag Library! Check out the pictures!!
**********************************

On Thursday February 23, the English Department held an "Inspiration to Aspiration" dinner for senior majors in Library 525. Faculty and seniors discussed the value of majoring in English for one's professional life and one's life as an engaged citizen. the guest of honor was Leslie Moore. St. Olaf English Alum and director of the Piper Center. Leslie's message to seniors is that they should be confident that the diverse, transferable skills they've developed through literary study and writing will be highly valued as they transition into their lives as professionals and leaders.
 * * * * * * * * * * * *
Save the Date! Thursday, February 23, 2017 (6 PM)
You are cordially invited to a special event with English Department Faculty:
"Inspiration to Aspiration" –
Senior English Major Dinner

Every year, the English department examines our goals and intended
outcomes for our major, and this year we are hoping you can help us do
that by joining us for a dinner with English department faculty and
senior majors.
Our hope is to share a meal and talk about how engaging in literary
study and creative writing shapes our understanding and
engagement with the world around us.
We also hope to talk practically about the values literary study can have
in the real world, and how to talk about those values in professional situations.
Our guest will be Leslie Moore, former St. Olaf English major and
director of the Piper Center.
More details to come, but for now, we hope you'll save the date:
Thursday, February 23, 2016, at 6 PM. We hope all of our senior majors
will be able to join us.
Thanks,
Colin Wells, Chair
Department of English
**********************************
October 20, 2016 – Creative Writing Faculty Juliet Patterson and Sequoia Nagamatsu gave readings from their new books.
Threnody by Juliet Patterson
and
Where We Go When All We Were Is Gone by Sequoia Nagamatsu